The Styling Hack That Creates The Smoothest Jumpsuit Look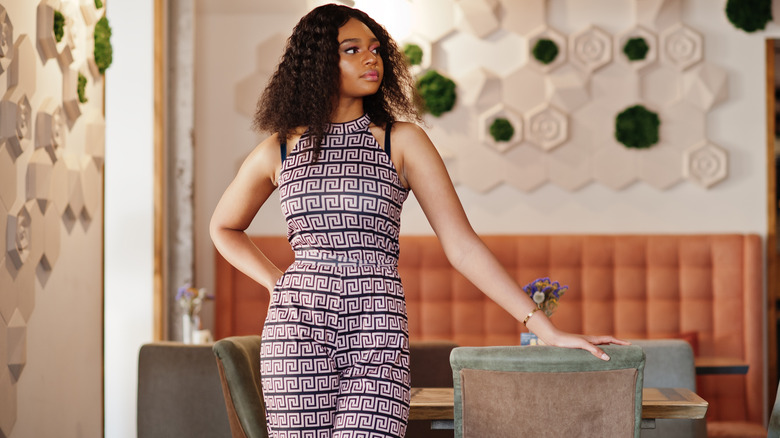 AS photo family/Shutterstock
Clothes should be made with all shapes and body types in mind, from ample bellies to hourglass figures. However, it's a hard task to accomplish. That's why a lot of clothing seems to fit correctly in some places but leaves you frustrated at the fit in other places.
There might be no other article of clothing that fits this description as much as the jumpsuit does. It's cute and classy, no doubt about that. It's versatile, too. You can style it up for just about any occasion. But as a garment that goes over your entire body, it stands to reason that it's not going to fit you like a glove in all areas. The shoulders might sag, the legs might be too long, and of course, the stomach area might be too clingy.
If you're running into that latter issue in particular, we've found a way you can beat it. The clothing hack that will flatter your figure and banish that annoying clingy fabric issue that's causing bulges in all the wrong places all comes down to mesh fabric inserts.
Add mesh fabric inside your jumpsuit
Shoutout to TikTok fashionista @nikkiluuuu1 for this next hack. She deserves a reward for coming up with a super easy and resourceful trick for making a better-fitting jumpsuit. It successfully hides away all signs of what she affectionately calls an "apron belly." You know, that little bit of extra dangle over the waist area. There's nothing wrong with having an apron belly, but sometimes you just want to look snatched in your jumpsuit and the fabric itself is not letting that happen.
That's where this style tip comes in. She bought strong mesh fabric panels and had a tailor sew two pockets of it onto the inside of the jumpsuit. The added panels form a "barrier" between your skin and the jumpsuit's fabric, keeping it from catching onto any skin and thus eliminating fine lines and bulges. You can even try sewing them on yourself if you're a guru with a sewing machine. Once you're done, you'll have a smooth, seamless stomach area that looks absolutely stunning — no uncomfortable shapewear needed.
Why this hack works on different levels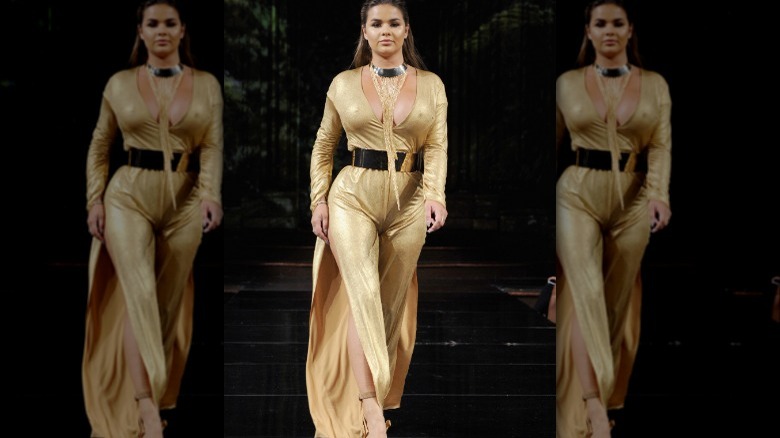 Arun Nevader/Getty Images
Okay, so you've seen the results and are pretty much in awe of what a difference you saw. But if the comfort's not there, it wouldn't be much of a hack, right? Lucky for us all, it's perfectly comfortable to wear all day long. @Nikkiluuuu1 assured a fan of the mesh's relaxed feel in a comment, saying, "It's not itchy and as soon as you have it on, you can't really tell."
So we're sold on the wearability. Another big factor that earns any hack an A+ is when it goes easy on your bank account. Is it worth it to buy the mesh fabric or should you fold and pay for pricey shapewear? Our answer: Go with the mesh fabric. You can buy an entire yard of mesh from JOANN for just $5.99, and a yard is exactly how much this trick's creator used. That's a great price. And don't forget, you can save even more money (and increase dopamine levels) by sewing the panels onto the jumpsuit yourself instead of bringing it to a tailor.