Thorsten Kaye Returns To The Bold And The Beautiful After Ridge's Long Break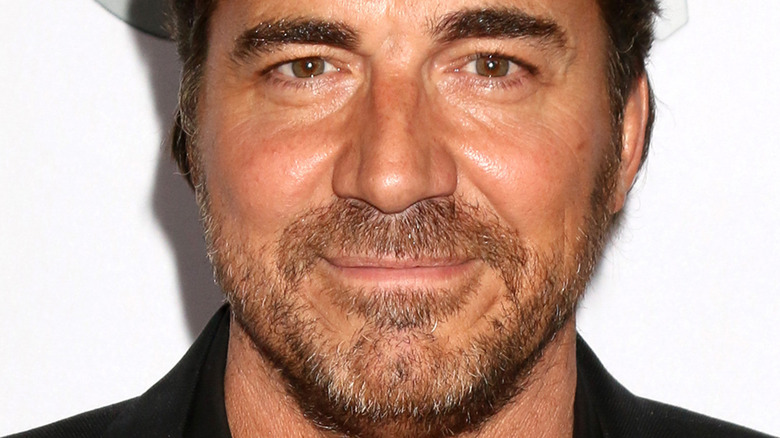 Kathy Hutchins/Shutterstock
From 1996 to 1997, actor Thorsten Kaye began his soap opera journey playing Patrick Thornhart on "One Life to Live." In 2000, Kaye portrayed the character's brother, Dr. Ian Thornhart, on the "General Hospital" spin-off series, "Port Charles." After "PC" was canceled, he moved over to "All My Children" as the mysterious Zach Slater and remained until the series was canceled in 2011. Kaye would reprise his role shortly thereafter when the show attempted an online revival in 2013.
In 1987, fellow soap star Ronn Moss originated Ridgeon "The Bold and The Beautiful," who was caught in a love triangle with Brooke Logan (Katherine Kelly Lang) and Taylor Hayes (first Hunter Tylo, then Krista Allen) over the years. Kaye jumped into Moss' shoes in 2013, taking over as Ridge, and made the part his own. For Ridge, everything came to a head recently when Brooke and Taylor — who had been rivals for decades – decided that fighting over him was pointless. When Ridge returned from a soul-searching trip but couldn't decide which woman he wanted to be with, both ladies got together and dumped him in a move that stunned the fans. The good news in all of this is that Brooke and Taylor have now become best friends — a feat once thought impossible by everyone. 
The show's fans have long felt that Ridge needed a dose of self-awareness, and the character went on yet another soul-searching trip after being dumped, and hasn't been seen since December 2022.
Ridge will have to adapt to all of the changes that have occurred
Soap Dirt has speculated that once Ridge returns, he's going to be surprised by all the changes that have gone on in his absence. Not only are Taylor Hayes and Brooke Logan now best friends, but the two have moved on in several ways. Brooke has invited Taylor to come and live with her, which will surely throw Ridge off. Taylor also played matchmaker, setting Brooke up with the Il Giardino waiter, Paul "Hollis" Hollister (Hollis Chambers). The two women are finally free to date other people, and Ridge will be less than enthused about that. Also, Ridge has missed out on the fact that his grandson, Douglas Forrester (Henry Joseph Samiri), is now living with his aunt Steffy Forrester (Jaqueline MacInnes Wood) and uncle Finn Finnegan (Tanner Novlan).
Recently, Soap Opera Digest, via Soap Opera News, has reported that Thorsten Kaye is set to return to "The Bold and The Beautiful" as Ridge Forrester on March 15. The character has been off-screen doing some soul searching, and it's time for him to come back and deal with life after Brooke Logan and Taylor Hayes.
Sparks are sure to fly upon Ridge's return, and no one can predict how he will react to all the changes that have gone on in his absence, and we can't wait to see the look on his face!