Hoop Earrings Are A Timeless Classic. Here's How To Incorporate Them Into Any Look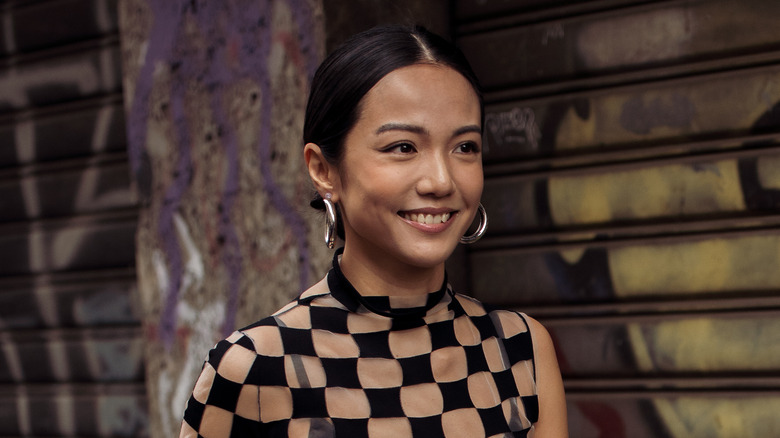 Raimonda Kulikauskiene/Getty Images
We are living in the age of power pantsuits, people — a time focused on authenticity versus negativity. In such an age, it's not uncommon to splurge on pieces that make us feel confident and that check off all of our style boxes: something edgy, yet sophisticated, professional, yet fun. Accessories have become a vital cog in this clockwork of personal style, whether it's out of self-expression or necessity — ever need to conceal an unsightly hairdo with a hat?
Out of the plethora of accessories, hoop earrings emerge as a top contender and remain a timeless addition to any wardrobe. Whether the hoops are gold, silver, large, or small, they are a tour de fashion force and add instant pizzazz to any look.
The good thing about hoops is that there's bound to be a style to fit almost any personality type. Looking for a professional look with small simple styles? How about something with a carefree spirit, such as a bold large pair? Regardless of your taste, the list of hoop styles goes on and on. Here are some ways you can rock your next pair of hoops.
Grow as you go
The beauty of hoops is that you can never have too many. According to jewelry designer Charles Albert, if you have them, take advantage of multiple ear piercings by layering hoops, either of the same metal or different varieties.
If you do have more than one piercing, start small, but go for a big impression! Gradually layer different-sized hoops with the lobe hoop being the largest, and the top hoop being the smallest: this is known as the cascading rule. A good example of sizes to stack (from lobe to top) is 9mm, 8mm, 7mm, then 6mm.
Like a warm hug
Huggie hoops remain a constant staple. They get their name because they cling or "hug" tightly to your ear and have little to no space in the actual hoop area. You can wear huggies with just about anything too, and anywhere for that matter — a popular favorite being on the cartilage. Pairing a cartilage hoop with small, daintier hoops on the lobe makes for great dimension. Huggies are also great for busy bodies (and activewear enthusiasts) or those with long hair. After all, little hoops mean little chance of snagging or falling out.
A statement
Great for someone with singular lobe piercings only, wearing big, untraditional hoops with patterns and bright colors can make for a go-to outfit staple. Pick a bold hoop: gold and silver work great, though colorful or acrylic materials also tend to be favored. Wearing these hoops with a simple, neutral outfit makes them really pop, as do hairstyles like curtain bands or a slick, middle-part. We've also seen staple pieces come in non "hoop" like forms too, like chains or spirals.
Go gem or go home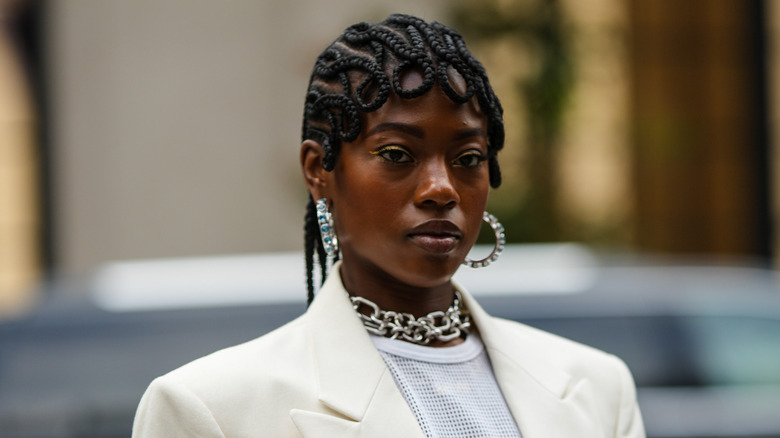 Edward Berthelot/Getty Images
Designer Julie Abelstedt suggests utilizing gemstones to play with color. They are great for evening wear (dresses and pantsuits alike) or even simple day-to-day looks like a leather blazer or vest. It never hurts to experiment with the grandeur of the gemstone hoop either. Gemstone hoops can be correlated with your birthstone, or multicolored to match any outfit color scheme, a favorite being a cream look. Wearing these earrings with other accents of shimmer, either in eyeliner or lip gloss, is also a great addition to your outfit.
Geometric takes the cake
Who said hoops have to be round? Opt for an octagonal or hexagonal-like shape to put a spin on tradition. Some geometric hoops are also bent to look like flowers, clouds, crescents, or even just random shapes. These hoops are great to get the party started, or make a grand first impression. Some geometric hoops aren't even round. Many options are polygonal and diamond-shaped. They can also come in multiple layers, looping around each other to give off an infinity-like effect. These earrings are best paired with pulled-back hairstyles to really show off the unique piece.
Pair with a bold lip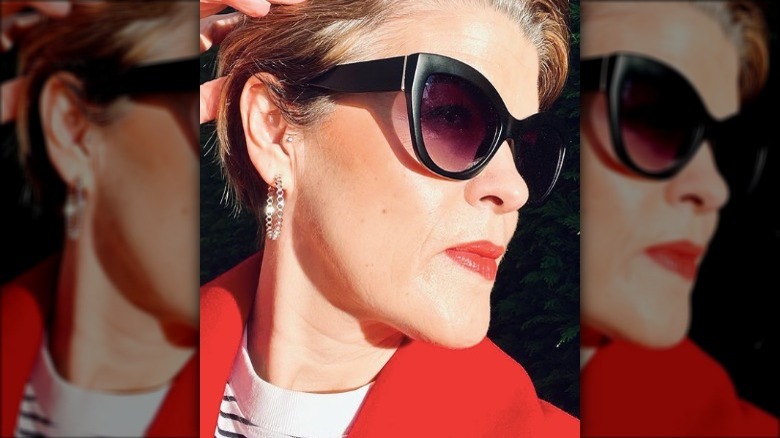 Augustino/Shutterstock
A favorite for hoop enthusiasts is to pair hoops with a red lip. This is a timeless option for a night on the town or a day at the office. For daytime, opt for a metal hoop and wear it with denim: either head to toe or a classic jean jacket and a pair of shorts. A good rule of thumb for this look is the bigger the hoop, the better, but a smaller hoop pairs beautifully as well. For nighttime, choose a nonmetal (like acrylic) hoop and wear a neutral, simple silhouette for a chic ensemble.
Shiny and sleek
Going for a nontraditional hoop with accented metals and colors (turquoise or pink gemstones are a favorite) adds a splash of bohemia to any outfit. Also choosing a large, polished hoop, especially with a top knot hairstyle or head scarf, will also contribute to the vibe. This option is also ideal for anyone who loves to accessorize, meaning that there is no limit to the number of bracelets or rings you can pair with your hoops. Stacking smaller hoops with your bolder hoops is another favorite among boho chic fans. 
Off gold
Classic favorites of hoop lovers are silver and gold medals, but opting for rose gold makes for a slightly less traditional, yet equally classy approach. Pairing them with pieces like a blazer or t-shirt can elevate these otherwise basic classics into a ready-for-work outfit. Rose gold also tends to tarnish slower, though the hoops should tarnish slower if opting for designer jewels. Plus, rose gold is known to be more hypoallergenic than other metals such as copper or nickel. You might also be able to save money by straying away from 14k gold.
The '90s chic
Back in the VCR era, overalls, oversized tees, fringe, and high ponytails were paired with simple, medium-large-sized hoops (one of our favorite hoop earring combos). The trend is still going strong and looks great with today's dewy, no-makeup-makeup look, which can be achieved with a few simple products, as Vogue noted. You can still achieve a classic '90s vibe by pairing your medium-sized hoops with high-waisted jeans and any of the noted styles listed above. Just look at Catherine Middleton's popular gold hoops she rocks frequently — chic, yet comfortable and classic.