Which Underwear Styles Are Best To Wear With Jeans?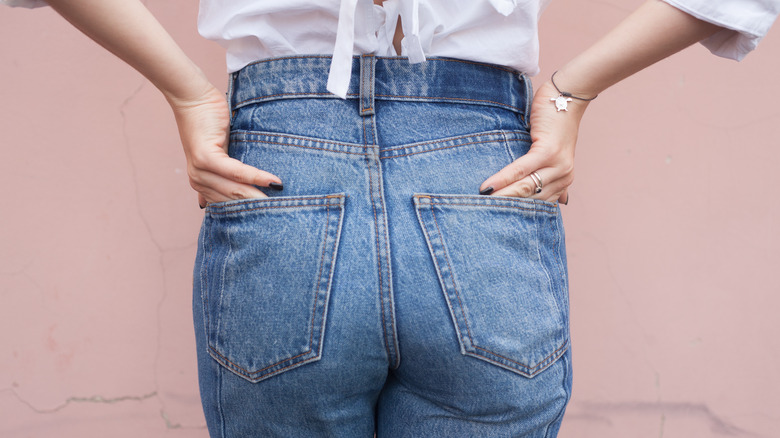 Aleksei Khanykov/Shutterstock
Nothing is worse than finding the perfect pair of jeans that fit like a glove just to have a look ruined by your panty lines. Depending on how thick and stretchy your go-to jeans are, it can be quite obvious if you opted for full-coverage briefs when a no-show thong was in order.
Luckily, most people own a variety of different jean styles that are favorites for specific occasions. Since jeans are a staple in almost every closet, it allows for some versatility when it comes to wardrobe choices. While it seems like thongs go well with every pant option, nobody wants to feel beholden to one type of undergarment for the rest of their life. Thongs have their time and place in fashion, but they aren't always the most comfortable option, especially after a long day. In fact, it might actually be better for your body to sleep without any underwear at all. However, when you feel like being a little more relaxed or casual during the day, it's nice to know that there are combinations of jeans and underwear that can be made for every occasion.
Pick your jeans, then plan your underwear accordingly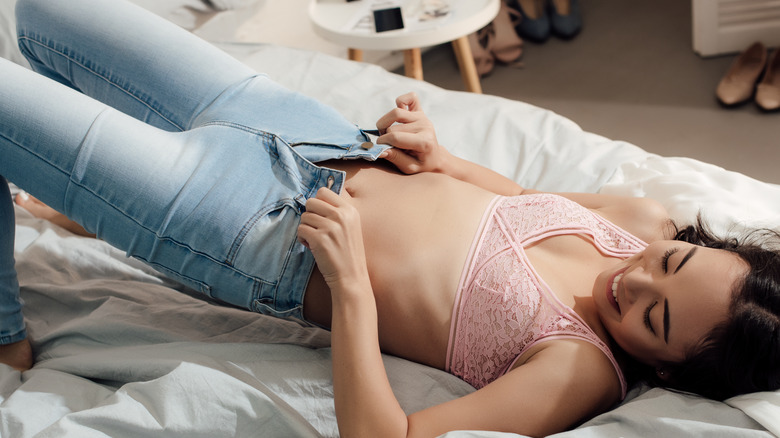 Lightfieldstudios/Getty Images
When deciding which undergarments should be worn with jeans, it's necessary to understand which styles exist in each category before pairing them together. Jeans are highly adaptable, which is why they can be worn on many occasions. You could dress an outfit up with tight black skinny jeans, but it would likely require a thong since the pants will be tight enough to show panty lines.
If you are having a chill day around the house or simply doing your grocery shopping for the week, you can accentuate those relaxed causal vibes with looser torn-up boyfriend jeans. This look would be more conducive to your average, everyday bikini briefs. The reason briefs work so well is that baggier jeans won't be as form-fitting around your backside. However, they may be lower-waisted, which is also why choosing a low to mid-rise brief option will provide comfort without any unwanted visibility.
On the other hand, higher-waisted jeans look lovely with a little extra glimpse of your favorite underwear. The high-waisted showy underwear trend that prioritizes comfort almost demands this combination to make an appearance. Depending on if your high-waisted denim is tight or baggy, you will likely need to discern between briefs or a thong since straight-legged jeans can vary. Luckily, high-waisted underwear can be found in a thong or full-coverage version, which means you can show off the top lining of your underwear above your jeans with confidence.
Wear what you feel most comfortable in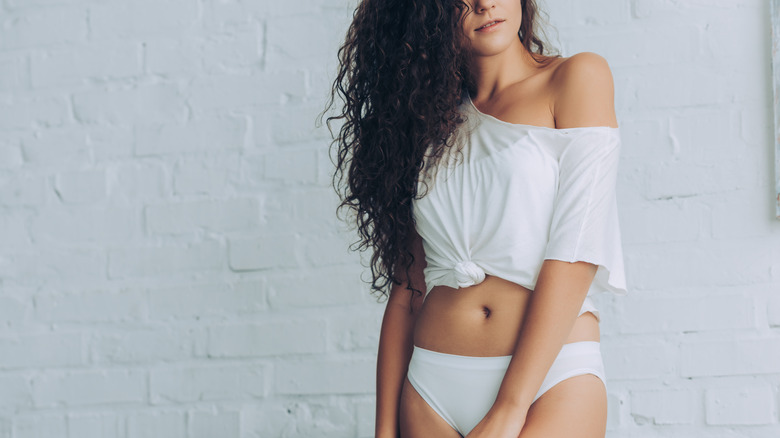 Lightfieldstudios/Getty Images
Your underwear choices can feel surprisingly personal, and while style recommendations are great, ultimately the choice is yours. You need to wear what feels most comfortable for you and your body. While some people might say that you must wear a thong under your leggings to the gym, you might find it incredibly distracting or uncomfortable and opt for boxer briefs instead. Will there be panty lines visible while you are doing your squats? Probably. Does this matter? Not at all, unless it will bother you personally.
Luckily, jeans are more forgiving because of their pockets and thicker material. While the fear of a visible panty line showing through your skinny jeans may be a thought in the back of your head, it doesn't need to consume all of your wardrobe decisions. If thongs just aren't your thing, you can also opt for a few pairs of seamless underwear that will help you beat panty lines or cheeky panties that provide more coverage without those visible lines. Once you understand which styles naturally make sense with certain jeans, it will start feeling like second nature. Of course, the rules of fashion are always flexible and ever-changing. So, don't be afraid to wear the underwear and jeans that you love the most.