Microlinks: The Hair Extension Technique That Gives You Natural-Looking Length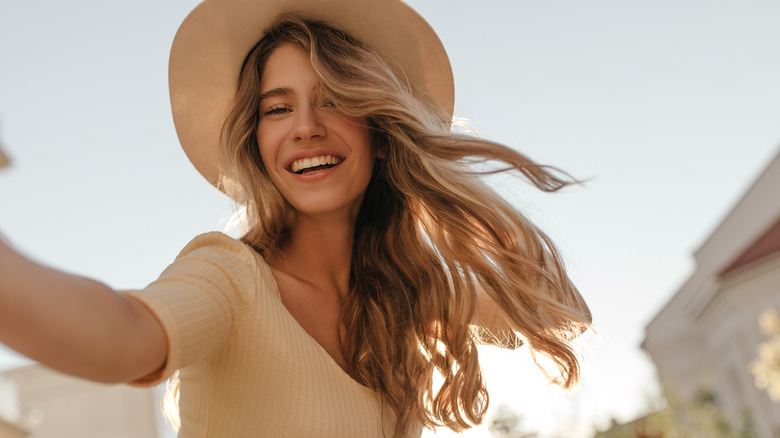 Look Studio/Shutterstock
Who doesn't love instant volume and length? Unfortunately, hair that gives Rapunzel a run for her money doesn't grow overnight. And sometimes, not even in a lifetime. Hair extensions are life's cheat code for stellar hair. Don't let TV fool you; it's extensions on the big screen, red carpet, and catwalk. "The benefits of wearing extensions are ongoing, from adding length, thickness, or enhancing color or dimensions," says celebrity hair stylist Priscilla Valles. "You can use them for hairstyles or a more permanent method for everyday life or even add colors to prevent your hair from color damage" (per Vogue). Anything that prevents your locks from damaging while giving you salon-ready hair is worth a try.
However, not all extensions are made equally. The best extensions will look like you're not wearing any. Just like you don't want your lip fillers to be obvious and unnatural, hair extensions are the same way. And microlinks promise to deliver those natural-looking results you'll keep coming back for.
The micro extension that can make a macro difference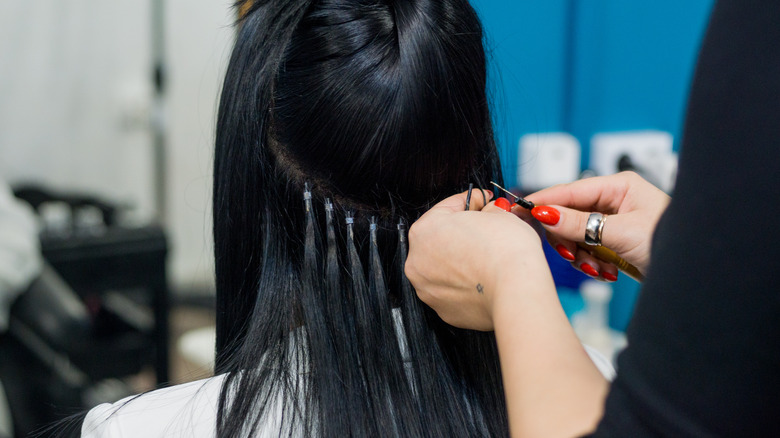 SEBASTIAN NARITA/Shutterstock
Microlinks are small bundles of hair extensions. "A microlink install consists of a pre-tipped keratin I-tip strand of hair weighing 0.7g to 1g that's attached using a special application clamping tool to a small cluster of your own hair strand," hair expert LeAna McKnight explains (via Women's Health). Their size helps to maintain a natural look while giving you extra length and volume. You won't have to worry about awkward transitions from your natural hair to the extensions or the hardware showing through your hairstyle like with other products.
Not only can microlinks be your little secret, but they also don't cause any damage to your hair. The installation process does not involve harsh chemicals like hair-bonding glue. Plus, the microlinks do not weigh on your strands and cause tension. Heavy extensions can pull on your tresses and cause shedding. Wigs and sew-ins require your hair to be braided pre-install. Snug cornrows left in your hair cause stress on your scalp and strands. For a natural look and painless process, microlinks are the way to go. And with the right aftercare, you can have that luscious volume for weeks.
How to take care of your microlink extensions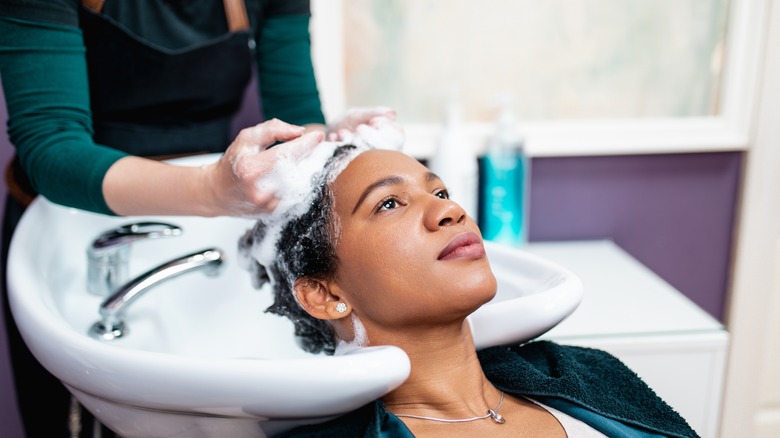 hedgehog94/Shutterstock
With the correct hair extension maintenance, your microlinks can last longer than tape-in or sew-in extensions. Since microlinks leave your scalp accessible, you can wash it up to three times a week to eliminate oils and buildup. A therapeutic scalp scrub will keep your hair and extensions fresh. However, you can't just use any shampoo and conditioner. You need hair care that is sulfate and paraben free. Other washes can damage the keratin bonds in your extensions and cause them to dry out or break. You did not invest in quality microlinks to have them destroyed by cheap shampoo.
Overall you want to maintain your extension like it's your natural hair. Weekly deep conditions will keep it shiny and hydrated. Detangle gently to prevent your microlinks from loosening or becoming matted. Use the cool setting when drying your hair and ensure the bonds are dry otherwise, you'll compromise their hold. These mini-extensions can last up to six weeks. That's a month and a half of your hair's best-kept secret.