Insider Claims Royal Family Hopes To Ice Out Harry And Meghan If They Attend The Coronation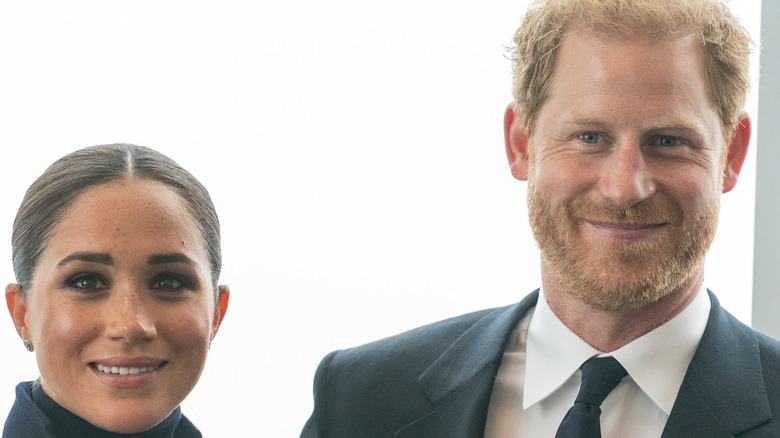 Lev Radin/Shutterstock
Now that King Charles III has officially sent out his save-the-dates for his May 6 crowning, all eyes will be on one particular pair of guests. Prince Harry, Duke of Sussex, and Meghan, Duchess of Sussex, are expected to attend the coronation, although they haven't confirmed it as of this writing. Awkward as it would be for the Sussexes, it would look even worse if they declined; the tabloids would explode with headlines like "Bratty Harry Snubs Dad Charles on His Most Important Day." Harry and Meghan's children will definitely not be there. Per The Telegraph, Prince Archie and Princess Lilibet (as they're now officially titled) were considered too young to sit through the pomp and circumstance of the ceremony. The last thing Charles would want as he takes his oath is to have a toddler wailing for a snack or running down the aisles of Westminster Abbey. 
Assuming the senior Sussexes do make the trip over, they'll be a minor part of the festivities. Because they're nonworking royals, they won't be joining the new king and queen on the balcony of Buckingham Palace to greet the public. Harry will not participate in the ceremony, but then, neither will most of the royal family. Only William, Prince of Wales, will be performing the traditional act of homage, kneeling before his father and kissing his cheek, per Hello! Magazine. A source recently claimed that during the coronation, Harry and Meghan might also be pushed far out of the spotlight — very far.
Harry and Meghan may be sitting far away from the royal family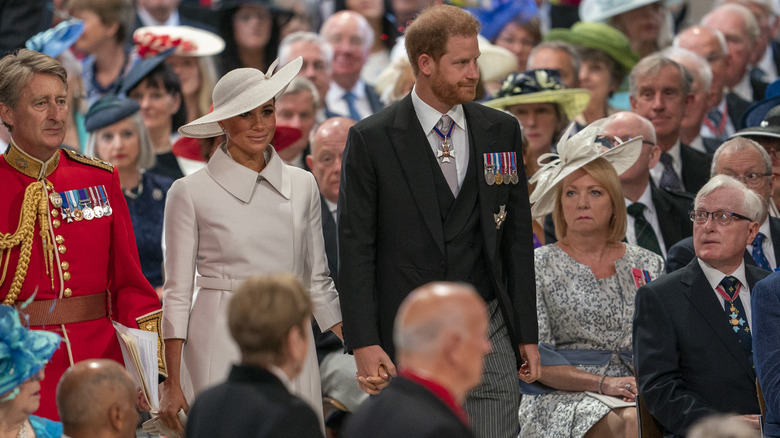 WPA Pool/Getty Images
TV viewers hoping to get a good view of the Duke and Duchess of Sussex during King Charles' coronation may have to use a magnifying glass, or at the very least, squint a bit. A source, reportedly a family friend, recently told the Daily Mail the disgraced couple will probably be sitting far from the coronation chair area. "They will be given the cold shoulder by very many relatives," the source said. "One said to me, 'I hope they'll be seated in Iceland.'" 
That may be somewhat accurate. Since Prince Harry will not be taking part in the ceremony itself, it stands to reason he and Meghan would be placed away from heir apparent William, Prince of Wales. The couple were similarly demoted during Queen Elizabeth's funeral last September, when they were placed in the second row of Westminster Abbey, next to their cousins Princesses Eugenie and Beatrice. This was only one of many ways the royal family has snubbed Harry and Meghan since Megxit.
A kiss-and-make-up opportunity afterward is also highly unlikely, the source said: "Many of the family just want nothing more to do with them. If they have to see them at the Coronation, then so be it, but they do not want to socialize with them." As with their appearances at the Queen's funeral and Platinum Jubilee, expect Harry and Meghan to make a quiet exit as soon as their obligation is finished.