Mindy Kaling's Vera Wang Outfit Change At The 2023 Oscars Takes A Page Out Of Erin Andrews' Book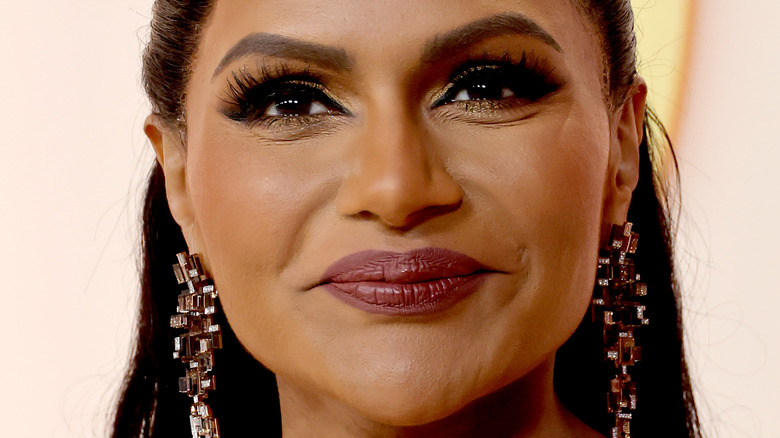 Mike Coppola/Getty Images
The 95th Academy Awards hit Hollywood this weekend, highlighting the film industry's biggest accomplishments of the last year. However, for many viewers, it was all about the fashion. There have been some iconic Oscars dresses over the last 20 years, along with some that were just plain silly. Who can forget when Bjork showed up in her legendary swan dress? Or Uma Thurman's pirate get-up? The illustrious ceremony has been a platform for many celebrities to show off their personal sense of style.
This year, the preshow featured some of the worst-dressed celebs we've seen on the champagne carpet, but there were some major wins, too. "The Mindy Project" creator Mindy Kaling, for instance, showed off a special Oscars look that fans will likely be talking about for weeks to come. Seemingly taking a page out of the book of Erin Andrews, the football commentator who caught the attention of viewers at the 2023 Super Bowl for her dramatic outfit change, Kaling donned two different fits during the star-studded Oscars evening.
Kaling brought her A-game to the Oscars this year
Mindy Kaling dazzled fans by her champagne carpet look at the 2023 Oscars. She originally showed up in a look that highlighted a major trend this year: the corseted gown. While her Vera Wang ensemble was gorgeous, it turns out Kaling had more to give then the white design she showed up in.
When it was her time to present the award for best original score, she walked on stage wearing nearly the same outfit she showcased on the carpet, down to the corset detail. Only this time, it was an elegant black instead of bold, bright white. Quite a fun twist on the evening!
Erin Andrews, a broadcaster during the 2023 Super Bowl, pulled a similar stunt. During the middle of the event, she changed from wearing a white pantsuit into a black one. Coincidence? Although it remains unclear whether Kaling was inspired by Andrew, both women pulled off the color switch seamlessly!