The Biggest Color Trend From The Oscars 2023 Red Carpet Is Right On Track For Spring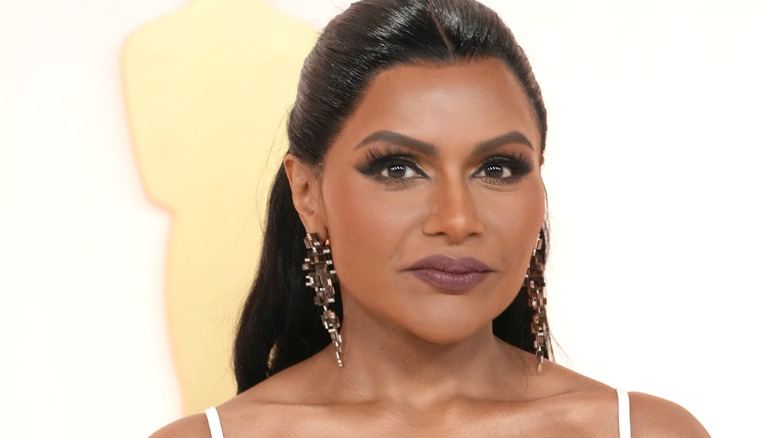 Kevin Mazur/Getty Images
At the 2023 Oscars ceremony, there was no shortage of notable looks, even among the evening's worst dressed stars. Michelle Williams was ethereal in a bridal chic look, with sheer lace draped over an extravagantly detailed metallic chest. Paul Mescal went with a white suit jacket, which drew an unfortunate Twitter comparison to Alvin and the Chipmunks. And the cast of "Everything Everywhere All At Once" had plenty of white bird feathers between them.
Even the night's host Jimmy Kimmel switched his black tuxedo jacket for a white one midway through the broadcast, though he joked that he only changed because he spilled guacamole on his first look. Though not all of the night's winners rocked the dazzling and unexpected color having its moment at the Oscars, the stars who did had an undeniably bright presence.
Emily Blunt's look was on point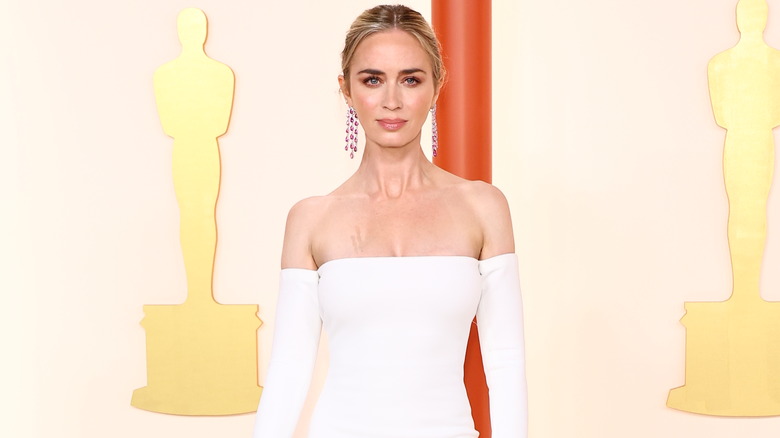 Arturo Holmes/Getty Images
Emily Blunt's 2023 Oscars gown was sleek and stylish, with clean lines that emphasized her décolletage. The actress's low bun and subtle glowing makeup added to her overall glamour, while her earrings took center stage, pink jewels cascading down her unadorned neck. Blunt's look balanced the impact of the bright white gown with her skin's peachy undertones, using a deeper bronze eye liner and shadow to create drama around the eye.
Harry Shum Jr.'s look combined worlds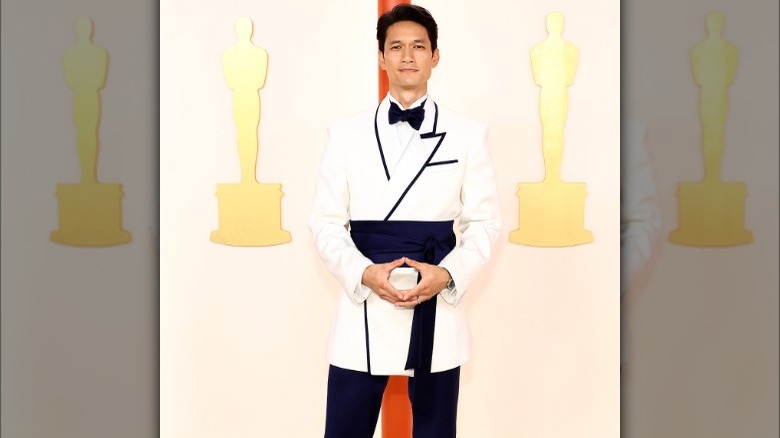 Arturo Holmes/Getty Images
In "Everything Everywhere All At Once," Harry Shum Jr. played a sushi chef with a "Ratatouille" style secret, aka a raccoon chef pulling the strings. But the actor's red carpet look designed by Adeam was meant to serve as half-kimono style sash and collar, and half tuxedo. The designer's creative director Hanako Maeda told Esquire, "I wanted to create an evening look that expressed Harry's multicultural background." He also shared, "The white and navy color palette of the suit is inspired by his role in "Everything Everywhere All At Once," as he plays a chef that wears a white chef's coat with navy piping."
Mindy Kaling in Vera Wang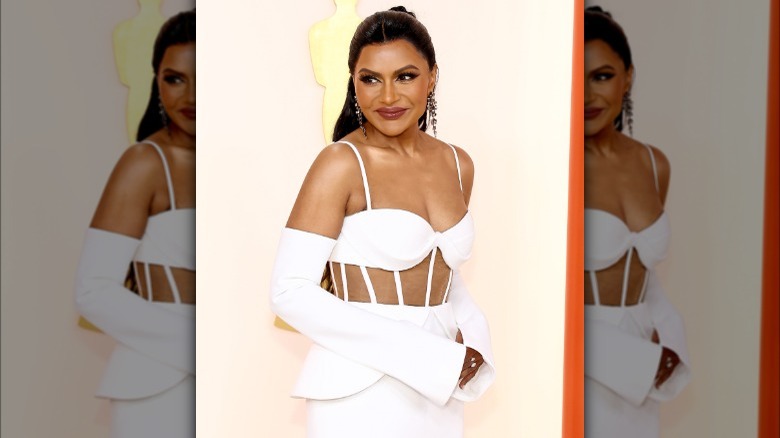 Arturo Holmes/Getty Images
Mindy Kaling was a scene stealer in her white Vera Wang gown, which played with conventions of the traditional bodice by creating a bikini top look complete with spaghetti straps and shoulder-baring sleeves.
Throughout the evening, Kaling even traversed the color spectrum, switching her blinding white dress out for a black replica for her turn as an award presenter. Though the second look was also stunning, the brighter of the two looks smashed the spring trend out of the park.
Ariana Debose looked powerful with metallic accents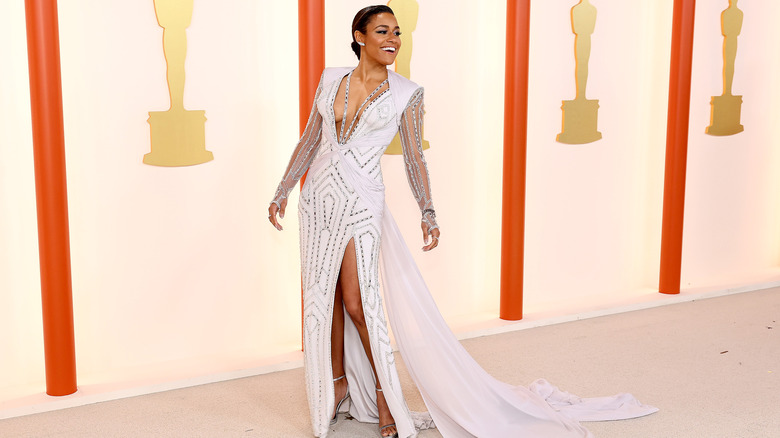 Arturo Holmes/Getty Images
Ariana Debose showed off one of the other popular trendss of the night, playing white against silver tones for a gladiator chic effect. With broad, sharp shoulders, a plunging V-neck, and dazzling geometric strips of jewels, Debose was both metallic modern and old-school glamorous. Her slicked-back hair providing an extra layer of togetherness and sheen, giving the triple threat a versatile look that could take the dance floor.
Tems left a heavenly impression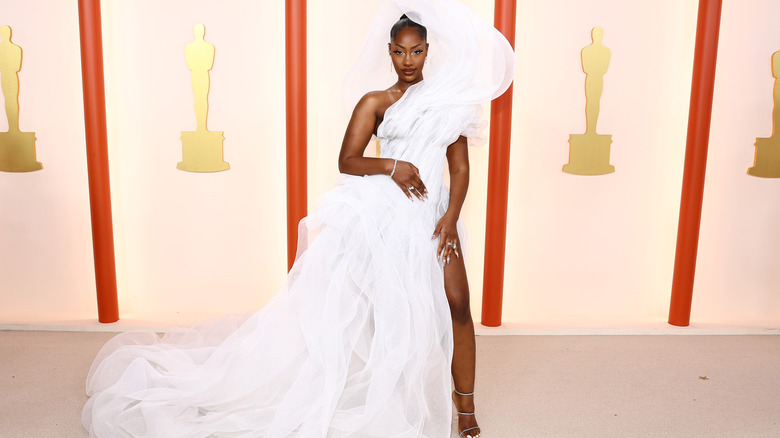 Arturo Holmes/Getty Images
Nigerian singer-songwriter Tems was on the writing team for Rhianna's Oscar-nominated ballad "Hold Me Down" for "Black Panther: Wakanda Forever," and she looked ready to take the stage in a Lever Couture gown. On the champagne carpet, the dreamy piece looked straight off the runway, while the attached headpiece took the blinding white trend one notch higher, creating an almost halo-like effect.