This Unexpected Color Is Having A Moment At The Oscars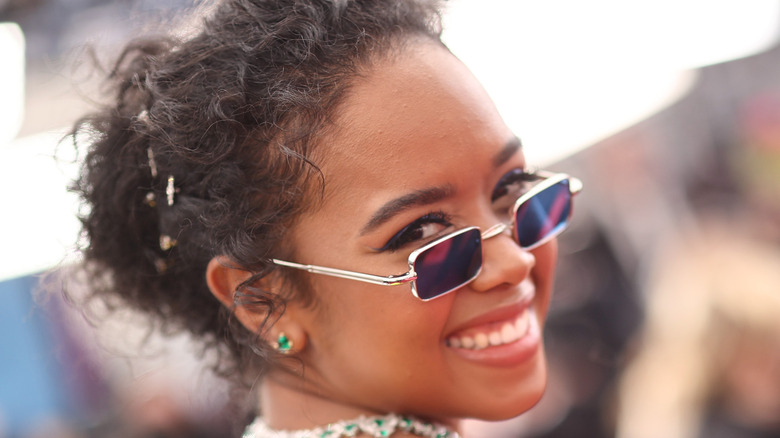 Emma Mcintyre/Getty Images
The Oscars are a time to celebrate all the extraordinary talent in the entertainment industry — it's also a great time to get color inspiration for the upcoming fashion season. The red carpet was filled with tons of bright colors; from bright reds and oranges to pale purples and pinks, there was a lot to take inspiration from. But there was one color that unexpectedly stole the show at the Oscars — neon green. The bold color choice was the pick of some of the biggest names in entertainment, and something tells us that it's going to be a must-have for spring.
You know those colors that you steer clear away from when you think about putting together an outfit? This is one of those colors. The neon green is not a natural go-to, but all eyes on were on the shade during the Oscars. The shade first showed up on the red carpet as H.E.R. walked down the red carpet with a strapless, modern high-to-low gown from Carolina Herrera, per Us Weekly. The bright color completely popped — not to mention how stunning it looked with modern accessories of rectangle shaped sunglasses and tiny hair clips.
The second time the color popped up, well, let's just you couldn't possibly miss it. 
Beyonce wore head-to-toe neon green at the Oscars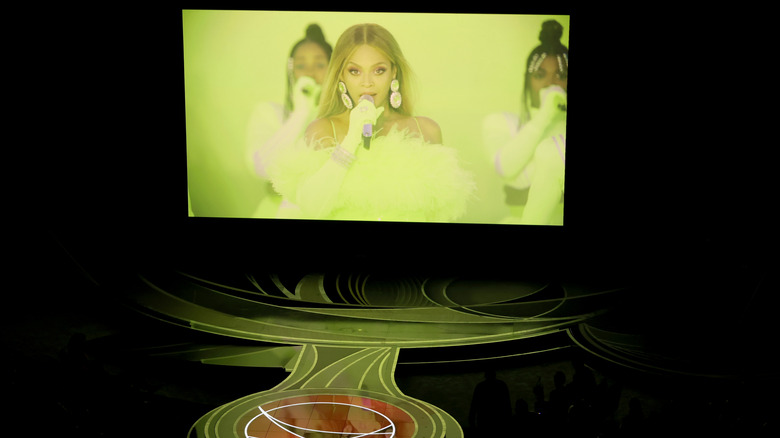 Neilson Barnard/Getty Images
If you watched the start of the Oscars, there is no possible way that you missed the neon green. Beyoncé opened the awards show with a performance of "Be Alive" from the movie "King Richard." In true Beyoncé form, the performance wasn't just about her incredible song, but carried through to an iconic fashion moment. The movie "King Richard," about Venus and Serena Williams' father, was all about tennis. So when Beyoncé took to the tennis court essentially dressed like a tennis ball, people noticed.
It wasn't just Beyoncé dressed from head-to-toe in the neon green shade, though. Every single one of her backup dancers was also dressed in monochromatic neon green outfits. While it was a literal fashion choice that fit the tennis theme, the color is an unexpected crowd pleaser. Be it the shade or the complete stimulation overload from being the only color present in the performance, who knows. 
Whether you're looking to add it into your outfit with accessories or put together a head-to-toe Beyoncé-inspired look, there's a good chance that this color will be everywhere for spring. After all, when celebrities like H.E.R. and Beyoncé start to wear it, the trend becomes almost instant.