Rihanna's Look At The 2023 Oscars Totally Redeemed Her Super Bowl Flop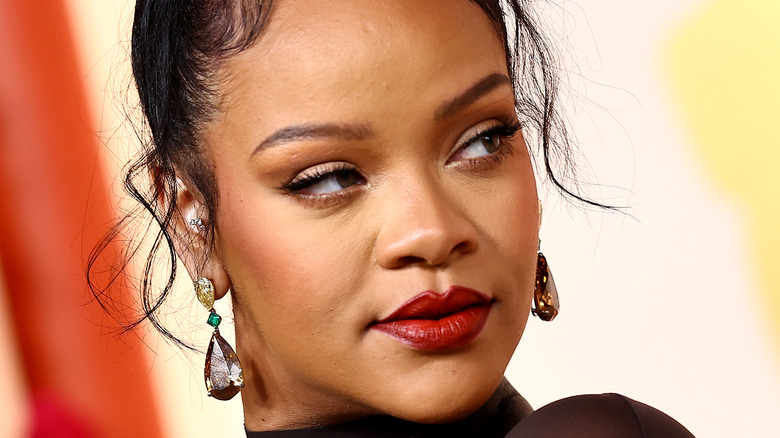 Arturo Holmes/Getty Images
Rihanna shone bright like a diamond at the 2023 Oscars — so much so that everyone collectively forgot how much of a snoozefest her Super Bowl performance was.
It was just in February when the "We Found Love" singer took center stage at the Super Bowl to perform some of her greatest hits in front of a massive audience after a years-long hiatus. People got the surprise of their life when she debuted a baby bump the moment she appeared, but it was sadly the only noteworthy moment of her 13-minute performance. It's understandable that she wanted to be on the safer side of things given her pregnancy, but overall, it was her backup dancers, LED-lit platforms, and the floating stages that carried the show.
In true Rihanna fashion, however, she rocked the hell out of her vibrant red, monochromatic jumpsuit without any costume changes in between, save for swapping outerwear. The Fenty founder donned a tailor-made Loewe catsuit, two custom coats from Alaïa, and a pair of MM6 Maison Margiela x Salomon Cross sneakers. Come the 2023 Oscars, she also didn't disappoint with her looks, and her stunning performance of "Lift Me Up" made up for the disappointment her Super Bowl stint brought about.
Rihanna stunned in an Alaïa dress and a Maison Margiela ensemble
Leave it to Rihanna to blow everyone out of the water in her maternity get-up! She rocked not just one, but two incredible outfits at her 2023 Oscars appearance.
First up, the Grammy award-winning artist arrived on the red carpet in a custom ensemble not many other pregnant people can say they can pull off: bondage wear. Rihanna brandished her baby bump with an Alaïa semi-sheer bodysuit outfitted with a bondage-inspired dress. Her heels were also made just for her by Giuseppe Zanotti.
But what made Rihanna truly shine was her look for her "Lift Me Up" performance that featured a live orchestra and a choir. On stage, she was clad in a Maison Margiela ensemble put together by John Galliano. The look featured a halter top adorned with crystals that were draped over her baby bump and a pair of wide-leg pants with metallic flower detailing. To top it all off, she wore leather gloves that went up to her elbows and a pair of black pumps. Queen RiRi may not have brought home the Oscar for the song, but she definitely stole the show!