Utah Curls Are The Viral Hair Trend Of The Moment. Here's How To Get The Midwest-Approved Look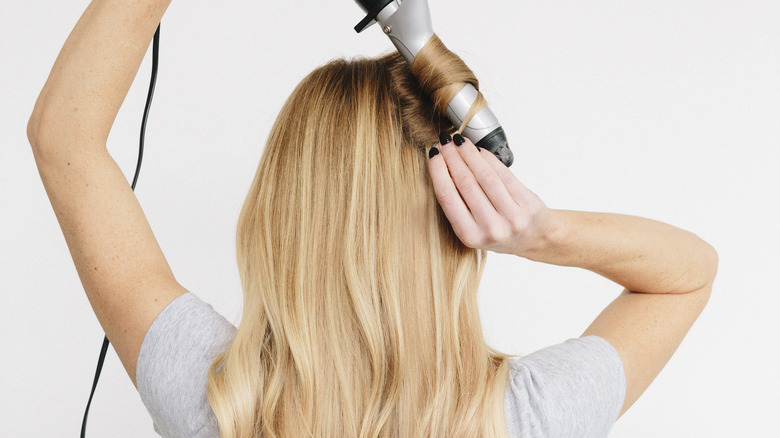 MintImages/Shutterstock
We may receive a commission on purchases made from links.
If you spend enough time scrolling through TikTok or Instagram Reels, you will likely stumble upon at least one Utah-based influencer. Utah bloggers have been gaining followers and finding popularity for years. In 2017, Allure talked about one of the original Utah influencers, Amber Fillerup, who has over 1 million followers. More recently, the Utah moms made a splash after it was revealed that many of them participated in "soft swinging" and one of those moms, the controversial Taylor Frankie Paul, even got divorced over it. Most recently, she was arrested for domestic violence.
But beyond the drama, Utah girls are still heavily influencing our beauty routines. According to Mariah Wellman, a doctoral candidate at the University of Utah who studies influencers, Mormons are taught from a young age to journal and scrapbook. They are also taught to always be cognizant of their outward appearance and are encouraged to wear makeup and style their hair. The mix of these two makes for the ultimate influencer — and luckily, they share their knowledge with us. Lately, the biggest trend has been Utah curls, and we're all about it.
How to achieve the viral Utah curls
We've seen hair trends leaning towards volume, with techniques like the Calligraphy Cut gaining traction for its ability to give thin, fine hair a voluminous look. If you don't want to head to the salon but crave big, bouncy curls, Utah curls are the ultimate style you can do from home. Before you start, you'll need a heat spray and a curling iron (not a rod). Depending on your hair type, you may need to straighten it with an iron or blow dry it straight first since the biggest component of the Utah curl is the straight ends.
Once your iron heats up, simply take your hair into small sections and curl it as you normally would, leaving out a small portion of the ends. After the entire head is curled, take your curling iron, or use your flat iron, and straighten the ends of your hair. Brush through the curls, and viola! You will now be rocking the Midwest-inspired hairstyle taking the internet by storm.
The best products to use to get the look
While some may have their criticism over the Utah curl, it can be a gorgeous style if done right. Before you add any of your hot tools to your hair, spray your hair with a good heat protectant. The Living proof Restore Perfecting Spray is great for chemically treated hair and will keep your ends hydrated even after working them double-duty by curling and then straightening them. If you have dry hair, you may want to stick to a balm over a spray. We love the Oribe Balm D'Or Heat Styling Shield as it not only protects the hair, but restores it as well.
As for curling irons, the GHD Classic Curling Iron is a perfect size and heats up to the perfect degree to keep the hair safe from overheating. If you want to keep things more wallet-friendly, the Ion Ion Golden Titanium Curling Iron is a professional-grade iron that is under $50. We also love the uber budget-conscious option (under $20) of the classic Conair Double Ceramic 1-Inch Curling Iron.