Hair Perfume Is Having A Moment. Here's How It Differs From Your Everyday Fragrance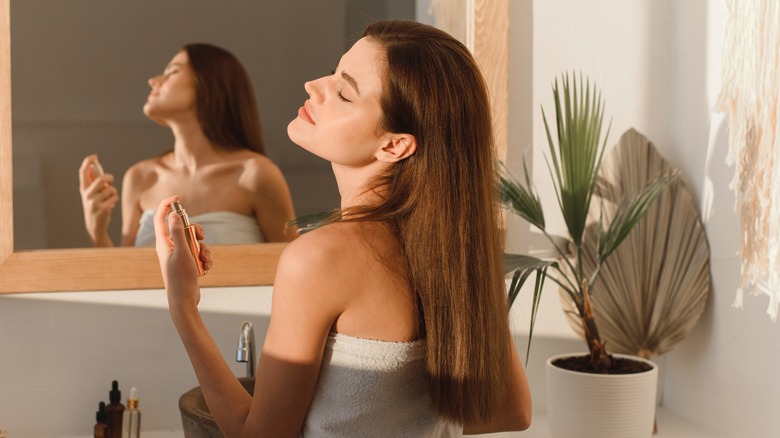 etonastenka/Shutterstock
Purchasing a fragrance that you love is one of the best treats you can give yourself. Though not everyone enjoys wearing perfume, those who do often get a boost out of finding a new signature scent. Both regular perfumes that you spray on your skin and hair perfumes can make a good impression as they are typically pleasant and can also be alluring.
Still, there are a few perfume mistakes everyone has made, including simply applying too much perfume. Yet there is a more subtle perfume mishap that may not even seem wrong, and it's something many of us still do. While getting ready to go out, it's customary to spray perfume on the neck and wrists, and then for good measure, give a quick squirt to the hair. The underlying thought is usually that hair tends to bounce, so a swing or two of the head can elicit a scent throughout the day. However, this simple action can negatively affect the hair. Here's why your hair fragrance needs to be a bit different than what you use on your body.
The difference between perfume for your skin and hair perfume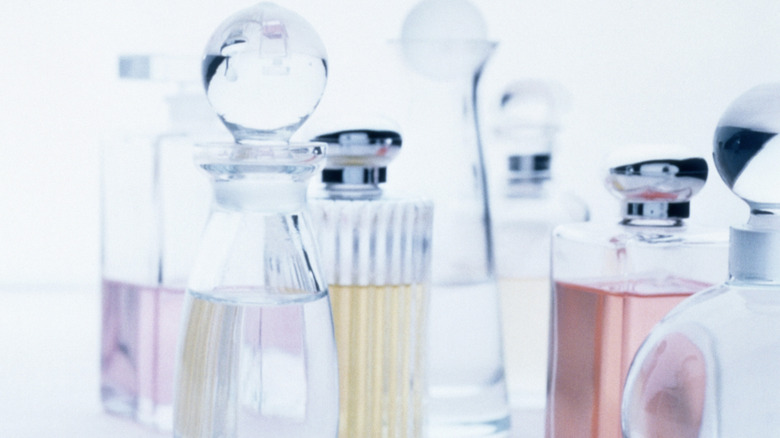 Getty Images/Getty Images
"Hair fragrance – also known as hair mist or hair perfume – has emerged over the last few decades, as we have become more aware of hair health and embracing creative ways of wearing perfume," says Laura Curtis, Fragrance Education Manager at Mecca, told Body+Soul. It has a significant effect on your hair's condition and vitality.
The problem with using your regular perfume on your hair is that it often contains a good amount of alcohol that can dry your precious locks. "Hair perfumes are constructed with a lower alcohol content to preserve the natural moisture of the hair, and many include nourishing ingredients to enhance the health and shine of the hair, which differentiate them from a traditional perfume," explains Curtis.
Many hair fragrances contain sustaining ingredients like natural oils and aloe vera. Instead of spraying alcohol into your hair with regular perfume, using a hair fragrance can directly help foster shine and luster.
How to wear hair perfume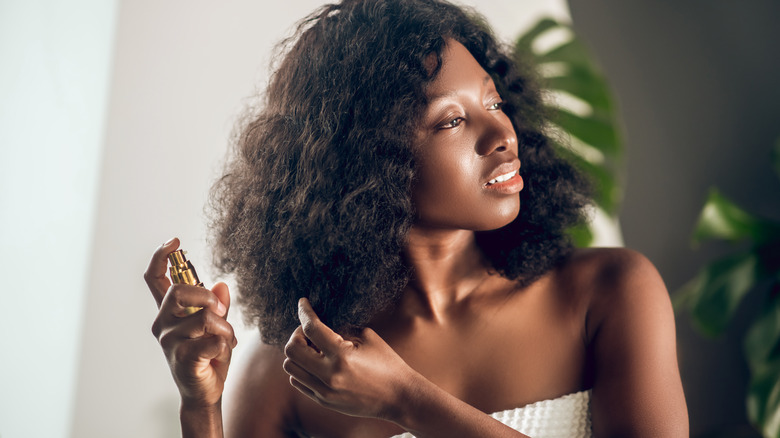 Zinkevych/Getty Images
There are a variety of brands of fragrances specially created for hair exclusively and using hair perfume isn't very different from wearing regular perfume. You can squirt it directly into your hair and go, however, hair experts advise creating a mist above your head with a few sprays. You then walk underneath the circle of scents to allow the scent to settle into the delicate areas of your hair.
It may take trying a few different hair fragrances before you find one you really like. While hair fragrances are growing in popularity, they aren't as varied as regular perfumes just yet.
There are also ways to use your own perfume in your hair without ruining it. Mona Kattan, the global president of Huda Beauty, says a pro tip for using your regular scented perfume is to give your hairbrush a few generous sprays and then let it dry (via Byrdie). Then, when you run the brush through your hair, it will pick up the scent without basing in the alcohol. "You can also spray your hair fragrance on a towel and wrap it around your hair pre-styling," says Kattan.