King Charles Expected To Leave Prince Harry Out Of His Will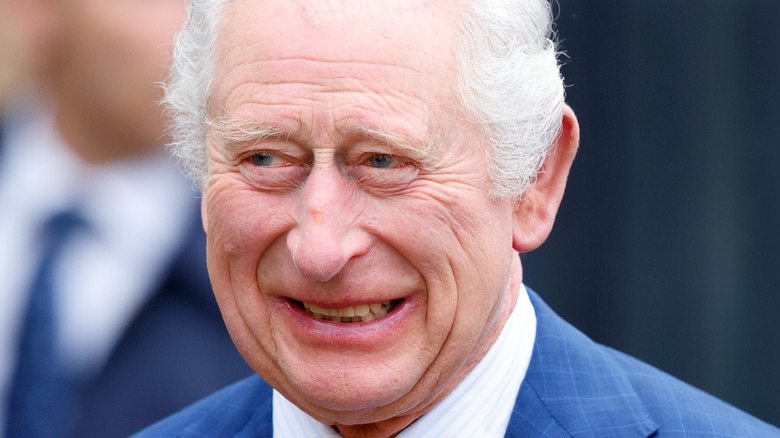 Max Mumby/indigo/Getty Images
Prince Harry, Duke of Sussex and the royal family have had their fair share of ups and downs ever since he decided to leave the firm officially at the beginning of 2020. Moreover, since the publication of his bombshell book "Spare," it's safe to assume the relationship between him and the remaining royals may have been strained even further. Though Harry and Meghan are expected to attend King Charles' coronation, their attendance may not get the friendliest of receptions from the other royals, who are supposedly planning to ice Harry and Meghan out.
Interestingly, the titles were recently updated on the royal website, amongst which Lilibet and Archie were officially recognized as "Princess" and "Prince" titles. To some, the updated titles seem like an olive branch of sorts and could even be a sign that reconciliation could occur sooner rather than later. However, a new piece of information has come to light that could have a further disastrous effect on the relationship between King Charles III and his son.
Why King Charles may be forced to Harry out of his will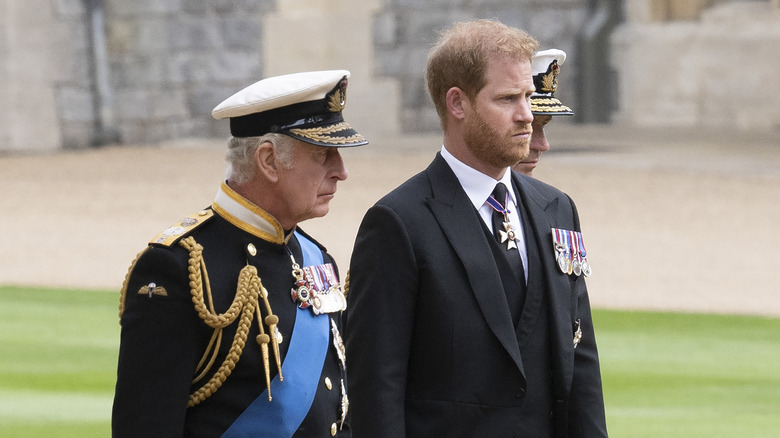 WPA Pool/Getty Images
It seems that the ill will King Charles III may be feeling toward his son goes further than expected. According to royal commentator Daniela Elser, who wrote an opinion piece for the New Zealand Herald, it's looking more likely that the Duke of Sussex will receive nothing in his father's will. Instead, the will is likely to focus heavily on his brother Prince William, Prince of Wales and William's three children. Elser's logic follows the change that Queen Elizabeth made in the 1990s when she decided that the royal family would pay taxes from then on. 
However, part of the tax deal the Queen negotiated was that money given from one sovereign to another would not be subject to the 40% tax rate inheritance sums usually are. As a consequence of this, William is exempt from the 40% tax fee due to being next in line to the throne. Of course, this caveat also means that Harry is not exempt, which could lead to him being disregarded completely.
Though nothing is confirmed, this latest development could drive even more hard feelings between Harry and his father if true.
Prince Harry won't be the first royal left behind
Chris Jackson/Getty Images
If King Charles III leaves Prince Harry out of his will, he will only be following in his mother's footsteps. Queen Elizabeth II passed down the entirety of her fortune — $676 million, to be exact — to her eldest son, leaving her other three children out of the picture entirely, per Sky News Australia. Prince Andrew, who's dealt with legal troubles and public scrutiny since his ties to Jeffrey Epstein first came to light in 2015 (via The Guardian), is experiencing his fair share of financial strain. In 2022, the prince was dismissed from his many patronages and stripped of his formal royal titles. Financially supported by his mother during her lifetime, the Duke of York can no longer afford Royal Lodge, the mansion he shares with his ex-wife, Sarah Ferguson. Though Charles has offered Frogmore Cottage, formerly owned by the Sussexes, to his brother, Andrew sees it as a massive step-down.
"He's in despair," a friend of the prince's told The U.S. Sun, referring to his absence from the queen's will, adding, "He's a member of the family, for God's sake." Regardless of whether Prince Andrew is allowed to stay in Royal Lodge or not, his monetary issues are far from over. Prince Harry, who now works as Chief Impact Officer at BetterUp (via Elle), seems to be avoiding his uncle's precarious financial fate.