Inside Blue Ivy's Relationship With Her Mom Beyonce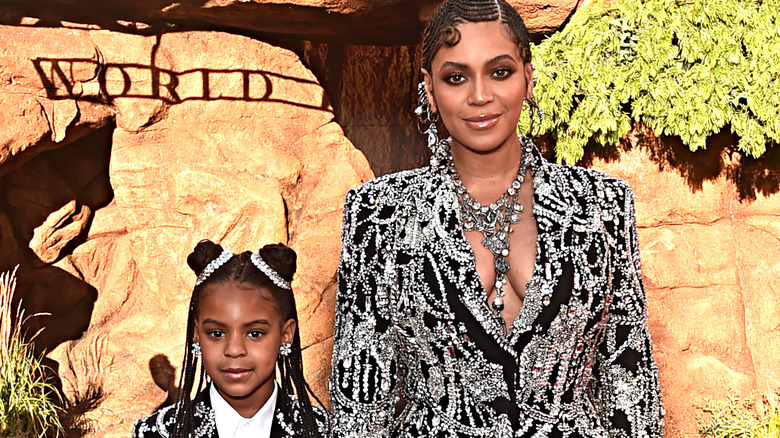 Alberto E. Rodriguez/Getty Images
Beyoncé and Jay-Z were superstars in their own right before they got together, so you could only imagine the way the world reacted when it was finally announced that the two were crazy in love with each other. Who would've thought that these friends turned lovers would eventually share a family of five?
The couple has three children: Blue Ivy Carter, Rumi Carter, and Suri Carter. With a lot of their lives spent in the spotlight, they try to keep their personal lives to themselves as much as they can. The news of their first child, however, was a joyous occasion that they couldn't help but share with the world. Beyoncé announced her pregnancy to the public at the 2011 VMAs, and it was a mic drop moment — literally. After a passionate performance of her hit song "Love On Top," Beyonce dropped her microphone and proceeded to unbutton her blazer to reveal her baby bump, which she then rubbed as she smiled at the cheering audience. "You are so overjoyed. There's no words that can express having a baby growing inside of you, so, of course, you want to scream it out and tell everyone" the "Love On Top" singer shared in her documentary "Life is But a Dream" (via US Magazine).
Since giving birth to Blue Ivy, Beyoncé's personal life, family life, and relationship with Jay-Z have significantly changed for the better. Here's a look inside Blue Ivy's relationship with her mom Beyoncé.
The world said hello to Blue Ivy Carter in 2012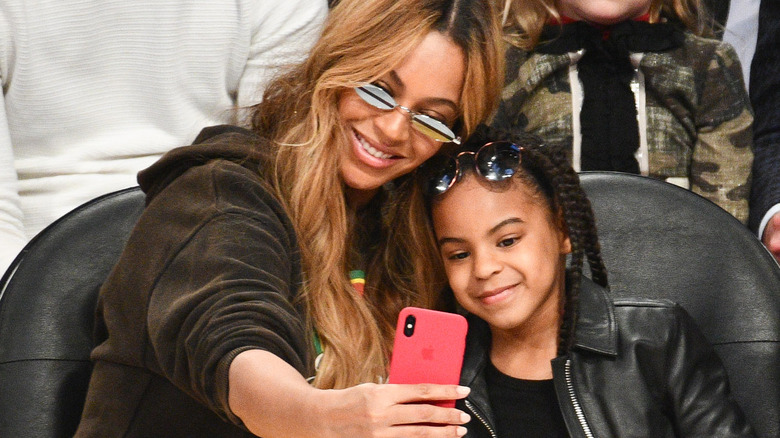 Allen Berezovsky/Getty Images
Beyoncé gave birth to Blue Ivy Carter on January 7, 2012 (she's a Capricorn!). Instead of letting the media or paparazzi take control of the narrative of Blue Ivy's birth, Beyoncé and Jay-Z were the first ones to break the news. This was a big step, considering how they like to keep most of the details of their personal life out of the public eye.
A month after Blue Ivy was born, they created a personal Tumblr account solely dedicated to introducing her to the world. It was intended for the public to catch a glimpse of them as they started a new chapter of their lives. They definitely didn't beat around the bush; the account handle was literally @helloblueivycarter. The website is no longer active now, but it formerly housed intimate snippets during the start of their family life for the whole world to see. They shared family photos with Blue Ivy at 4 weeks old which included photos of the new parents cradling their daughter in their arms. Along with the photos was a note from the family that read, "We welcome you to share in our joy. Thank you for respecting our privacy during this beautiful time in our lives. The Carter Family."
In 2013, Beyonce opened up on motherhood and her relationship with Blue Ivy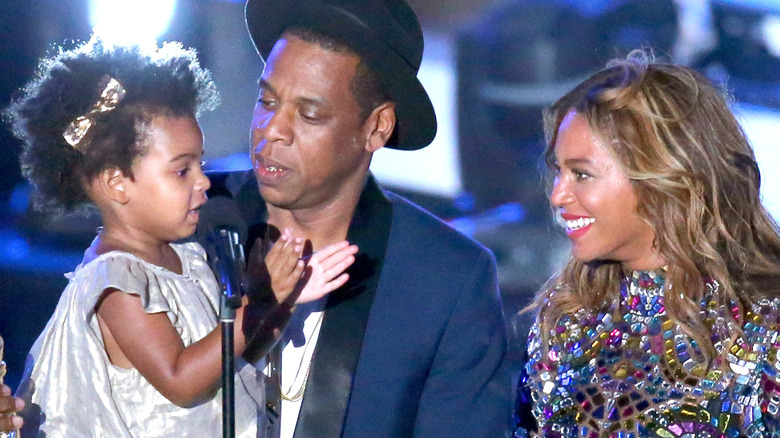 Mark Davis/Getty Images
Beyoncé quickly embraced her role as a mother. Even during labor, she recalled feeling connected to her child, dubbing Blue Ivy's birth as one of the best days of her life. "I felt like when I was having contractions, I envisioned my child pushing through a very heavy door. And I imagined this tiny infant doing all the work, so I couldn't think about my own pain," she shared with Vogue, adding, "We were talking. I know it sounds crazy, but I felt a communication."
She often references motherhood as a role that brings her the most joy. During a Super Bowl Live interview in 2013, she was quick to respond to the question "What makes you happy?" with "Right now, my family. My daughter ... when I wake up in the morning the best thing in the world is seeing her face." Aside from Beyoncé's newfound joy in motherhood, the birth of Blue Ivy also strengthened her relationship with her husband Jay-Z. "This baby has made me love him more than I ever thought I could love another human being. It's just that I love him so much that we almost feel like one," Beyoncé shared in her autobiographical 2013 documentary "Life Is But A Dream"(via People).
Blue Ivy is Beyoncé's best friend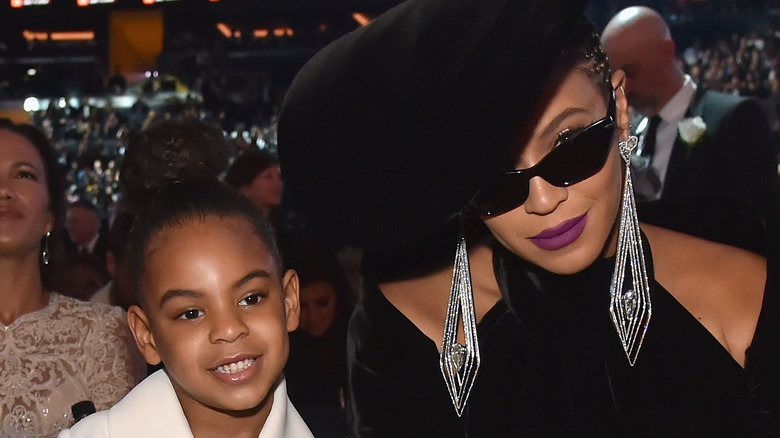 Kevin Mazur/Getty Images
Who claimed they were best friends? None other than Queen B herself. "She's my road dog, she's my homey, my best friend," Beyoncé shared as she explained her relationship with Blue Ivy to Vogue in 2013. Their mother-daughter relationship is rock solid. As soon as Blue Ivy was born, she and Beyoncé were "inseparable." "My biggest job in the world is to protect my daughter and I am very protective. I just want to make sure that she can have a healthy, safe, normal life," she shared.
Taking a page from her own mother's book, Beyoncé adopted the parenting style used on her when she was younger, which entails reasoning with the kids rather than reprimanding them by spanking. "I can say, [she] pretty much has my parenting," Tina Knowles-Lawson, Beyoncé's mother, shared with US Magazine. Just as Beyonce and Solange have a close relationship with their mother, Beyoncé seems to have cultivated the same with Blue Ivy.
Wherever Beyoncé went, Blue Ivy wasn't far behind. They were often spotted out on the town together, be it on vacation, on a lunch date, or at a red carpet event.
Very shortly after being born, Blue Ivy made a cameo on one of Beyoncé's tracks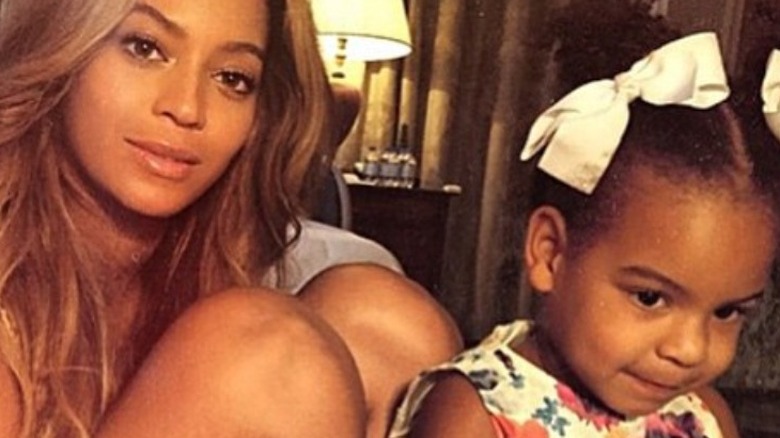 Instagram
The Carter family is big on collaboration. "'03 Bonnie & Clyde", the first track Beyoncé and Jay-Z ever worked on together, was just the beginning. The couple seemed to have used their craft as an emotional outlet for the momentous occasion dedicated to their daughter's birth.
Very shortly after Blue Ivy was born, her cries were sampled for Jay-Z's song "Glory," released in 2013. Beyoncé was not too far behind, either. In the same year, she released a song about her daughter in her album "Beyoncé" titled "Blue." And Bey, being the audio-visual queen that she is, released a music video to go with it that showed scenes of the Carter family together, including tender mother-daughter moments where Beyoncé cradled Blue Ivy in her arms. Blue Ivy's voice can also be heard in this song, towards the end, she calls out, "Mommy ... can we see daddy?" The music video ends with Beyonce, carrying Blue Ivy on her right arm, walking along the beach. This would be the first of many cameos by Blue Ivy in her mother's work.
Blue Ivy was made for the red carpet just like her mom Beyoncé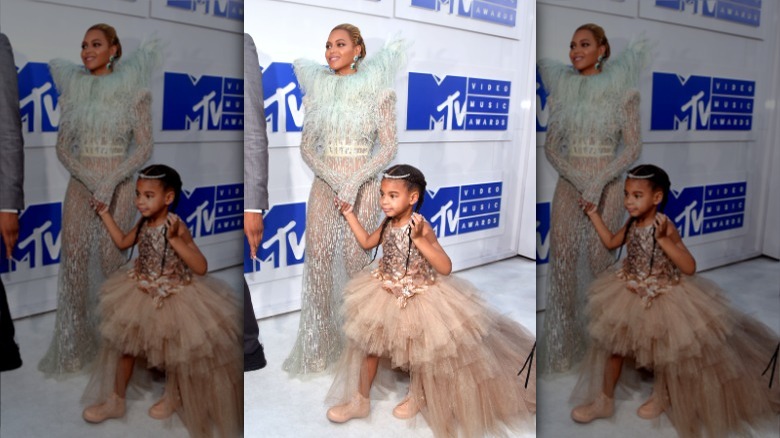 Larry Busacca/Getty Images
As young as the age of four, Blue Ivy was already getting friendly with the red carpet. In 2016, she made her first-ever red carpet appearance with her mom and dad at The Council of Fashion Designers of America Awards (CFDA). It's safe to say she wasn't too fond of the paparazzi though, as she wagged her fingers towards them as they took pictures of her stepping out of the car with her dad Jay-Z.
In August of the same year, Blue Ivy accompanied her mom to the MTV Video Music Awards. The VMAs are a notable occasion for the Carter family, as the "Halo" singer announced her pregnancy to Blue Ivy a couple of years prior at the very same event. And of course, be it a fashion event or not, the mother-daughter tandem definitely made a statement with their outfits. Beyoncé arrived holding Blue Ivy's hand as they walked to the venue. She looked captivating as ever in her feathered gown by Francesco Scognamiglio, while Blue Ivy wore a tulle Mischka Aoki dress paired with a tiara and Giuseppe Zanotti Junior Sneakers.
Beyoncé and Blue Ivy love a good twinning moment
Nobody does matching outfits quite like the Carters. Blue Ivy and Beyoncé in particular love to sport matching outfits when they can, be it on vacation in Ibiza, at movie premieres, or just out on a regular day. They've worn a lot of matching outfits throughout the years, but here's a breakdown of some of their notable ones. 
First off, their matching Gucci turquoise floral dresses and pink sandals in front of the Eiffel Tower. Beyoncé shared a quick compilation of photos on her Instagram to music by Young Thug (aptly titled "Best Friend").
Since they do wear matching outfits on a regular basis, Halloween was definitely not going to be an exception. Beyoncé shared a video on her Instagram with background music from Salt-N-Pepa's "Push It" showing off their Salt-N-Pepa inspired costumes. Blue Ivy's grandmother joined in on the fun, too.
And last but not the least, matching denim Gucci jackets (the duo is apparently big fans of Gucci, we can't blame them). Beyoncé took to Instagram to share photos of her and Blue Ivy modeling their custom-made Gucci jackets. The denim jackets were decked with Gucci's butterfly embroidery and "L'aveugle par amour" stitched along the back.
The tandem isn't limited to matching outfits, either; they've also gotten matching manicures. It's definitely a tradition they'll be keeping alive for years to come. "On our family vacations, we love to coordinate our outfits," Beyonce shared with People.
Beyoncé and Blue Ivy spend a lot of quality time together
Both Beyoncé and Jay-Z try their best to spend as much time as possible with family. The mother and daughter duo seem to be attached at the hip by this point. If there's an opportunity for Blue Ivy to tag along, Beyoncé definitely sees to it.
According to Beyoncé's mom, Blue Ivy thinks of herself more as her parents' friend than their child due to how close they've grown to become. "She's with her parents seven days a week, and you know, that's such a blessing that she can be with her parents all the time," Lawson shared with E.
When Beyoncé goes on tour now, she makes it a point to carve out enough time to spend with family. During these travels for work, she hopes to "expose her family to beautiful things" by paying visits to restaurants and museums (via Vogue).
Aside from traveling for work and leisure, Beyoncé also involves Blue Ivy in her philanthropic efforts. In 2017, Beyoncé, Blue Ivy, and the BeyGOOD team visited a hurricane struck Houston, Texas to aid in relief efforts. Aside from donating a sizeable amount in cash, they also met with and served meals to those affected.
Blue Ivy joins her mom during touring season, too
"I think the most stressful thing for me is balancing work and life," Beyoncé shared with Elle in 2019, adding, "Making sure I am present for my kids—dropping Blue off at school, taking Rumi and Sir to their activities, making time for date nights with my husband, and being home in time to have dinner with my family—all while running a company can be challenging." 
In order to balance work and family time, Beyoncé tries to hit two birds with one stone when she can, which entails bringing her daughter along to work with her. At a press conference on tour, when looking back at the first time she toured with her daughter, the "Crazy In Love" singer mused, "It's really interesting because I'm touring with my daughter for the first time and my dream has always been to be able to balance my life and my career" (via Cosmopolitan). Blue Ivy has definitely accumulated a multitude of stickers on her passport.
Beyoncé's daughter gets in on some studio time, too. Gwyneth Paltrow, a close friend of Bey, shared an experience she had with the mother-daughter duo back in 2013. "Blue was sleeping in her arms, across her body, and B was listening back to what she had been working on," Paltrow recalled. "I thought, This is how you do it. You do what you love with who you love included" (via Vogue).
Blue Ivy is dubbed as the Second Queen B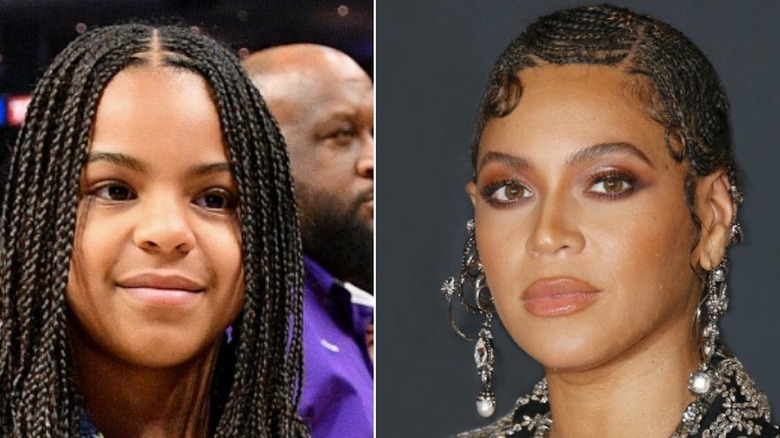 Tinseltown/Shutterstock & Allen Berezovsky/Getty
Beyoncé was a natural performer from a very young age, and it seems to be something she passed down to Blue Ivy. Out of the three children, Blue Ivy takes the most after her mom. In fact, her grandmother already gave Blue the title of "The second Queen B" (via US Magazine). 
"Blue Ivy is just so incredible and reminds me of Beyoncé so much," Mathew Knowles, Beyoncé's dad, told US Magazine. "Just like I saw it in Solange and Beyoncé when they were growing up. They're just about the passion because when we live in our passions, we don't have to work a day in our lives," he added.
Of course, it isn't all work and no play. Much to Bey's surprise, Blue Ivy tried out some of her mom's self-care routines — along with some bath blends she'd prepared. "One of my most satisfying moments as a mom is when I found Blue one day soaking in the bath with her eyes closed, using blends I created and taking time for herself to decompress and be at peace I have so much to share ... and there's more to come soon!" Beyoncé shared with Harper's Bazaar.
The mother-daughter pair have snagged awards together
Adding to the list of Carter family collaborations, Blue Ivy was featured on a single with her mother, SAINt JHN, and WizKid called "BROWN SKIN GIRL." An original song made for Beyoncé's soundtrack album "The Lion King: The Gift". This marks the first song where Blue Ivy actually sings on track. It's no longer her voice used for sampling, or a cameo in a video — it's an actual debut. Also, she was credited as a writer for the single. She opens and closes the track singing "Brown skin girl, your skin just like pearls." If this collaboration isn't already impressive in its own right, they even won 10 awards for the song which included an NAACP Image Award for Outstanding Duo, Group or Collaboration, a BET award, and a Grammy Award for Best Music Video.
On record, Blue Ivy Carter is the "youngest individually credited winner at the Grammy awards", per the Guinness World Records. She is also the youngest MTV Video Music Awards winner. We foresee Blue Ivy continuing to make a mark in the industry.
Blue Ivy seems to be following in her mom Beyoncé's footsteps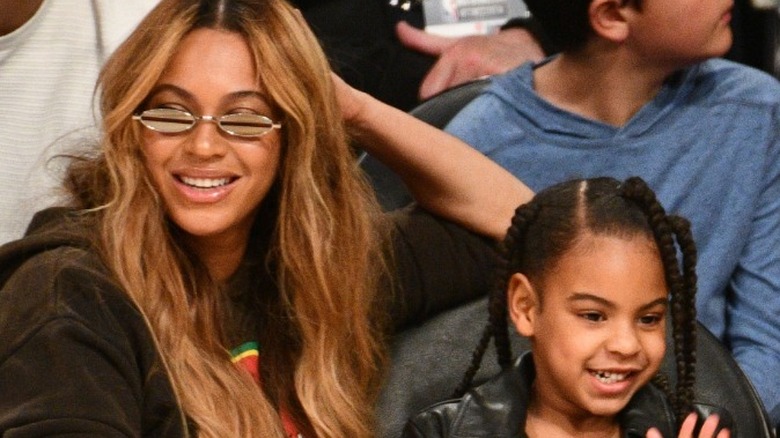 Allen Berezovsky/Getty
Following her vocal debut on "BROWN SKIN GIRL," Blue Ivy joined her mom for a live performance at the luxury resort Atlantis The Royal Dubai. The concert was as grand as could be with all the theatrics, including a 16 feet high pedestal, fireworks, and water shows. This private concert was the first full live performance of Beyoncé in 4 years. It had an exclusive VIP guest list and a no-phone policy. The guest list included Ellen Pompeo, Rebel Wilson, Kendall Jenner, Letitia Wright, and Winston Dukes, to name a few.
This was Blue Ivy's first-ever live performance. The mother and daughter duo were definitely a sight to see up on stage with complementing outfits. For the "BROWN SKIN GIRL" performance, Blue Ivy wore a red sequin jumpsuit designed by Timothy White and her grandmother Tina, while Beyoncé wore a feathered lemon yellow piece by Rayan Al Sulaimani, an Omani designer (via Vogue).