Don Diamont's Wife Is Dying To Know Why Bill Is Obsessed With Sheila On The Bold And The Beautiful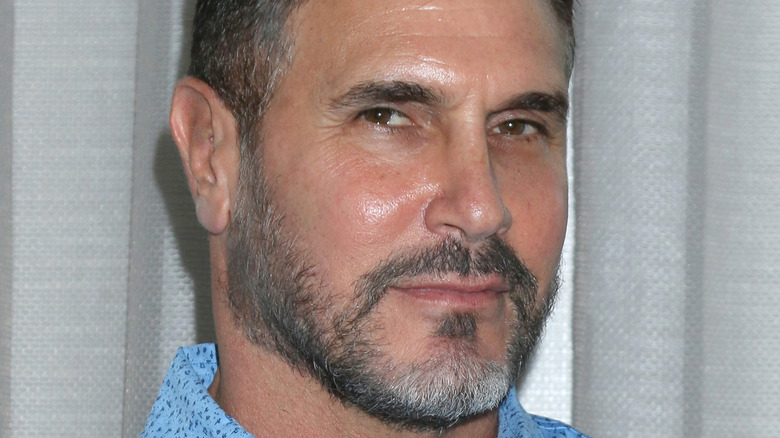 Kathy Hutchins/Shutterstock
Although "The Bold and the Beautiful" actor Don Diamont explained that the new version of his character Bill Spencer Jr. was evolving beyond his win-at-all-costs mentality and ruthless behavior in August 2022, that seems to have gone out the window. When Steffy Forrester (Jaqueline MacInnes Wood) and her husband, John "Finn" Finnegan (Tanner Novlan), planned on testifying that Finn's twisted mother, Sheila Carter (Kimberlin Brown), shot them and left the couple for dead, Bill rode to Sheila's rescue. He blackmailed the two, threatening to reveal that Steffy's mother, Taylor Hayes (Krista Allen), was the one who shot him in 2018.
Bill had previously agreed not to reveal that Taylor was the culprit, but now all bets are off as the cold-blooded businessman seems to have gone off the rails by protecting — and falling love with — Sheila, despite her history of evil deeds that make Bill's transgressions pale in comparison. Diamont has explained that Bill's determination to be with Sheila isn't just because Brooke Logan (Katherine Kelly Lang) and Katie Logan (Heather Tom) have rejected him, but it also stems from the character's self-loathing and feeling that he deserves such a vile girlfriend.
Not only are the characters on the show bewildered by this strange turn of events, fans — and even Diamont's wife — are demanding answers to Bill's absurd decision.
Wackiness ensues at the Diamont household
Actor Don Diamont's wife, Cindy Ambuehl, posted a hilarious video of the two on Instagram, captioning it: "When your fan-girling wife is out of control...STAY TUNED !!!" In the skit, Ambuehl asked Diamont what's going to happen on the show, and he explained that he's under a "confidentiality memo" to not reveal any story points — not even to his wife. When she tried to take his scripts, Diamont asked, "Have you no shame?" and then walked away, saying, "Just keep watching, fan girl! Same bold time, same bold channel!"
Followers agreed that the video was wonderful, including costars Jennifer Gareis (Donna Logan), who commented, "You all should have your own show!!!!!" and Krista Allen (Taylor Hayes), who added, "Perfection!" One fan offered a prediction, "Dollar Bill is going to send Sheila to prison!!" Another responded, saying, "I hope it's a trap!" to which Diamont cryptically replied with a "thinking face" emoji and a "tears of joy" emoji. 
While many fans thought the couple's video was cute and funny, several advised Ambuehl to sneak peeks at the script when Diamont sleeps — one adding, "I need to know if Sheila gets caught doing the Cobra Kai w Deacon (Sharpe, Sean Kanan)." That, of course, is a reference to the fact that Kanan was in "Karate Kid III" as well as the spinoff series "Cobra Kai." A concerned viewer advised Diamont's character, "Bill, Sheila is not good for you. Wake up!" 
If Diamont leaves a script hanging around at home, Ambuehl just might give us a hint about what's coming next for Bill and Sheila.