Is Linsey Godfrey Leaving Days Of Our Lives Behind Again?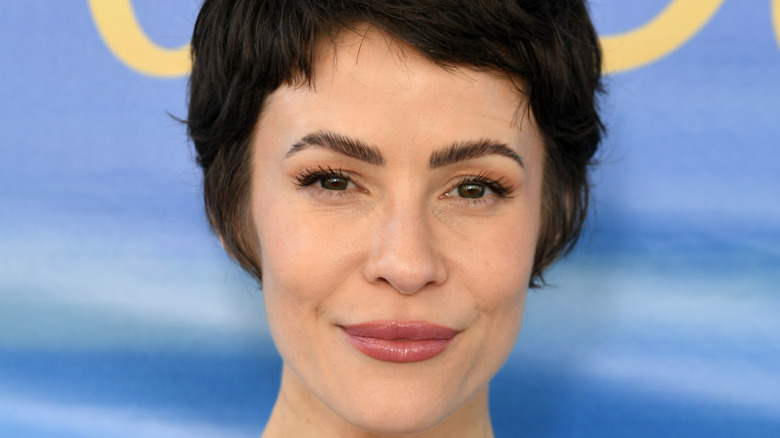 Jc Olivera/Getty Images
Linsey Godfrey brought the character of Sarah Horton back to "Days of Our Lives" in 2018. Before that, Sarah was best known as the daughter of Maggie Horton and the adopted daughter of Mickey Horton. As a child, there was much drama surrounding Sarah's paternity, and fans eventually found out that Dr. Neil Curtis was her biological father. Sarah was also hit by a car when Eve Donovan got behind the wheel while intoxicated, causing the young Sarah to have serious injuries.
During her childhood, Sarah struggled in her relationship with Maggie, especially after learning that her mother had been having an affair with Neil, the man who ultimately was revealed to be her father. Out of love for Mickey, Sarah wanted to tell her adopted dad everything, which caused issues within the family. Although Mickey and Maggie worked out their marital issues, Sarah opted not to stick around Salem.
In 1991, Sarah left her hometown and her parents behind to move to Nashville with her older sister, Melissa Horton. When Sarah returned to Salem in 2018, Godfrey was in the role and the character was revealed to be a doctor who was engaged to none other than Roman Brady and Kate Roberts' son, Rex Brady. Since that time, Sarah has become a favorite among viewers.
Sarah may be absent from Salem for a bit
Michael Mattes/Shutterstock
According to Soap Opera News, it seems that fans won't be seeing much of Linsey Godfrey's character Sarah Horton on "Days of Our Lives" in the future. The outlet noted that the actor's name has been cut from the credits of the most recent episodes, causing many to believe that Sarah has excited the Peacock soap opera. Of course, this wouldn't be the first time that Godfrey has left the sudser. After her first run as Sarah in 2018, the character was written off the canvas in 2021. Of course, she made her highly-anticipated return in 2022 and began to gain some serious screen time when she and her longtime love Xander Cook reunited and eventually tied the knot.
Now, things are a bit more complicated for Sarah. She and Xander are currently on the verge of divorce, and she's recently found out that she's pregnant. Of course, she's unsure if she's pregnant with Xander's child or Rex's baby. Fans watched as Sarah opted to leave Salem and go to Chicago with Rex, not knowing when they'd see the character again.
However, sources tell the outlet that Godfrey's absence is simply a change in status and that she'll likely be back again in the future. Meanwhile, Kyle Lowder, who portrays the character of Rex, has already returned to the sudser for filming.