What Really Happened Between Ashley And Tucker On The Young And The Restless?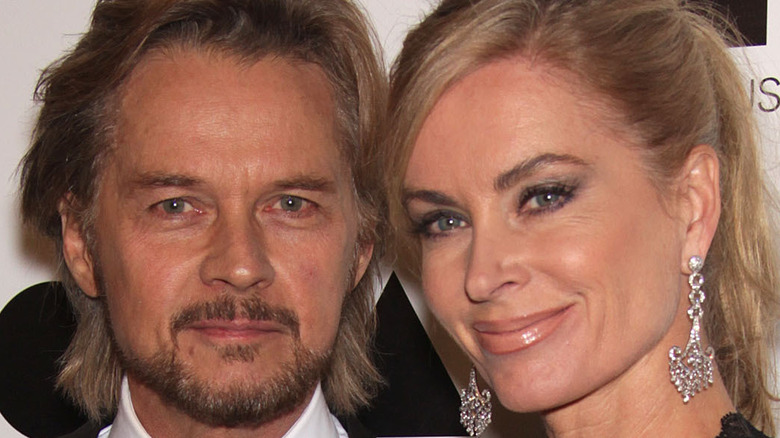 DFree/Shutterstock
In recent episodes of "The Young and the Restless," Ashley Abbott (Eileen Davidson) has been dodging advances from her ex-husband, Tucker McCall (Trevor St. John). The new Tucker recently returned to Genoa City after many years away from the canvas, hoping to reunite with Ashley and woo her away from her family company. His goal was to enter into a new business partnership together, but things haven't gone according to plan. Instead, it's quite the opposite. 
Ashley and Tucker have a sordid past rooted in unbridled passion and a web of deception spun by Tucker in his endless pursuit of power. Tucker's tenure on "Y&R" has seen him bend the rules on many occasions to achieve his goals, even plotting behind his son's back to steal his company. As the son of legendary businesswoman Katherine Chancellor (Jeanie Cooper), success in the corporate world is in Tucker's DNA. Being lucky in love, however, doesn't appear to hold the same streak of good fortune. 
Ashley, on the other hand, has had many epic love stories throughout her four decades on the show. Sadly, none of those relationships have panned out. Tucker's return holds the possibility of a future reconciliation between them, but their rocky past threatens to halt any progress before it begins. 
Ashley chose Neil Winters over Tucker in the beginning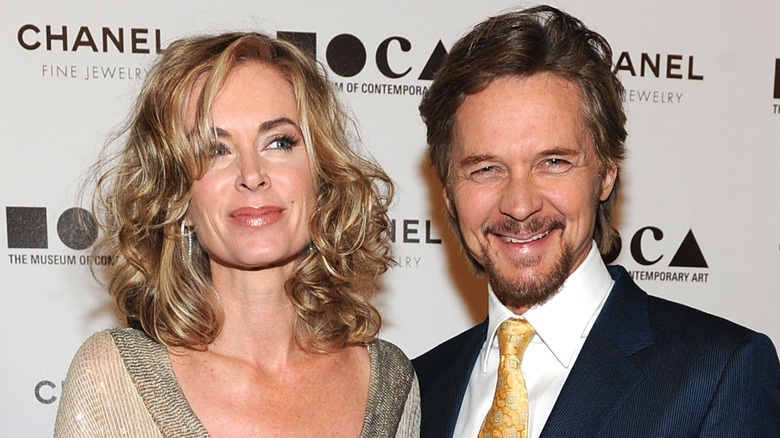 Frazer Harrison/Getty Images
Tucker McCall's first foray into the drama of "The Young and the Restless" centered around a mystery about who he was, and nobody was expecting the eventual bombshell that he was Katherine Chancellor's son. Tucker (then Stephen Nichols) was bitter and wanted to stick it to his biological mother, using various tactics of deception and manipulation to steal her company, Chancellor Industries, out from underneath her.
Once in control of Katherine's company, he also gained control of Jabot Cosmetics, using his position of power to make Ashley Abbott CEO. Ashley ended up spending the night with Tucker while on a business trip, though she was in a relationship with Neil Winters (Kristoff St. John) at the time. Being forced to choose between the two men, Ashley opted to remain with Neil, effectively ending things with Tucker before they kicked into a higher gear.
Sadly for Ashley, things didn't work out between her and Neil, but Tucker, always the opportunist, was there to pick up the pieces. Not only could he fulfill her emotional and physical needs at the time, but he was willing to work with her to purchase Beauty of Nature, the mini-company she started, now in the ends of business tycoon Victor Newman (Eric Braeden). Unfortunately for Ashley, even though things appeared to be looking up, Tucker's wandering eye became a significant problem in their developing relationship.
Tucker cheated on Ashley with multiple women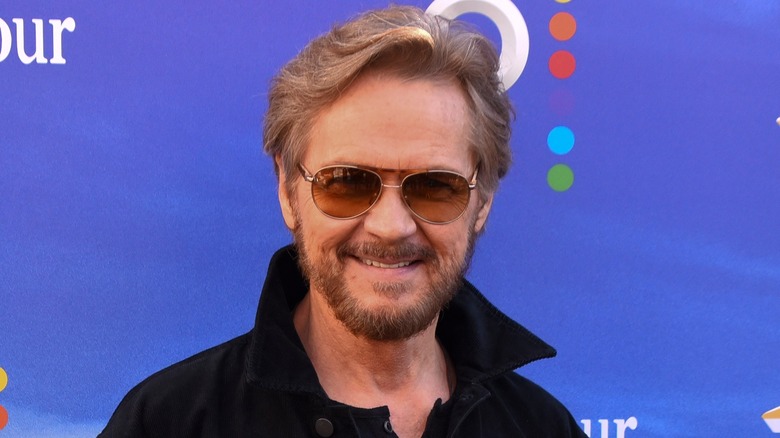 Michael Mattes/Shutterstock
Tucker McCall had a problem being faithful to Ashley Abbott once they became an official item. At one point, he had sexual relations with one of Ashley's sworn enemies, Diane Jenkins (then Maura West) — a tryst that would come back to haunt them many years later. Despite sleeping with Diane, Tucker followed through with a plan to propose to Ashley, officially committing to a future marriage on New Year's Eve.
Their wedding was put on hold, however, following a tragic hit-and-run accident. Ashley's daughter, Abby Newman (Melissa Ordway), was the one behind the wheel, having mowed Tucker down in a fit of drunken rage. Tucker's injuries were severe enough for him to end up in a coma, forcing his mother, Katherine, and fiance, Ashley, to make difficult decisions like keeping him on life support.
Tucker remained in a coma for some time, and while in his medical slumber, his mother undid the damage he caused to her company, restoring it to its once pristine condition. Once Tucker awoke, he and Ashley were finally married. Though, what Ashley didn't realize was that her soon-to-be spouse wasn't finished with his lying, cheating, and scheming ways. The arrival of Harmony Hamilton (Debbi Morgan) — the mother of Tucker's previously-unknown son Devon Hamilton (Bryton James) — was an obstacle they wouldn't be able to overcome.
Harmony Hamilton's arrival spelled doom for Ashley and Tucker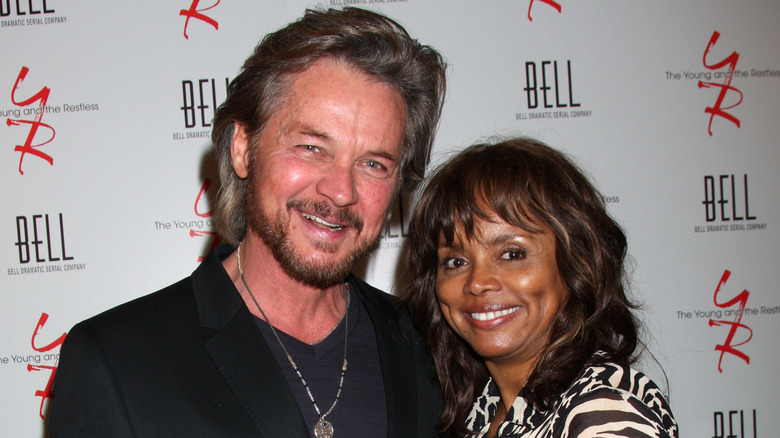 Kathy Hutchins/Shutterstock
Ashley Abbott was about as forgiving and understanding as humanly possible before her marriage to Tucker McCall. He had slept with other women, exhibited unethical business practices, and conned many people she cared about. However, regardless of the glaring warning signs, Ashley married Tucker after he awoke from his coma. However, it didn't take long before Tucker found himself between the sheets with his ex Harmony Hamilton — driving a wedge between him and his son, Devon Hamilton, and effectively wrecking his marriage to Ashley.
Shortly after his betrayal and subsequent split from Ashley, Tucker left town for China and wasn't seen or heard from for several years. Tucker's name was briefly floated around Genoa City in 2019 during a dispute over the legitimacy of Katherine Chancellor's will that left Devon a billionaire but otherwise was scarcely mentioned. However, everything changed in 2022 when Tucker (now Trevor St. John) crashed the vow renewal ceremony of Kyle Abbott (Michael Mealor) and Summer Newman (Allison Lanier) by landing a helicopter on the Abbotts' lawn.
Tucker didn't just return for business purposes but made it known that he had his sights set on reclaiming his lost love with Ashley, and he was relentless in his pursuit.
Tucker used Diane Jenkins to get dirt on Ashley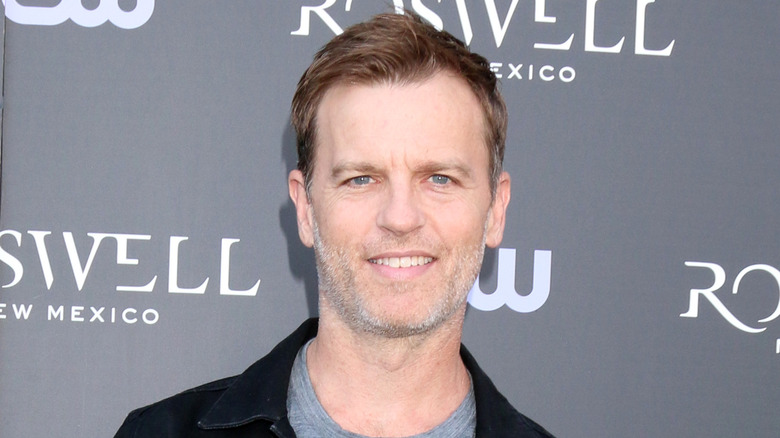 Kathy Hutchins/Shutterstock
It turned out that Tucker McCall was heavily involved in the chain of events that brought Diane Jenkins (now Susan Walters) back into Ashley Abbott's life after she was presumed dead for several years. Before Ashley was willing to give any thought to rekindling their romance, she wanted answers about what Tucker had done. Ashley teamed up with Phyllis Summers (Michelle Stafford) and Nikki Newman (Melody Thomas Scott) to unearth Tucker's connection to Diane, which was already suspicious since they both returned to town around the same time.
It was eventually revealed that Tucker had learned Diane was alive and decided to use the situation to his advantage. He enlisted her help to dig up dirt on Ahsley, her whereabouts, and her personal life. In exchange, he gave her the necessary information to lure Jack Abbott (Peter Bergman) back into her life and make her grand return to Genoa City.
However, receiving updates about Ashley's dating life wasn't the only thing Tucker was after. He also wanted to use Jack and Diane's close connection to invade his family company and get their financial records. Tucker's goal was to find a weakness in Jacob Cosmetics and use it to entice Ashley away from the company and form a new one with him. Ashley didn't trust Tucker, but she did let her guard down a bit, hoping that his near-death experiences and his time away had changed him.
Ashley ended things with Tucker after learning of his lies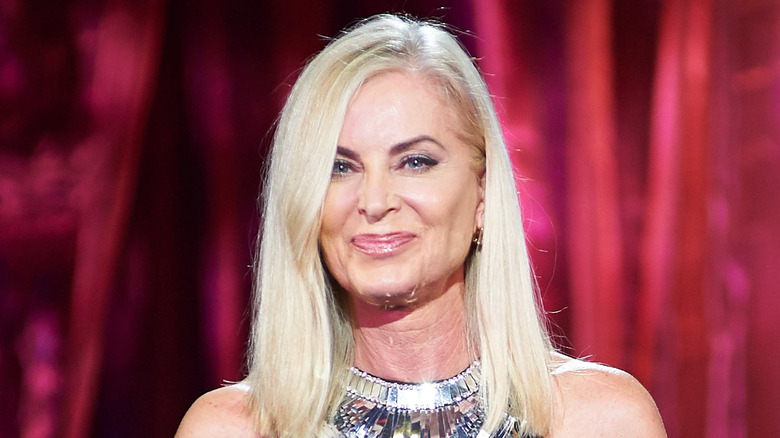 Unique Nicole/Getty Images
Tucker McCall had the world at his fingertips shortly after he returned to "The Young and the Restless." He was making headway with Ashley Abbott and on the verge of rekindling their romantic relationship, and he was getting close to his son, Devon Hamilton, and grandson, Dominic Newman-Abbott-Chancellor-Winters. However, Devon began suspecting his father was up to his usual tricks after noticing his new hire, Audra Charles (Zuleyka Silver), had the same ringtone as Tucker.
Devon put the pieces together after a detailed investigation and discovered a connection between Tucker and Audra. It didn't take much for Devon to realize Audra was a mole for Tucker, and she needed to be removed from the company. Devon took this information directly to Tucker's hotel room, determined to get answers for what he'd done. However, he found Ashley there instead.
Ashley had slept with Tucker and then convinced him to shower so she could search his room for documents — discovering Jabot's financials. Then, Devon showed up and exposed Tucker's entire scheme. Tucker made numerous attempts to explain himself to Ashley, but she was finished with his secrets and lies. She jetted off to Paris to put some distance between herself and the mess that Tucker had brought into her life. But, who knows what the future might hold for the former flames.