Temporary Eyebrow Tattoos Are The Perfect Alternative To Filling In Your Brows Daily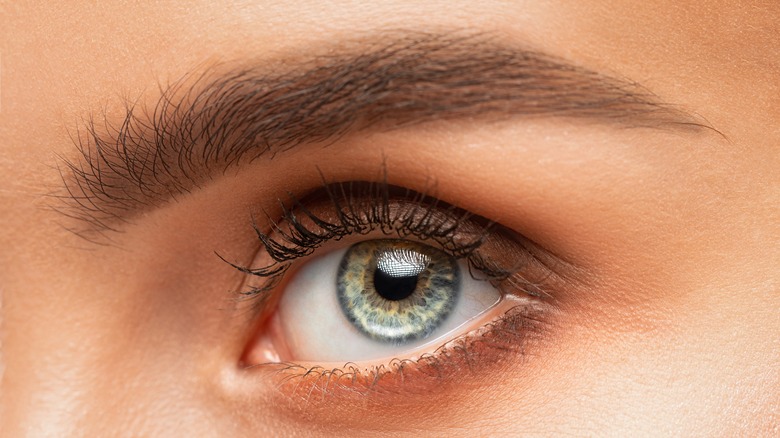 Dimid_86/Shutterstock
We may receive a commission on purchases made from links.
Although thin brows are coming back into fashion, those who engaged in overplucking during the '90s and '00s are probably far too traumatized to dip their toes back into the water of thin, tweezed brows. Although the look has changed slightly, bold, bushy brows have been popular for a few years now. From the dark, blocky brows via the ABH Dipbrow Pomade to natural-looking soap brows, people like the face-framing hairs to be large and striking.
Like any other part of the natural makeup look, appearing to have naturally thick brows when you actually don't, takes an inordinate amount of time. The process is unnecessarily long and takes a lot of focus for many people, demonstrated by every beauty YouTuber's favorite words when doing a get-read-with-me video: "I did my brows off camera."
When it comes to rushing out the door for an event or simply grabbing something from a coffee shop, you can't really brush sparse brows with a clear gel and go. If you don't have enough hair for brow lamination and don't care for the look of microblading, give temporary eyebrow tattoos a try.
How to apply temporary eyebrow tattoos
Like the temporary tattoos you would get from birthday parties as a kid, cut out the eyebrow shape, then press the tattoo to your skin in the area where you want the eyebrow tattooed to. Use a damp washcloth to press onto the skin for a minute or two and peel back to reveal your new temporary eyebrow.
The brows are meant to mirror microblading or like you just used an eyebrow pen, giving them a hyper realistic look. If you're not quite sure where to apply the brow, let this Masterclass tutorial on eyebrow mapping be your guide. Creating small marks with a pencil based on markers like the corner of your nose and center of your eye will let you know the best place to position the brow. If all else fails, center your existing brow shape in the middle of your new tattoo.
Unlike the kiddie tattoos of your past, many temporary eyebrow tattoos are waterproof, intended to last up to a week of washing your face, swimming, or sweating it out at the gym. The only downside about these brows is that when applied, they can look a bit shiny afterwards. To correct this, gently tap on a bit of translucent powder to mattify them.
Shop the best temporary brow tattoos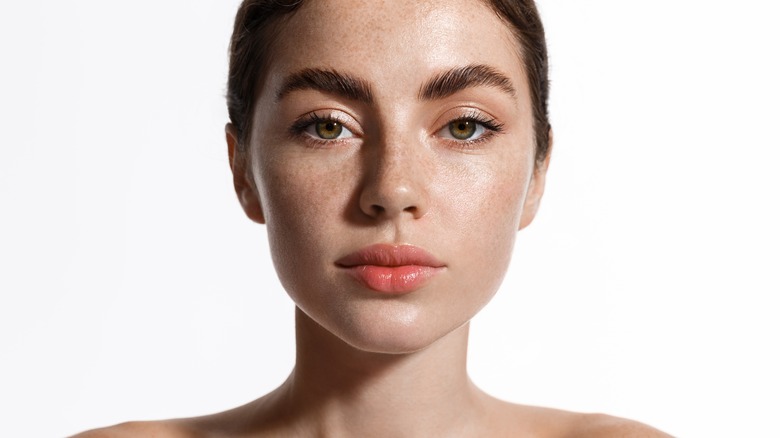 Lyubov Levitskaya/Shutterstock
Shown to be 100% waterproof in this TikTok, the temporary brow tattoos by Baldie Bean come in a variety of shapes and sizes, perfect for any face. From soft soap brows to brows arched to perfection, the tattoos come in black, blonde, gray, and brown and look completely natural.
With five different shapes and colors ranging from ginger to taupe, these Brows by Bossy waterproof eyebrow tattoos work well for an everyday look. The brows mirror the natural strokes of eyebrows and each set doesn't vary in size or shape, so you can reapply them weekly to maintain the same look.
If you wear different colored wigs or like to play around with hair color, try this sample pack from Bliss and Beyond. The brows vary in shape and density, so you can play around with which shape and length will fit the best on your face. It also features brows in black and both dark and light brown, allowing you to find your perfect brow match.