Black Elastic Headbands Aren't Just For Washing Your Face Anymore - Here's How To Style Them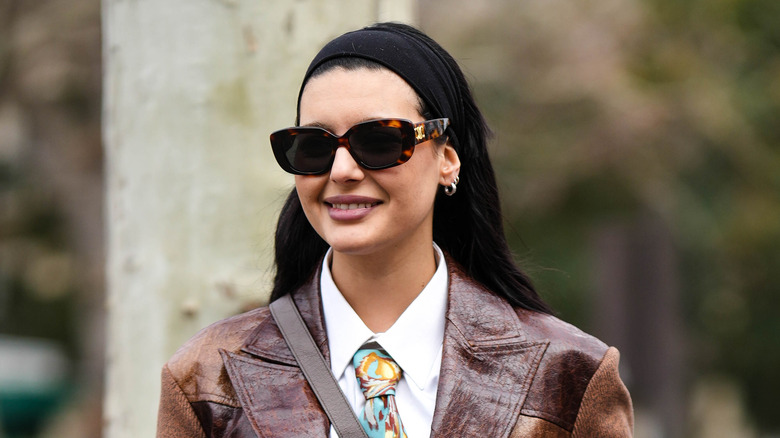 Edward Berthelot/Getty Images
We may receive a commission on purchases made from links.
The simple, black headband will forever reign supreme among the many humble hair-styling heroes. Few other hair accessories have the power to elevate or transform a look with such ease. Plus, there's a quiet joy in knowing that everyone — from celebrities to our co-workers — is rocking the same little loop of fabric to lockdown their locks. That plain black headband, once just a face-washing accessory, becomes a fashion trend in pretty regular cycles, and that time is here again (thank goodness).
Not only are headbands, in general, popular right now, but the Y2K-style headband look is also hot again, as seen in a recent L'OFFICIEL trend report. The style is a minimalist look, with hair swept straight back off the face — a look popularized by celebrities like Angelina Jolie. But as excited as we are that it's back, we're also not at all sorry that almost anything goes right now in terms of headband hair styling. So much so that TikTok has logged nearly 780 million views for "style headband." In the end, if you've got $2 and a hair dream — or need to get your hair off your face (like immediately, without a fuss) — you can pick and create looks that give everything from sporty-spice to power boardroom vibes and beyond.
Use this trick to perfect your headband placement
All the headband inspiration in the world (and your hair) will fall flat if your placement is off. But no worries, getting the front one-third of the hair to remain loose around the face is easy and creates a demur, polished look. To achieve this, use your fingers or a rat-tail comb to create a sideways part, and then lean forward and secure that section with a small elastic. From there, just add the headband. Once it's in place, release the front tendrils, and voila!
Create this boho chic hairstyle on your no-wash hair days
Don't just think of a headband as a hair accessory to push your hair off your face. Instead, consider this look, which is quite the opposite, anchoring the hair from the top down. This is a chic look for between your regular hair-wash days, especially if you have leftover waves or curls. But you can also create this chic boho style by simply adding a little texturizing spray, tussling the hair, placing the headband, and allowing the face-framing tendrils to be loose.
Achieve the perfect puff with an adjustable headband
If you have naturally curly, type 3 or 4 hair and want to use a headband to create a cute puff look, look for an adjustable black headband. This satin-style headband allows you to control the placement and size of your puff without the harsh friction associated with other elastic headbands. Plus, that adjustability means you're in control of how tight it is, so you can control the balance of control while reducing the possibility of the dreaded headband headache.
Use a headband for a polished ponytail look
Ponytails and headbands are a match made in hair accessory heaven. Sure, there's no such thing as a lousy ponytail, but then you pop on that headband, and it's an absolute game-changer, folks. It gives the staple hairstyle a little something-something, and will only add a minute or so to your prep time. Let your hair air-dry for a natural look or recreate TikTok's viral glam ponytail, don't be shy about adding a chic black headband. It's a cute look, especially with the knotted top accent.
Create this gorgeous look with one headband and a few elastics
Wait, what the what? Let's hunker down with this look for a hot minute, shall we? Because this headband-inspired hairstyle is the physical manifestation of our dreamiest mood board. It's giving femininity and functionality, yet swap that athletic ear-warmer headband for a traditional one, and it's ready for a day of errands. And all of this required just one black headband and some small, clear elastics. Plus, it's a great way to curl your hair without a curling iron because those braids will ultimately create beautiful wavy hair.
Pair a simple black headband with sequins
For this look, the glam sequin skirt is the focus, and the role of the other outfit elements is to keep that sparkle in the spotlight. In other words, keep it simple and chic. You'll notice that @peexo chose to accessorize with all-black — from the tall boots up to the simple black headband — which keeps the visual focus on the skirt itself. With that strategy, the headband adds just a hint of demure without being too showy.
Be strategically sporty
And just like that, a little tube-like swath of black fabric transforms a vibe. That's a black headband's superpower if you think about it. As an accessory, it can be worked into looks as far-ranging as athletic to elegant. Case in point, this sporty vibe from LA-based musician @danieekyland. Look closely, and you'll notice the little details she's worked in to give it a little something-something. The headband is over the ears a bit, and the sunnies look sleek over the headband rather than being tucked underneath — clean lines for the win.
Leave it loose
In yet another riff on the simple black headband, you can create a cute, sassy tendrils look. Start by putting the headband around your neck, then gather your hair in your hand — low ponytail style. But — and here's the twist — leave loose tendrils to frame your face before sliding the headband into place. @ithinkitsbella used a middle part, but feel free to play with a side or offset part as well.
Keep shorter hair in place with this technique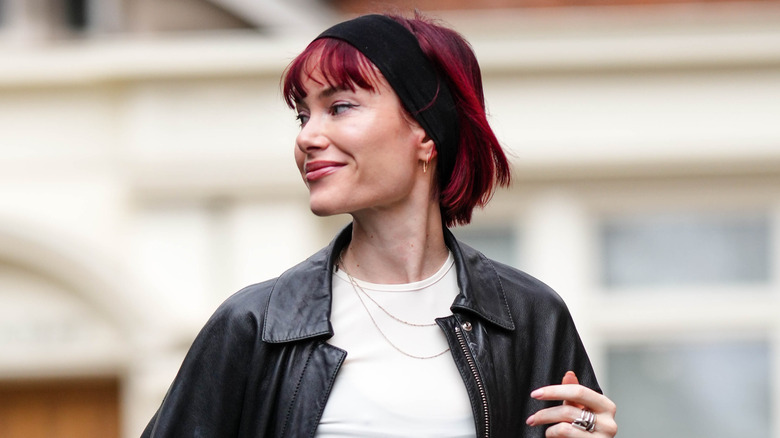 Edward Berthelot/Getty Images
Sometimes, if you have shorter hair, the little tendrils around the ears move around a bit and get out of place. To prevent this, section off the hair on each side — from your face to just behind the ears. Make sure the areas stay smooth while gently pulling behind each ear, then secure with a small clear elastic. Your goal is to anchor those small elastics, then place the headband to cover the tops of the ears, which keeps your trick a secret.
In other headband headlines -- look glam doing everything
About one-third of Kyle Richardson's Instagram feed features headband styles, allowing the looks to pretty much sum up the power of the inexpensive headband. This gorgeous gal looks insanely glamorous with her high-puff and black headband — all while sipping a fountain drink. That's the magic of the black headband, so take notes. Keep your full-front bangs soft and finished the look with a classic pair of sunnies. All in all, it's an adorable look that gives all-day glam.
Combine braids and headbands to switch it up
Pro tip: mix and match hairstyle techniques for added impact. Case in point, you can transform a simple black headband by using it alongside braids and layering in different headband placements. The front hair sections are smoothed and anchored in this look before setting the headband at the hairline. But then beauty influencer @__bexbeauty__ adds two itty-bitty braids near the crown. All in all, using multiple styling tricks helps create a beautifully curated, carefree look.