How To Recreate TikTok's Viral Glam Ponytail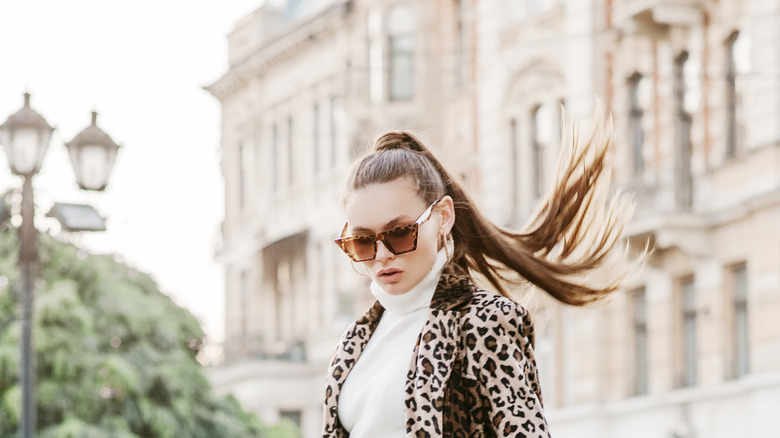 Victoria Chudinova/Shutterstock
If you use TikTok, you know that the social media app has a wealth of hacks, tips, and new trends. Whether you're looking for the latest makeup contouring hack or a clever new way to use an eyelash curler, there's something for everyone on there. In fact, the latest TikTok hair trend that's making waves may end up being your go-to once you master it. The '90s high ponytail is taking over the app with all of its volume and drama, not to mention plenty of glamour.
While this ponytail isn't exactly new to hair trends, it's getting plenty of love from a whole new generation of fans. It has been known by various names, from a glam ponytail to a barbie ponytail. However, on TikTok, it seems like most users are describing this look as the '90s ponytail. The hashtag, #90sponytail, currently has 12.9 million views and is filled with thousands of users showing how you can get this look. And, because it isn't overly complicated to do, it's quickly becoming a popular way to add a level of drama to your everyday hairstyle.
How to get the high ponytail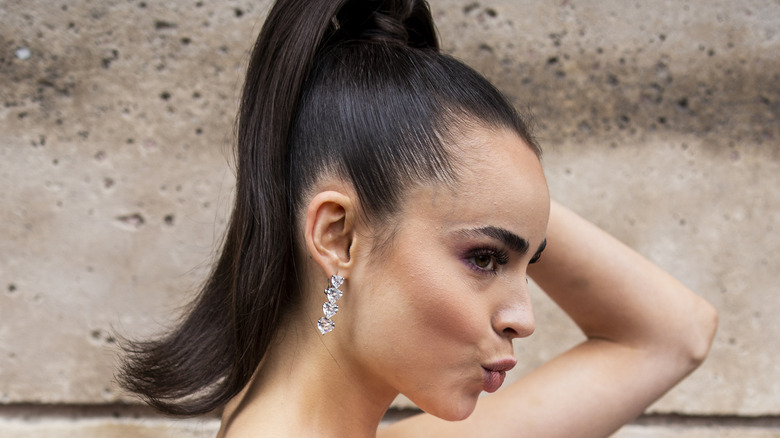 Claudio Lavenia/Getty Images
Thankfully, getting the glamorous '90s high ponytail is quick and easy. According to Lulus, all you need to do to achieve this look is to start by creating a side part, separating a section in the front of your scalp that you will leave out of the ponytail. Next, secure the rest of your hair into a high ponytail that hits the same level as the arch of your eyebrow. After tying your hair, use a piece of hair from the ponytail to wrap around the base of the hair tie, hiding the tie from view. Use a bobby pin to secure this hair in place, then use a curling iron with a large barrel to curl the entire ponytail in one giant curl. Tuck the leftover hair behind your ear and set everything with a few sprays of hairspray.
TikTok creator Judy Poulos also shares different ways you can achieve this look. Poulos also begins with a side part, but she keeps this hair in place by tucking it behind her ear and pinning it with a bobby pin. Also, instead of curling the entire bottom of the ponytail with a curling iron, the TikToker curls individual sections of the ponytail with a flat iron. Each section goes in a different direction, giving it a more voluminous look. As an additional touch, Poulos goes in with gel to tame any flyaways or frizz for a sleek look.
Everything you need to know about TikTok's glam pony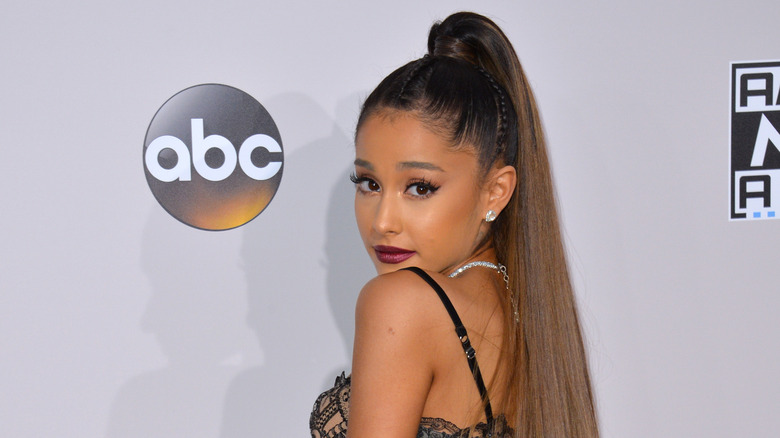 Featureflash Photo Agency/Shutterstock
As simple as it is to create the '90s ponytail, it can be challenging if you don't have significant hair to create the volume and bounce that goes with it. Hair extension companies like Glam Seamless have invisible ponytail extensions that you can add to your own hair if you want a fuller look. These extensions can be added directly to your ponytail, or you can opt for traditional clip-in extensions that you can add to your hair before you style it into a ponytail. Regardless of which extensions you choose, they can help make your hair look more dramatic.
Like any trend, there are plenty of variations of the '90s ponytail to try, with stars like Ariana Grande and Bella Hadid providing perfect examples. While Ariana Grande is known for her high ponytails, she is often seen with a super sleek look, sans side part. Bella Hadid also sported the side part version on the red carpet at the 2019 MTV Video Music Awards (via Grazia).
No matter which version of this trend you try, it just may be your new favorite ponytail for the season.