The Fit Fixer Is The Viral Accessory That Fixes Loose Jeans For Good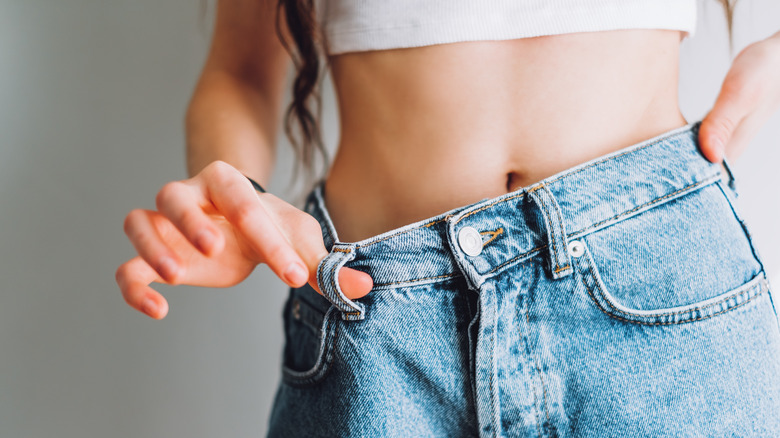 Nikkimeel/Getty Images
We may receive a commission on purchases made from links.
A good pair of jeans is one of the best pieces of clothing you can own. They can be worn during all seasons of the year, styled with almost any kind of top, and are an effortless choice for most occasions. 
Equally important as owning a pair of jeans is the fit of the garment. Your pants may have looked all snug and perfect when you first bought them but over the years, they can stretch due to wear and wash, making them loose. Unless you're a skilled tailor or someone who enjoys putting a needle and thread to work, altering loose-fitting jeans can seem like a nightmare, especially when you've got somewhere to be that very same day. You don't want to unpick the entire fabric and then be left with something worse that you can't put back together. 
When you're standing in front of the mirror with a pair of jeans that don't quite fit well around your waist, you might think this is a telltale sign it's time to retire your favorite jeans. But you could be wrong. The internet is full of quick and crafty solutions to your particular problem, such as a nifty gadget called the Fit Fixer. 
What is the Fit Fixer and how does this viral trend work?
Working almost the same way an adjustable waist buckle would, the Fit Fixer is a viral accessory that seems to have taken over TikTok as the perfect remedy for a loose pair of jeans. The cute-looking hack simply requires that you fasten two teddy bear-shaped pins on two ends of the waistband and clip them together. 
You get an instantly tighter fit around your midsection and the bright-colored bears look adorable as an additional accessory on your pair of jeans. You don't have to worry about hiding the clips with baggy or long t-shirts. Unlike with the shoelace trend that held a loose pair of jeans together at the waist, with the Fit Fixer, you can still wear crop tops and show off your midsection. What's more, you can buy them in bulk and keep them handy for whenever you need that quick adjustment on a pair of jeans. No needles, threads, or scissors required. 
You can find the Fit Fixer online in a choice of colors — pink, rose red, white, blue, yellow, lime green, and even silver. 
How to know if your jeans fit you perfectly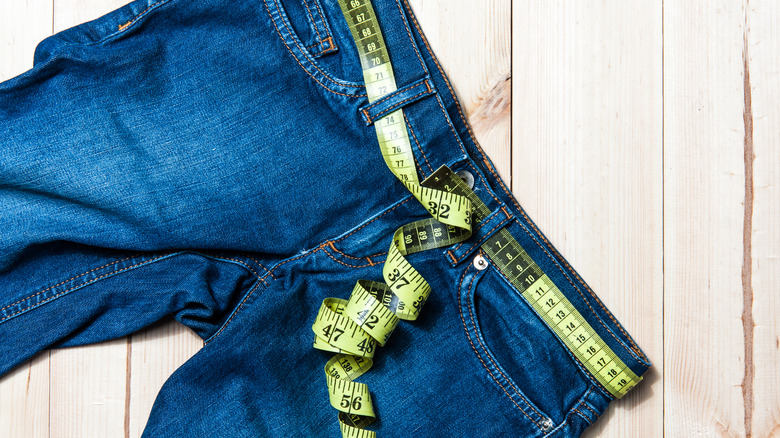 Keira01/Getty Images
Understanding what the fit of jeans should be like is only one half of the battle. Going out and buying a pair that complements all your curves without restricting you (or falling off you) is not an easy feat. 
According to co-founder of women's clothing store Universal Standard Alexandra Waldman (via Pure Wow), "There are few things worse than spending all day second guessing how you look in a piece of clothing because the fit is constantly reminding you that you are restricted." Or in this case, a fit that's too loose. 
What you should be looking for around the waist is a pair of jeans that don't require a belt to hold them up. Try fitting two fingers inside the waistband when you try them on. If the material is stretchy, you may want to try four fingers. If you're really concerned about how they look, you may want to understand how different underwear styles affect different jeans too. When it comes to loose-fitting pants, however, the Fit Fixer seems like a pretty efficient accessory to navigate the problem. Even if you can't find that perfect pair of jeans at the store, you can come home knowing you have a cute solution right on your dressing table.