'Cocktailing' Products Is The Key For Styling Curly Hair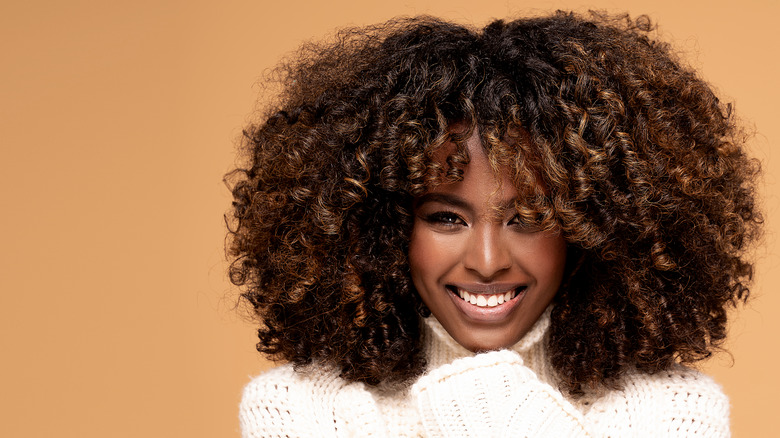 NeonShot/Shutterstock
Like eyebrows and people, no two heads of curly hair are alike. From low density and coarse to fine and high porosity, everyone with curly hair has their own unique head of hair. Although they may look the same on the surface, the feel of the hair and its reaction to certain products and ingredients are rarely the same.
The curly hair you had as a kid can grow a tighter pattern as you age, and vice versa. When you get older, time and hormonal shifts can cause pattern and texture differences in your hair, so your hair may reject the things that once worked for you in the past. Additional factors such as pollution and water quality can also have an adverse effect on your curly hair. Aside from changing hair patterns due to age and the environment, not knowing how to properly take care of your curls can certainly rack uills.
If you peep into any curly-haired person's cabinet or bathroom, you'll probably see enough products to set up a pop-upop. The tendency to buy up multiple products to see what works is detrimental to finances, especially considerinare more expensive than straight hair products products for straight hair. If you have an addiction to stopping by the ethnic hair section every time you go to Target or Walmart, try curly cocktailing instead.
What is curly cocktailing?
Similar to creating a skincare smoothie to construct the ultimate product for your skin, curly cocktailing involves mixing two or more products to handle every single one of your hair's needs. Although skincare smoothies work best with a specific brand's products, you can mix and match together different companies' items until you discover an ideal concoction for your curls.
For example, if you suffer from frizz but still want extreme definition, using a strong-hold gel along with a mousse can probably yield the results that you want. While products in the same line will most likely work the best together, many curly cocktailers still use separate brands. To test if your cocktail will work, spritz a bit of water on the palm of your hand and then apply a bit of each product on top (applying products to soaking wet hair is the key to styling).
When you mix them, cocktails that clump together, turn white, or dry up are probably going to flake on your hair and won't go well together. If they mesh well, the products will blend, turn clear, and feel like one smooth product. Not only does curly cocktailing help you save money by using your already existing items, but it cuts down on time significantly. If you've ever sat on the floor for hours, painstakingly applying each product for the perfect wash 'n go, try cocktailing instead.
Shop the best curly cocktail recipes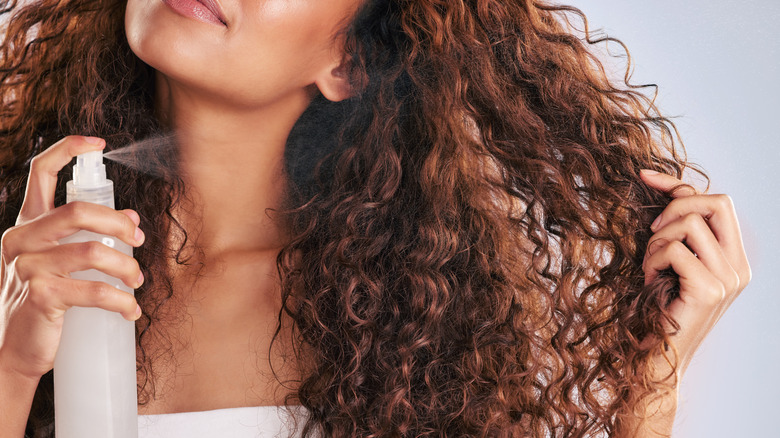 Peopleimages/Getty Images
If you struggle with frizz and dryness when straightening your hair, use the Cantu Thermal Shield Heat Protectant along with the Shea Moisture Strengthen & Restore Blow Dry Creme. The Cantu heat protectant prevents heat damage and flyaways while giving the hair a light hold. Meanwhile, the Shea Moisture blow dry creme uses Jamaican Black Castor Oil to nourish and moisturize the hair, softening it and making it easier to style.
For those old jars of Eco Styler Gel that you're contemplating throwing away, try combining it with the As I Am Doublebutter Cream. Made with cocoa and shea butter, this rich curl cream seals in moisture and repairs split ends. To take your twist outs to another level, combine with the Eco Styler Gel, a classic curly product that adds definition to hair.
To avoid frizz and add volume when doing finger coils or wash n' gos, try a combination of the African Pride Moisture Leave-In Cream with its Rose Water & Argan Oil Curl Mousse. Although many people with curly hair can add a mousse to their wet hair for enough moisture, dryer hair may benefit from the leave-in cream's formulation of coconut and baobab oil. The addition of mousse gives the cream a smoother, lighter feel, adding volume to the hair without weighing it down.