What Happens If You Take Prenatal Vitamins When You're Not Pregnant?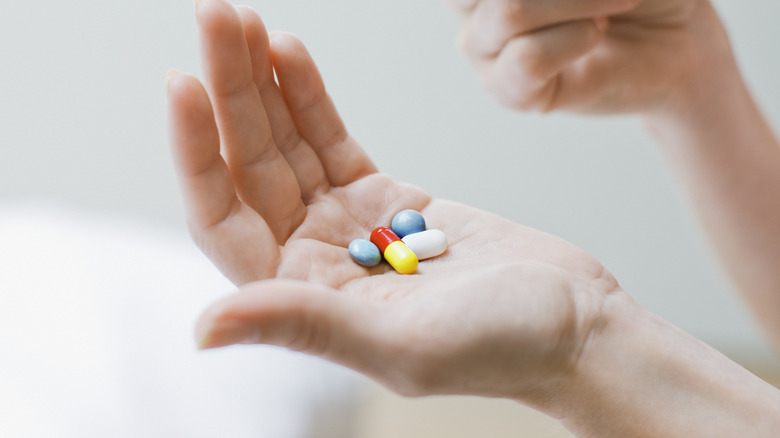 Tom Merton/Getty Images
Gwyneth Paltrow, dubbed the unofficial queen of all things wellness, is known for doing many questionable things in the name of self-care. She once revealed that she has tried "ozone therapy" in the rectal area and recommended inserting jade eggs up vaginas to boost sexual health. But prior to Goop fame, the actor-entrepreneur has already been trying out beauty treatments that were out of the ordinary, including taking prenatal vitamins while not pregnant.
Back in 2006, the "Shallow Hal" star told Harper's Bazaar that prenatal supplements are the secret to better hair. "It doesn't matter if you're pregnant or not, I swear to God," she dished. "I have double-processed blonde hair, and it's not damaged – those vitamins, they're the trick! They make my hair grow thick, long, and healthy when I take them." But as it turns out, she's not the only celebrity to practice this, with Mindy Kaling writing in her blog that she has built the same habit, too. "Not only will they [prenatal vitamins[ scare the s**t out of your boyfriend if he visits your house," she wrote, "It will make your hair grow faster, thicker, and keep your skin glow-y and smooth." Even Hailey Bieber shared that she's taking them. "I've been using prenatal vitamins for a while now as they give you essential nutrients, while keeping your skin and hair in great condition," she told SheerLuxe.
Prenatal vitamins have always been recommended to expecting mothers, but it looks like there's a growing number of non-pregnant people taking them. Is consuming them for the sake of beauty even worth the trouble?
Taking prenatal vitamins when not pregnant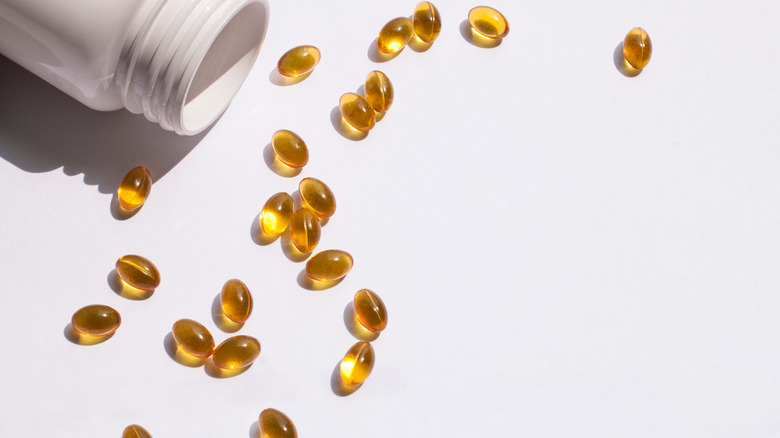 Lubava Voit/Shutterstock
Doctors have conflicting opinions about taking multivitamins daily, but many are in collective agreement that prenatal vitamins benefit pregnant people. As it turns out, they help a lot in the growth of the baby. "Prenatal vitamins are important before and during pregnancy to help your body meet the demands of pregnancy and aid in your baby's development," Dr. Cordelia Nwankwo, a DC-based OBGYN, told Women's Health. Apparently, prenatal vitamins are just like regular multivitamins, except the dosages are higher because it needs to benefit both the mom and her child.
With heightened dosages, particularly folic acid and iron, Dr. Lucky Sekhon, a reproductive endocrinology and infertility specialist, shared with Woman's Day that people who aren't pregnant may experience "undue discomfort" with regular prenatal vitamin consumption as it can lead do constipation "due to higher levels of iron than what's needed." What's more, people with B12 deficiency may experience negative side effects, because "supplementing with folate while leaving your B12 levels untouched may actually cause a type of anemia known as megaloblastic anemia," Dr. Ryann Kipping, founder of The Prenatal Nutritionist, explained.
While it's true that prenatal vitamins can improve the appearance of your skin and nails, you may be better off getting those benefits elsewhere. After all, the market is inundated with supplements promising clearer skin, stronger nails, and more luscious locks. 
The best time to take prenatal vitamins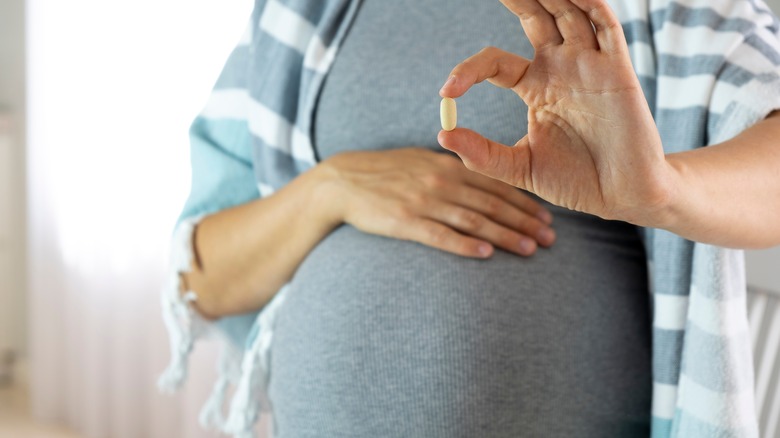 Nemer-T/Shutterstock
If you're actively trying to conceive, you should be taking prenatal vitamins. Healthline notes that doing so allows you to build some sort of "reserve" of nutrients that can benefit the baby once it comes. Additionally, Morgan King, a clinical pharmacy specialist, advised to Cleveland Clinic that it pays to take prenatal vitamins as soon as you start trying because when the stick turns positive, you're likely already a few weeks pregnant. "When an OBGYN looks at dating a pregnancy, they typically start from the patient's last menstrual period," she noted. "That means when you find out you're pregnant, you could be four to six weeks along in your pregnancy already."
As for the best prenatal vitamins to take? Dr. Amber Samuel, a maternal fetal medicine specialist, shared with Self that people who are expecting may want to look for certain nutrients instead of opting for the first one available. "I look specifically for prenatals that contain vitamins A, B, C, D, E, zinc, and iodine," she recommended. "Get one that contains those, folate, and DHA [an omega-3 fatty acid important in brain and eye development], and you'll be in great shape for your reproductive life."