How Long Should Hair Be Before You Can Wax? Here's What You Need To Know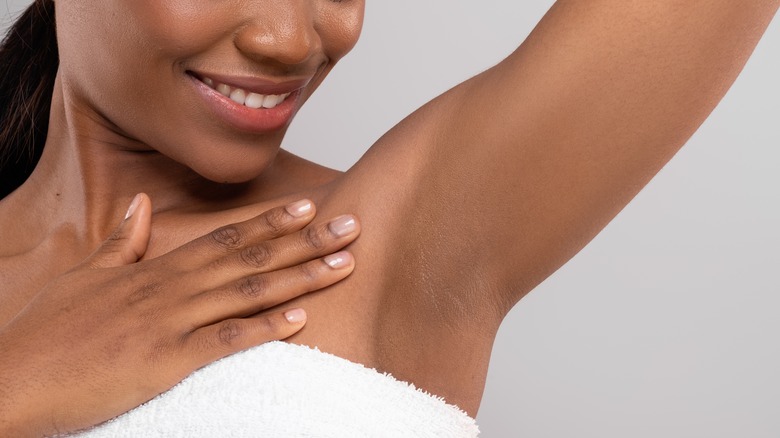 Prostock-studio/Shutterstock
We may receive a commission on purchases made from links.
Waxing is one of the most efficient ways to remove body hair. The warmed wax grips onto the hair as it is applied, dragging it right out the roots when removed. If you think this procedure sounds painful, you're absolutely right. Waxing is one of those beauty procedures bound to hurt, irrespective of how it's done. However, if waxing is done right, it can be a bearably painful experience that doesn't scare you off hair removal forever.
One pro tip from LeSalon is to take painkillers before your appointment. You should also ensure that your home or professional waxing is scheduled optimally. The first requirement is to wait two to three days before or after your period to wax. Waxing during your period can be painful and uncomfortable for everyone involved.
Plus, avoiding adding painful experiences during your period is a genius idea. It's also essential to read and follow the instructions concerning heating your wax. Different products have different heating requirements, so don't skip this step. Another critical requirement is ensuring that your hair is at the right length to be waxed.
Your hair should be at least a quarter of an inch before waxing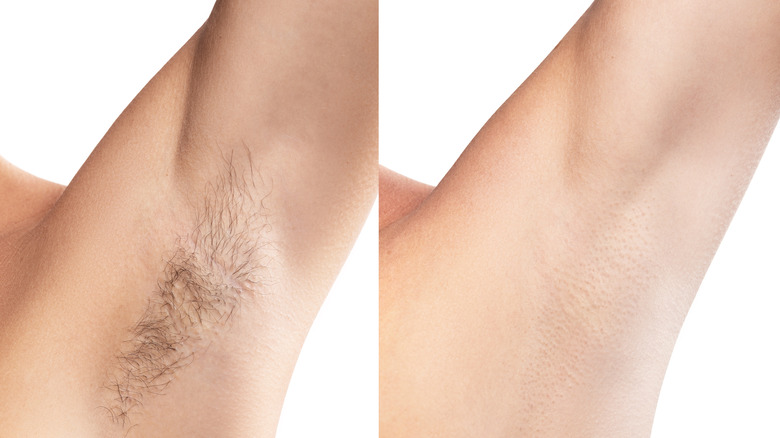 Jun/Getty Images
The American Academy of Dermatology Association states that the best hair length for optimal waxing is a quarter of an inch — or 0.6 cm. At this length, the wax can securely attach to your hair to pull it out completely. However, if your hair is this length and you find it hard to get a smooth wax, there are a couple of at-home waxing mistakes you're probably making.
Firstly, it could be that you wax when your hair has water or oil. This can make it hard for the wax to adhere, so have a warm shower beforehand. You could also be laying and removing the wax strips in the wrong direction. Always spread the wax in the direction that your hair lays and grows. This will make it easier for your hair to be subdued and pulled out. Finally, place the cloth strip — if your product uses them — firmly on the wax.
After this, wait two to three seconds and use your less dominant hand to stretch your skin at the base of wherever you're removing your strip from. Now comes the painful part. You want to pull in the opposite direction from where you spread the wax. Grasp the strip firmly and remove swiftly. Once it starts to hurt, remember that stopping will only make the process more painful. Pull it through and apply a cool compress to ease the pain.
Waxing can be terribly painful if your hair is longer than three-quarters of an inch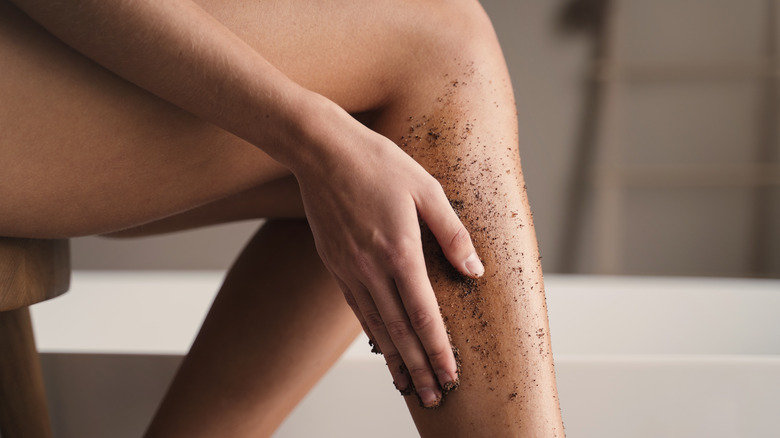 Damir Khabirov/Getty Images
Waxing too short hair wastes energy and resources, but waxing too-long hair can be downright excruciating. One way to get around this is to use scissors to snip your hair to an acceptable length. You also want to ensure your post-wax treatment is well thought-out. Caring for your skin between treatments is one of the best ways to maintain your wax for longer. For starters, you want to apply pure organic virgin coconut oil after waxing.
Most estheticians consider this oil a requirement for soothing, moisturizing, and cooling post-wax. Organic virgin coconut oil also has antibacterial properties and will reduce breakouts. Another vital tip is to avoid heat 24 to 48 hours after waxing. Instead of hot showers, stick to cool ones and avoid pools and baths for at least two days. If you're shaving your bikini area, you also want to avoid sex, friction, and unnecessary contact for two days.
Finally, stick to lose clothing for a few days until all soreness or irritation is gone. To avoid ingrown hairs, use an exfoliating scrub two days after waxing. If your skin is sensitive, you should wait longer. When picking the perfect post-wax scrub, use a mild sugar scrub to exfoliate your body without stinging. Shop Tree Hut Shea Sugar Body Scrub or YNOTCARE Exfoliating Sugar Scrub For Bikini Intimate Area and Sensitive Skin.