Tips For Perfectly Styling Trendy Platform Sneakers
We may receive a commission on purchases made from links.
Wishing for a few extra inches to see over the crowd is only natural, especially when you're waiting in line at the grocery store or standing on your tip toes at a packed music festival. In ancient Greece, lead actors wore platform shoes on stage for the benefit of the audience — the taller the actor, the more central their role. Platform sandals were typical in the Middle Eastern bathhouses circa 1300, according to Refinery29, while in Europe they were an important tool for navigating muddy streets.
Over time, platforms came to represent fashion more so than function, with designers like Alexander McQueen changing the game with his radical shoes for Lady Gaga. "The platform shoe is so prevalent across geographies, time periods, and styles," Paola Antonelli, a senior curator at the MoMA in New York City, told Interview Magazine. Clearly, this larger-than-life trend has some staying power.
Whereas platform flip flops dominated the early 2000s, the 2020s have seen a resurgence of '90s-era chunky sneakers. Whether you seek to replicate iconic Spice Girls fits or channel today's it-girls like Bella Hadid and Vanessa Hudgens, here's how to perfectly style trendy platform sneakers no matter the occasion.
Pair your platforms with a spring dress
On warm spring days, style your go-to platform sneakers with a breathable dress. In general, Nike Air Force 1s should do the trick, but you also can't go wrong with these platform Pumas. Ultimately, "Platform sneakers are a win-win in terms of trend; you get the comfort and versatility of a sneaker, with the bonus of an extra lift off the ground," Regina Popp, Designer Brands' senior director of fashion and trend, explains to Byrdie. Wear them to a breezy outdoor brunch with friends before heading off to complete an afternoon of errands and exploring.
Keep it casual with high-waisted pants and a crop top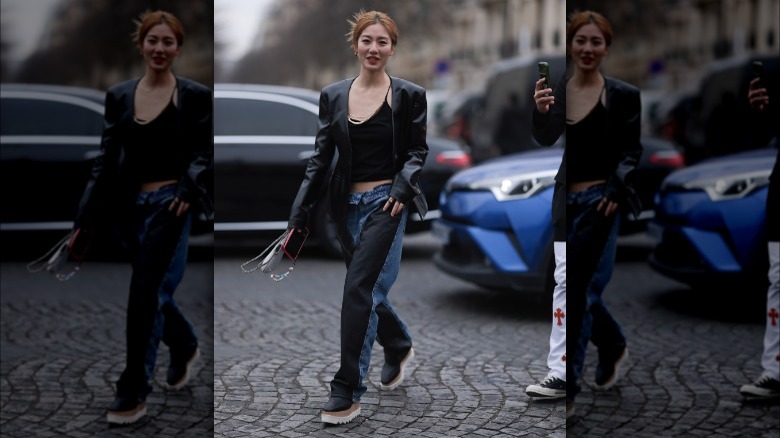 Jeremy Moeller/Getty Images
Headed out on a coffee date? You can't go wrong with high-waisted jeans, a crop top, and platform sneakers. On chilly spring days, add some warmth with a leather jacket or an oversized blazer, airing on the side of business casual. While high-rise pants provide the illusion of longer legs, platform shoes add real-life height. Ultimately, this classic combo will lengthen your frame (and keep you comfy in the process).
Lace them up with a comfy workout set
While some patiently wait for bike shorts to go out of style again, others remain big supporters of the trend. Celebrities like Bella Hadid, Emily Ratajkowski, and Kendall Jenner are fans of the look, pairing form-fitting cycling shorts with everything from tweed blazers to denim jackets. During the warmer seasons — or after a taxing workout session — wear your bike shorts with a matching bra top and platforms sneakers, completing the look with a baseball cap and loose cotton overshirt. For starters, check out this seamless workout set available on Amazon. 
Mini skirts are adaptable no matter the weather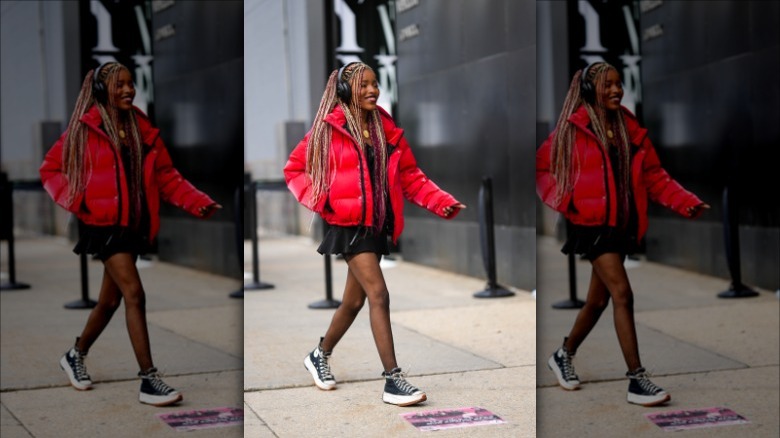 Edward Berthelot/Getty Images
Channel The Spice Girls and balance out a mini skirt with platform sneakers. Start with this pleated mini from Hollister, matching it with a cropped tee shirt and stylish shades. During colder seasons, pair your mini with fleece-lined tights and leg warmers, an '80s trend slowly but surely coming back in vogue along with the surge of TikTok's "Balletcore" subculture. Wear a puffer jacket on top for added warmth. Ultimately, no matter the season — or decade, for that matter — sneakers themselves will never go out of style.
Add a sporty edge to a maxi skirt
Though micro miniskirts dominated the summer of 2022, you can't deny that maxi skirts are again on the rise. As stylist Allison Bornstein explained in a conversation with InStyle, "Styles [vary] from long, denim A-line skirts to knitted skirts and layered slip skirts." Maxis are versatile whether you opt for a '90s-inspired patchwork design, an ankle-length cargo skirt, or classic denim. Depending on footwear and top, they can be dressed up or down for pretty much any occasion. Keep yours casual with platform sneakers and a cropped shirt.