The Royal Family's Best Animal-Print Looks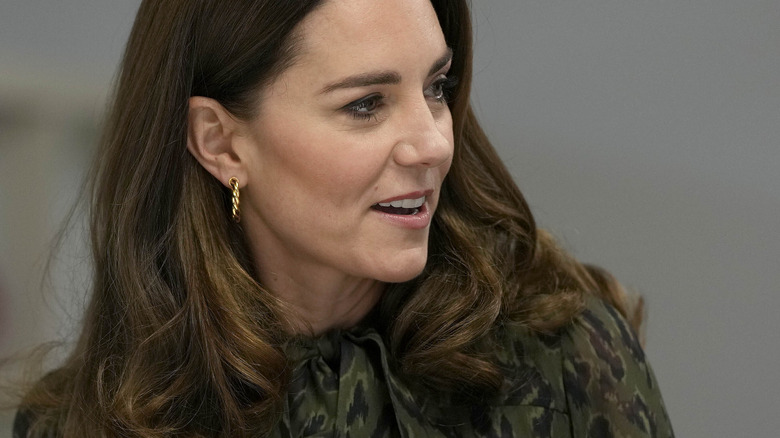 Wpa Pool/Getty Images
The royal family is famous for its strict dress codes. Royals are expected to wear certain colors, shoe styles, and dress lengths. There are even rules about what type of hats are allowed. When it comes to a family with such rigid fashion rules, you might imagine that bold, modern prints would be a big no-no. However, despite the royal dress code, numerous royals have experimented with one of the most daring patterns out there: the animal print.
It turns out, there's no explicit rule against animal print for the royals. In fact, they've been wearing it for decades. The queen even wore a bold leopard-print coat back in 1952. And animal print is only becoming more popular, with younger royals like Princess Catherine and Meghan Markle all jumping on the trend from time to time. Let's take a look at a few of the best animal-print outfits in royal history.
Princess Catherine wore a black and white animal-print dress in 2008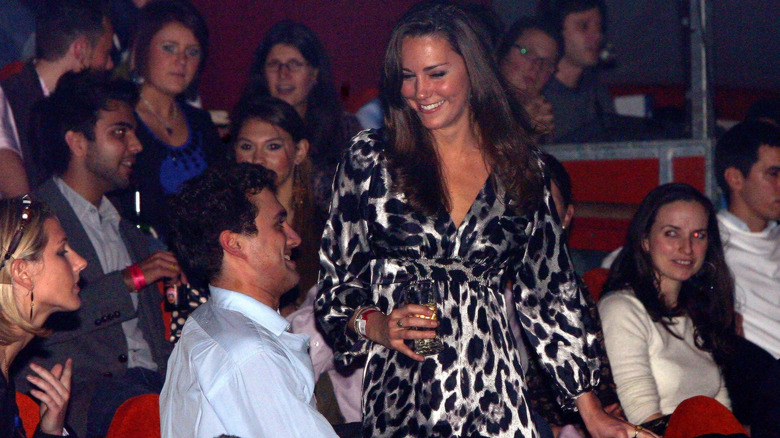 Gareth Cattermole/Getty Images
Even though the royal family tends to opt for classic styles and block colors, from time to time they branch out and rock an animal print. Before Princess Catherine married into the family, she was spotted in a striking black and white leopard-print dress while spending an evening at the O2 Arena in London where she was seeing a show with friends. 
The dress was made with a shimmery material and featured long, voluminous sleeves, a deep V-neck, a gathered waist, and a mini skirt. She wore her hair long and straight and paired the dress with a black coat, black tights, black heels, a black handbag, and simple, understated jewelry. 
At the time, Catherine was dating Prince William, so wearing a bold leopard-print dress with a plunging neckline and a short skirt wouldn't be considered a breach of royal fashion protocol. 
Princess Catherine wore a leopard-print dress from Cefinn Studio
Even though the royal family does have some strict fashion guidelines, Princess Catherine has always had a soft spot for animal-print designs. While her clothes may have become a little more formal since she joined the royal family, she still finds ways to work funky prints into her wardrobe. 
In the spring of 2022, for instance, Catherine was spotted wearing a green leopard-print dress while taking her children out for some ice cream. According to Hello, the dress was originally from Cefinn Studio and featured a collared, button-up design and a voluminous long skirt. She wore a pair of matching green and black Ray-Ban sunglasses and a pair of navy Russell & Bromley loafers along with a casual swept-back ponytail to complete the look.
This off-duty look was chic and just a little daring — we love to see Catherine expressing herself with this bold green leopard-print dress.
Princess Catherine wore an animal-print dress in 2022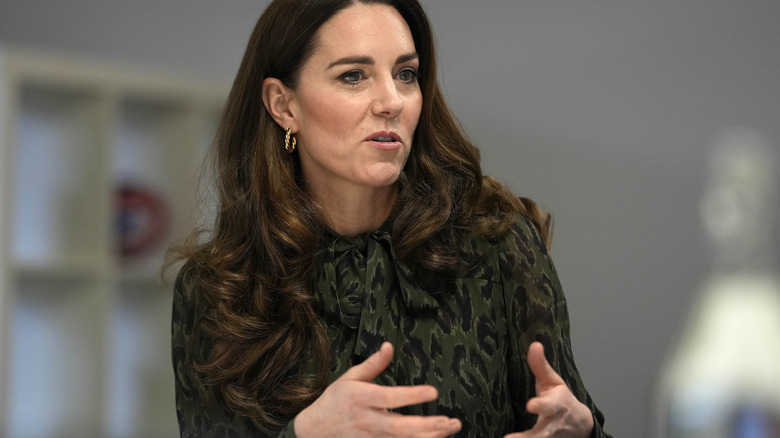 Wpa Pool/Getty Images
Princess Catherine has also worn subtle animal prints while on official royal duty, too. On one occasion, she wore a green and black leopard-print dress by Derek Lam 10 Crosby while visiting the headquarters of Shout, a mental health charity based in London. There, she chatted with volunteers and staff members about the charity's work and learned about the charity's text line service.
According to The Daily Mail, the dress retailed for £355. The dress was made of sheer, silk-like material and featured a midi-length hemline with a pleated skirt, buttons running down the center, and a high neckline with one of her trademarks, a pussy bow. 
Catherine decided to wear a pair of twisted gold hoops, a wide black belt, and knee-high boots from Ralph Lauren to complete this chic animal-print look. She also wore her long hair down in gentle curls and a side part.
Princess Catherine wore an animal-print midi skirt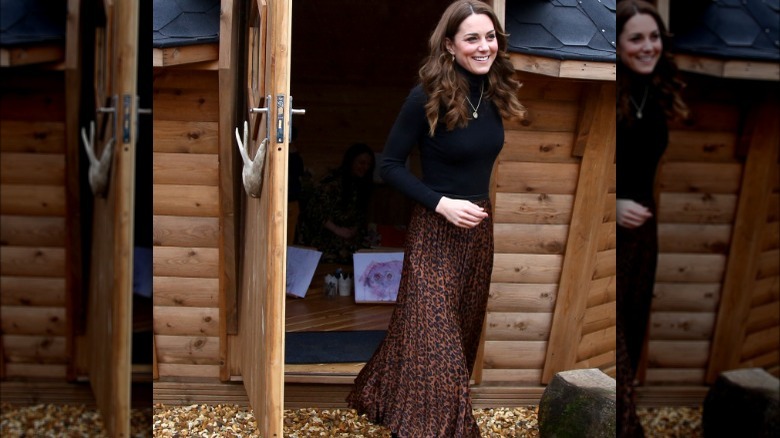 Wpa Pool/Getty Images
Princess Catherine once again showed her love of leopard print in 2020, when she wore a pleated satin midi skirt with a brown and black leopard print along with a fitted black turtleneck while off-duty at Ely and Caerau Children's Center. According to Yahoo, the skirt was originally from Zara and cost only $12. Talk about accessible royal fashion!
She paired the chic, low-key outfit with a brown Massimo Dutti coat, a silver pendant necklace, black tights, and a pair of heeled black boots.  
Catherine's pleated midi skirt was very on trend at the time. As Brit + Co noted in the spring of 2019, brown leopard midi skirts were one of the biggest trends that year. Forbes also noted that the look was a huge trend. Even if Catherine may have been one year late to the leopard midi skirt trend, she definitely rocked this look!
Princess Catherine wore a dalmatian print dress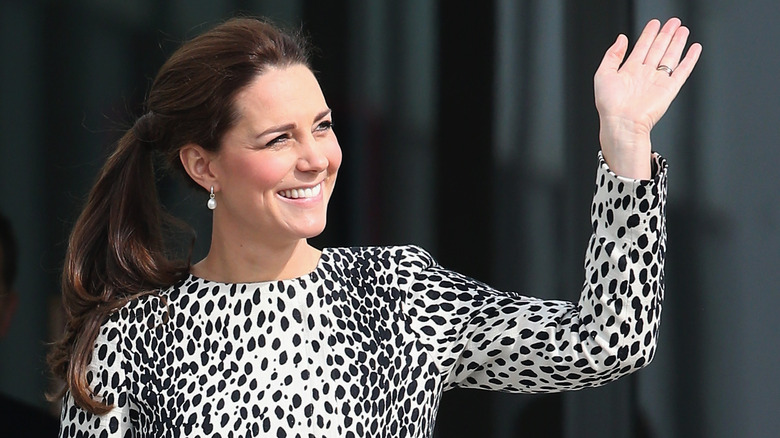 Chris Jackson/Getty Images
Princess Catherine once again opted for a bold animal-print outfit in 2015 while pregnant with Princess Charlotte, when she wore a black and white dalmatian print coat dress by Hobbs during a visit to the Turner Contemporary art gallery in Margate. It was the second time Catherine had worn the outfit, having sported the same dress in 2013. (Catherine often recycles her fashionable looks.) According to The Daily Mail, the coat dress is worth £169.
The dress featured a high round neck, long sleeves, and a knee-length, shift-style bodice that showed her baby bump. Catherine wore her hair in a low ponytail and finished the look with black heels by Jimmy Choo, a pair of drop pearl earrings, and a black clutch by Mulberry for a chic, monochromatic fit.
This outfit is giving us some serious Cruella de Vil vibes in the best possible way. 
Meghan Markle wore a bold black and white dress in Cape Town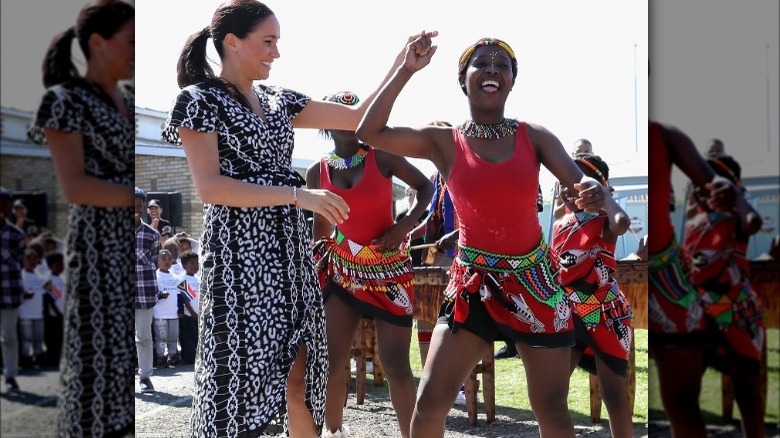 Chris Jackson/Getty Images
Princess Catherine isn't the only royal fond of animal print. Meghan Markle, who joined the royal family when she married Prince Harry in 2018, has also been spotted in various animal-print outfits over the years. In 2019, Markle wore a black and white wrap dress with a paneled leopard print during a trip to Cape Town in South Africa with her husband and their newborn son, Archie.
"I am here as a mother, as a wife, as a woman, as a woman of color, and as your sister," Markle said during the visit (via People). And according to Fashionista, her outfit helped make this statement. The dress was made of traditional African fabric and was purchased from Mayamiko, a fair trade, zero-waste Malawi clothing brand, and reportedly cost only $86. She also wore a pair of black Castañer wedges worth $99. The outfit marked a move toward ethical fashion from Markle. 
Meghan Markle has worn cow print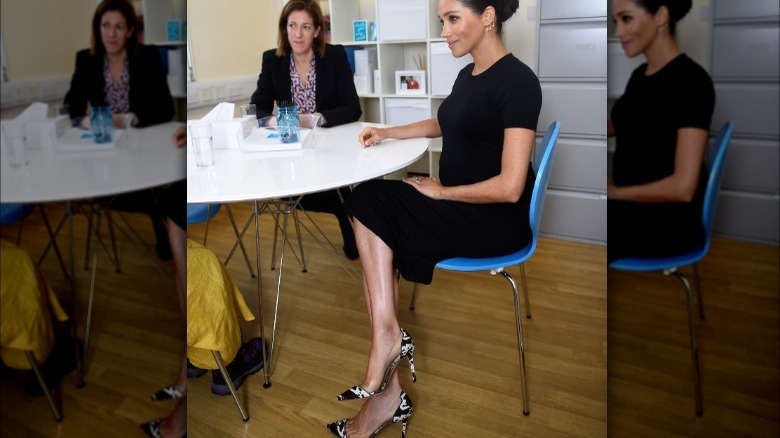 Wpa Pool/Getty Images
Meghan Markle has also opted for more subtle looks as a member of the royal family with animal-print shoes. In 2019, Markle wore a pair of cow-print heels by Gianvito Rossi during a visit to Smart Works, a U.K. charity that supports women. She paired the shoes with a black short-sleeved dress by Hatch along with a beige coat by Oscar de la Renta. She also wore her hair in a chic low bun to complete the look.
Markle also wore a pair of animal-print shoes in 2016 when she donned a pair of brown leopard-print heels by Sarah Flint with a navy shirt dress. According to Who What Wear, the shoe is called the Perfect Emma and was designed in New York. As the designer said, the goal was "to make women feel empowered and at ease one pair of shoes at a time." We love that Markle uses her shoes to express her individuality in such a subtle, chic way.
Princess Diana wore an animal-print dress over a leopard-print swimsuit at the beach in 1990
Before Princess Catherine and Meghan Markle stepped out in animal print, there was Princess Diana. Diana didn't wear many animal prints during her marriage to Prince Charles, but after their divorce, she got a little more experimental with her fashion. In 1990, for example, she wore a striking one-piece bathing suit in a bold brown leopard print, along with a matching sarong, while on holiday in the British Virgin Islands. According to Hello, the bathing suit was designed by Jantzen, an American swimwear brand.
While Diana may have worn this fierce look back in the '90s, three decades later, the look is still a major fashion trend. As Vogue France noted in 2020, "Leopard print remains at the forefront of our fashion desires for another season," with numerous models wearing Diana-inspired leopard-print swimsuits that summer. PureWow also noted that in 2020, Pinterest searches for "leopard-print swimwear" increased by a staggering 445% in just one year.
It's pretty clear that Diana was way ahead of her time with this amazing animal-print look.
Princess Diana wore a coat with subtle leopard print in 1991
Princess Diana also opted for a leopard print in 1991 when she wore a midi-length coat with a dark leopard-print lapel and matching leopard cuffs. She paired the coat with a high-necked white shirt, boots, and large pearl and gold stud earrings. She wore the coat while visiting sailors who were heading to fight in the Gulf War in February 1991, according to Vogue Hong Kong.
An Instagram account posted a photo of Diana in the coat along with a photo of the princess wearing another slightly different coat with a cowl leopard-print lapel. "Princess Diana looks impossibly glamorous with her fur coats," wrote the royal fan. Another fan noted on Instagram that the second coat was a great style moment: "The too 'purrfect' for you revenge look." One thing is for sure, Diana certainly knew how to rock a great leopard print.
Camilla wore a leopard-print face mask during the pandemic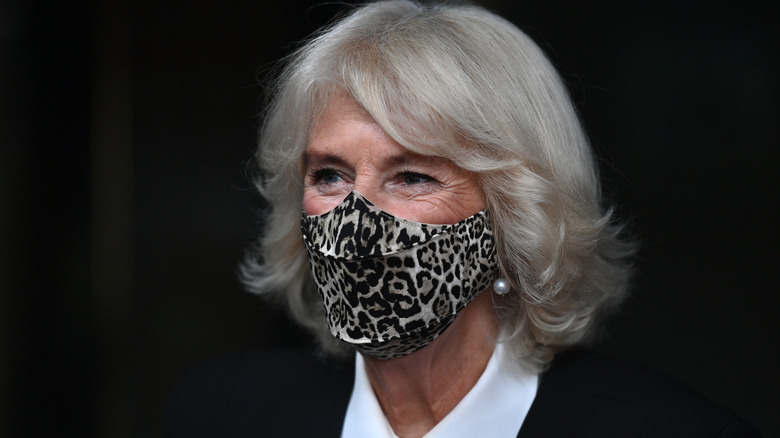 Wpa Pool/Getty Images
When the royals don't want to go full animal print, they sometimes opt for a subtle animal-print accessory. When the COVID-19 pandemic hit the U.K. and masks became mandatory, Camilla, queen consort, decided to branch out with a bold leopard-print face mask while visiting a London social center in October 2020. She paired the black-and-white mask with a stylish monochromatic outfit, wearing a black wool shift dress over a white blouse with a pointed collar. She also wore a black cape-style coat, black tights, a black bag, and black shoes. She completed the sophisticated look with a pair of drop pearl earrings.
Many royal fans were impressed by her simple look and statement mask. One wrote on Instagram, "Camilla is rocking that outfit. You go, girl." Other fans were quick to compare Camilla's style to the late Princess Diana.
Camilla wore the mask again during a visit to a London mosque in April 2021.
Camilla wore a leopard-print dress during a trip to Bath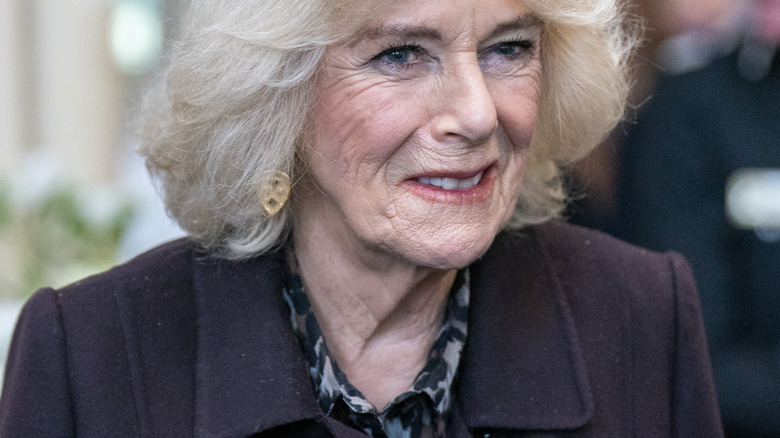 Wpa Pool/Getty Images
Camilla, queen consort, seems to have a real thing for leopard. After wearing her bold animal-print mask during the COVID-19 pandemic, Camilla once again opted for a striking animal-print look in January 2023. 
During a trip to Bath and Wiltshire, she visited the Royal Osteoporosis Society, met with locals, and joined a reception. Camilla wore a monochromatic leopard-print shirt under a dark neutral peacoat for the occasion. 
It was the perfect way to add a little flair to a traditional royal look. It's also a great example of how Camilla manages to add her own personal touches to her outfits. "Over the last couple of years, she's really come into her own — debuting directional pieces, emerging designers, pattern clashing, and great accessories," stylist Samantha Harman told Express. "The duchess is 73 and is leading by example, showing that age is just a number when it comes to style. You're never too old to try a trend. The key is in how you wear it." Well, the way she wears a leopard print definitely works.
Camilla wore a pink leopard-print top in 2021
In yet another daring leopard-print look, the queen consort opted for a classy all-black pantsuit — but to jazz up the look, she wore a bright pink leopard-print blouse underneath. She finished off the outfit with a matching pink brooch. It's a great example of Camilla's unique sense of style. As Cliff Bashforth, managing director of Color me Beautiful, told The Independent, "Over the years, the queen consort has developed her very own unique style, and appears to be comfortable in it."
She wore the striking outfit while speaking to 2020 Booker Prize author Douglas Stewart at Clarence House, before the announcement of the 2021 winner of the prize.
We absolutely love how Camilla managed to sneak in a pop of color and a surprisingly bold print into this understated outfit. She certainly knows how to add her own little flourish to her royal looks!