Using Tanning Drops The Right Way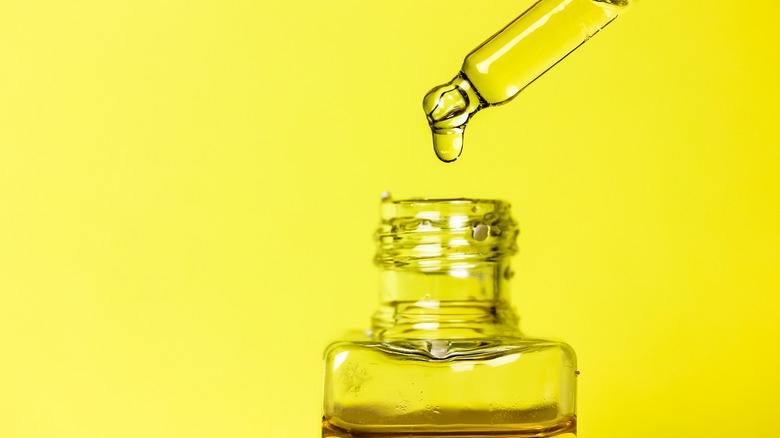 Al More/Shutterstock
We may receive a commission on purchases made from links.
Achieving a healthy, natural glow can be as easy as a simple droplet. While fake tanning at home has been popular for a while (not to mention, the idea of real suntanning completely going to the wayside for many unhealthy reasons), the recent influx of influencers posting about tanning drops has caused this small but mighty product to make its way across the beauty world. But as many of us who have attempted a fake tan at home already know, using any type of tanning product should be done carefully. The same is true for tanning drops. Doing them the wrong way and adding too much or even too little, can leave you streaky, overly bronzed or on the contrary, completely glow-free.
Jules Von Hep, a celebrity tanning expert and founder of the self-tanning company Isle of Paradise, says that tanning drops can be used all over your body, but before you start dousing yourself in product, stick to just your face (vid Byrdie). He recommends a small amount of product to start to get a better feel for the drops, but there is more to it than simply putting them on your face. Here's how to use the popular tanning drops the right way.
How to apply tanning drops properly
In order to achieve the gorgeous glow influencers are seemingly getting from tanning drops, you'll need more than just the drops. According to Von Hep, and a multitude of TikTokers, the best way to use the tanning drops is to mix them in with your favorite moisturizer. Start small — up to four drops–and add more as desired. Put your moisturizer in your hand and add the drops directly to it, mixing it up before applying to your skin. You can also mix the drops with your favorite body lotion for an all-over tan or your foundation.
But before you even start using the droplet, you need to prep your skin. This TikToker recommends exfoliating 24 hours before applying the sunless tanner and Von Hep agrees, telling Byrdie, "exfoliation is key in creating the perfect skin surface for tanning drops." And be sure your skin is not only clean, but completely dry, before applying the tanning drops or else they may not blend as nicely or absorb the right way. Once you get the hang of using them, feel free to do as you please in terms of how many drops you want, where you want to apply them, and how often you do it.
The best tanning drops to use for that perfect glow