Looking To Buy A Minimizer Bra? Here's What To Keep In Mind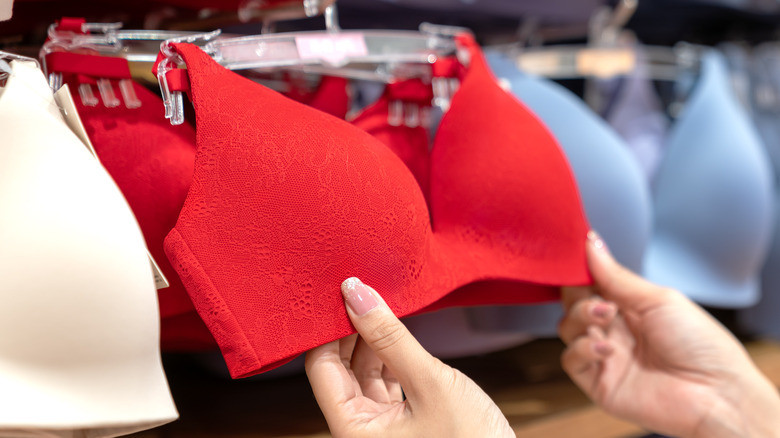 Chaay_tee/Getty Images
We may receive a commission on purchases made from links.
Buying a bra is not an easy task. One trip around the lingerie section at a department store will have your head spinning with options. While many bras stand above the rest, finding the right one for you can be a challenge. Your first step is to understand what size you are, which can be done by a professional or by yourself at home. Learning your bra size isn't the only thing that is hard to figure out, though. Once you have your size down, you'll then need to decide what type of bra you want — and the options are vast.
If you are looking for a little extra something, you may gravitate towards a push-up bra. If comfort is key, you may want something like a bralette or T-shirt bra. There are also bras with underwire, plunge bras for clothing with low necklines, and the minimizer bra. According to Dora Lau, founder and president of intimate apparel company Dora L International, a minimizer bra is used to do just that: minimize your breasts. If that's what you want, here's what to know before buying one.
What to know before purchasing a minimizer bra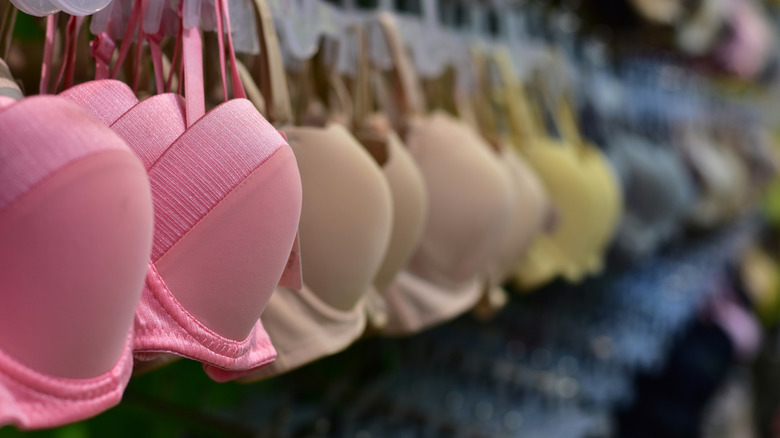 korkai/Shutterstock
For those with smaller busts, it may seem outrageous that someone would want to make their breasts look smaller. But big-breasted people know the struggle large boobs can bring. If you are looking to decrease the look of your breasts, whether it's for a specific outfit or for everyday use, consider finding a minimizer bra. Dora Lau recommends them specifically for those with big breasts who are seeking a comfortable bra with added support, but a minimizer bra can be worn by just about anyone, no matter the size of your chest.
When searching for the perfect minimizer bra, Lau suggests looking for something with minimal stretch and a V-shaped back. According to Suzanne Macbale, CEO and founder of New York-based lingerie brand LoveSuze, her top characteristics when looking for a minimizer bra are the width of the straps (the wider, the better) and the support and padding in the bra. Beyond that, you'll need to try on a minimizer bra to know if it works for you. Once it's on your body, pay attention to how comfortable it is and the way the straps sit. Do they dig into your shoulders? Do the straps stay up nicely? Finding the right one will instantly make your breasts look smoother and supported.
Our favorite minimizer bras to consider
If you are in the market for a minimizer bra, you may want to head to your local lingerie store to try a few on and get a feel for them. But if you prefer shopping online, there are a few available that we love. The HSIA minimizer bra offers full coverage and a breathable fabric. Plus it comes in a bunch of colors and a pretty lace design. With over 8,000 reviews, people rave about this bra, praising its feminine look and full coverage while calling it "the most comfortable bra ever!"
The Low Profile Minimizer Bra from Spanx takes about an inch off your bra size, giving you that minimized look you desire while ensuring your breasts always stay in place. If you are looking for something strapless, consider the Lilyette By Bali Strapless Minimizer Underwire Bra 939. It has a wide band and undetectable boning that will give you the support that is often missing from most strapless bras. Other great minimizer bra options include the budget-friendly Playtex Women's 18 Hour Smoothing Minimizer Wirefree Bra and the Lively Minimizer Bra, which goes up to a cup size G.