What Happened To The Baeumlers Since Renovation Island?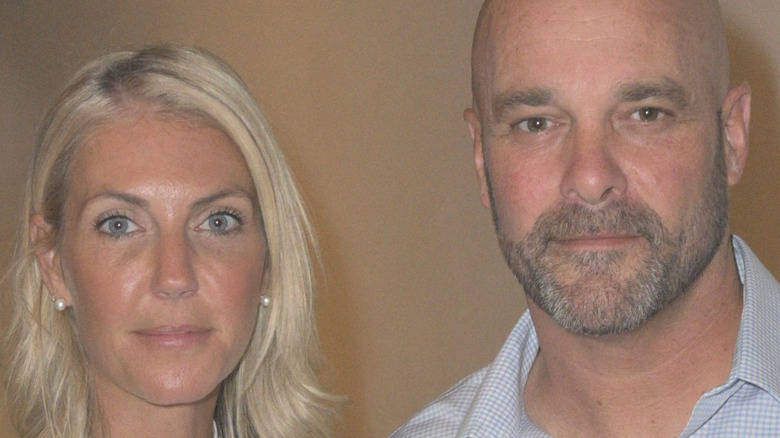 Robert Okine/Getty Images
Home renovation shows on HGTV have a devoted following. During the network's early days, programming was centered around educational shows that viewers could replicate in their own homes. Throughout the years, the stars behind some of the most popular HGTV hits have become celebrities in their own right.
The Baeumler family from "Renovation Island" may not be as popular as other stars like Christina Haack or Tarek El Moussa, but they have certainly made a name for themselves in the world of home renovation. Bryan and Sarah Baeumler took viewers by storm while they gave a makeover to a resort on a remote island. The pair fell in love with the island in the Bahamas after a family vacation and decided to bring their own flare to an abandoned resort. 
Sadly, after Season 5, the show came to a halt, though it was so popular that it brought a 60 percent raise in Sunday night viewers to HGTV. Have no fear, fans. The Baeumler family has some exciting news up their sleeves. Here's what the "Renovation Island" crew is up to now.
The Canadian couple have settled in Florida
Sarah and Bryan Baeumler are originally from Canada. When the "Renovation Island" stars began renovating the Caerula Mar Club on South Andros Island, they lived there full-time. It made sense with their hectic work schedules between completing gutting and elevating the resort and filming the show. The couple and their kids made a home within the walls of the club.
However, things took a bit of a turn when the COVID-19 pandemic struck. As Bryan recalled to TheWrap, renovations on the resort ground to a halt. What's more, the family was gearing up to move to Florida, but that, of course, didn't go according to plan. But by Season 4, the Baeumlers were officially in their Florida home. Since it's only a short flight to the resort, it worked best for the family. Bryan told Cityline in an exclusive interview, "It just made sense for us logistically right now," adding that they got a good deal on their new digs. "And we bought this place for less than half of what you can buy, you know, a teardown in Toronto so the price was right."
Bryan shared with The Winnipeg Free Press that adjusting to life in the Sunshine State was a process for his family. "It's a really transformative season for our family as we're spending more time traveling back and forth to the island, settling the kids in South Florida, and continuing to manage and expand our businesses," he said.
Bryan Baeumler has a new show in the works
As of this writing, "Renovation Island" has not been renewed by HGTV. But fear not, the Baeumlers will be back on TV, at least in their native Canada. In early 2023, HGTV Canada issued a casting call, stating, "We are now casting for a brand-new series where Bryan Baeumler travels off-the-beaten-path to help people who have left their old lives behind to start a unique business in a rural or remote location. Bryan uses his expertise of renovating a resort on a remote island to help you launch your own dream project."
In January 2023, Bryan took to Instagram to make an announcement about this new chapter in his TV career. "I love helping people. I'm kinda handy...and I've learned a few things along the way," he wrote. "If you're an entrepreneur in Canada that's made a major lifestyle change, found yourself at the end of the road less traveled and think you could use a hand...I want to visit!!"
"Renovation Resort" will air in the Spring of 2023, ET Canada reports. Working alongside Bryan will be Scott McGillivray, who is also a fixture on the network. The show will be competition-style and is slated for seven episodes.