Days Of Our Lives' Peter Reckell And Kristian Alfonso Set The Record Straight On Bo And Hope's Return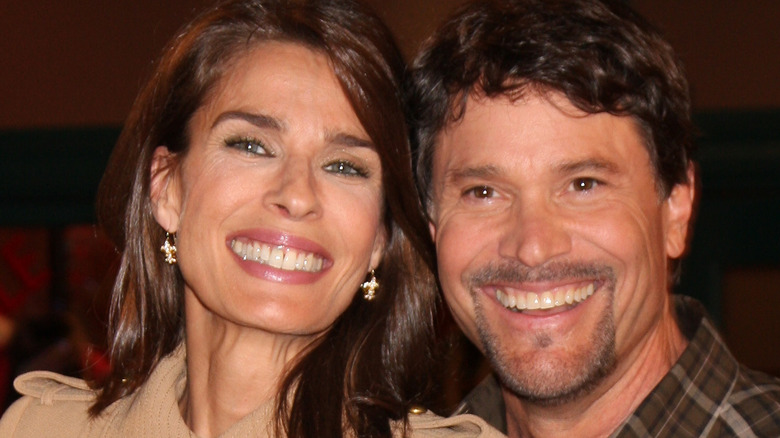 Kathy Hutchins/Shutterstock
The love story of Bo and Hope Brady (Peter Reckell and Kristian Alfonso) has kept "Days of Our Lives" fans enthralled for decades. Both characters have been separated and were off the show for quite some time, but now that they're returning, fans are on the edge of their seats. A five-episode spin-off series called "Days of Our Lives: Beyond Salem" premiered on the Peacock streaming service in 2021, and its success garnered a sequel mini-series, "Beyond Salem: Chapter 2." Bo died of a brain tumor in 2015, but we saw him dealing with life in Heaven in the sequel series. At the end, he was given a second chance to return to Earth and was revealed to be in a cryogenic chamber monitored by past "Days" supervillain, Megan Hathaway (Miranda Wilson).
Although a third season was discussed, the mothership show moved over to Peacock, and the only change was an increase in excitement and adventure. Since the main show is now there, "Days" head writer Ron Carlivati explained that all the ideas for "Chapter 3" were absorbed into "Days" proper. The sudser has also been picked up for another two seasons, and the storylines just keep getting bigger and better. 
Hope also appeared in the mini-series, and it wasn't long before the fans started to demand a reunion of her and Bo. Reckell and Alfonso recently discussed their imminent return.
Bo and Hope are FINALLY headed for a reunion
Peter Reckell and Kristian Alfonso spoke to Soap Hub about reprising their roles as Bo and Hope on "Days of Our Lives," citing the fans as their main motivation. After the events of "Beyond Salem: Chapter 2," Alfonso explained, "We couldn't leave the audience hanging. We thought there'd be talks for a "Beyond Salem (Chapter) 3", and then, "Days" went to Peacock. I wasn't sure if they'd come to us or not, but they did." Another reason Alfonso wanted to come back was the story that had been pitched to them that focused on their characters, stating that it was, "Incredibly flattering, and to work with Pete (Reckell), Mary Beth (Evans, Kayla), Stephen (Nichols, Steve), Drake (Hogestyn, John) ... amazing!" 
She also added that Miranda Wilson's portrayal of villainess Megan Hathaway was "tremendous," and further explained, "She's playing this character to a 'T.' She played a DiMera perfectly. (Megan's) a great villain; she does not apologize." Reckell had been spending time with his family and was happy to once again play in the show's "sandbox." Alfonso felt that head writer Ron Carlivati was doing a great job with the story, and Reckell continued the thought stating, "(Bo and Hope have) been separated by circumstances before, and then found our way back to each other."
The start of this new chapter in the romance of Bo and Hope has us joining the fans on the edge of our seats!