The Genius Hack That Prevents Your Jeans From Touching The Ground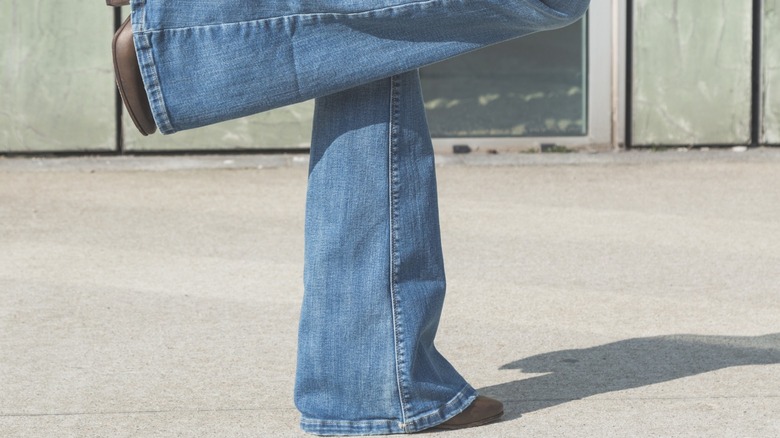 Tixti/Getty
It is time to deep-dive your closet and dig out the jeans you loved in the 2000s, because baggy jeans are trendy again. Stars like Bella Hadid have brought them to the forefront of fashion once more. However, despite how stylish they can look, baggy, wide-legged jeans come with their own set of issues. Most notably, their hems can drag on the ground, fraying and dirtying the denim fabric and ruining a solid pair.
With skinny jeans, this isn't a problem. If the pants are too long, you can roll up the hem of the pants leg two or three times to cuff them. The same cuffing technique works for mom jeans as well, but flared legs of baggier jeans are not as easy to cuff. 
If your wide-legged jeans are too long and touching the ground or causing you to trip, a simple yet effective TikTok hack should be able to help make your pants both look and feel much better. All you need are a couple of elastics and you're good to go.
The hack is simple yet genius
This video showcasing the hack for too-long jeans was originally posted by Bo Brown in December 2022. Brown is a fashion influencer from the Netherlands with over 725,000 followers on TikTok and 1.1 million followers on Instagram. In her Instagram bio, she describes her brand as "your source of useful fashion inspo," as she often posts hacks and how-to videos to help others put together fashion-forward outfits. 
Besides your favorite pair of wide-leg jeans, Brown's hack for keeping them from touching the ground only requires two items: elastics, one for each leg. These will help you roll the pants legs and keep them cropped and in place all day. Be sure to choose elastics that fit around your leg snugly without being too tight, as you don't want any discomfort. 
Once you're ready to go, choose a leg to start with and pull an elastic over that foot and pants leg. Place the elastic as high on your leg as you would like, depending on how much the pants leg needs to be cropped.
This actually works, but not everyone is convinced
Next, grab hold of the pants leg directly above the elastic and start pulling up and out. You should continue this action until your jeans fold over the now-raised hem of the pants leg and the hem is no longer visible. Once you have one leg cropped to your liking, repeat this process with your other leg. Then you're all done! The result is a pair of jeans with cropped pants legs. The hems should rest right on or above the tops of your feet.
Brown's hack has been met with mixed reviews. While some people have expressed interest, many TikTok commenters have protested that they like when their jeans touch the ground. One commenter added that jeans, "... look so much better when they're worn at the bottom." (If you like the look of worn hems on your jeans, there's a TikTok hack for that too.) 
The hack has caused others to reminisce. When the video was cross-posted to Instagram, one commenter remarked, "This is so 2003-05!!! A bunch of kids and I used to do this in high school."
Whether this hack is new to you or a classic in your repertoire, if you want to keep your jeans from dragging, this hack is the thing to try.