Want To Try A Bold Dye For Your Next Salon Appointment? Pink Hair Is The Color Of The Moment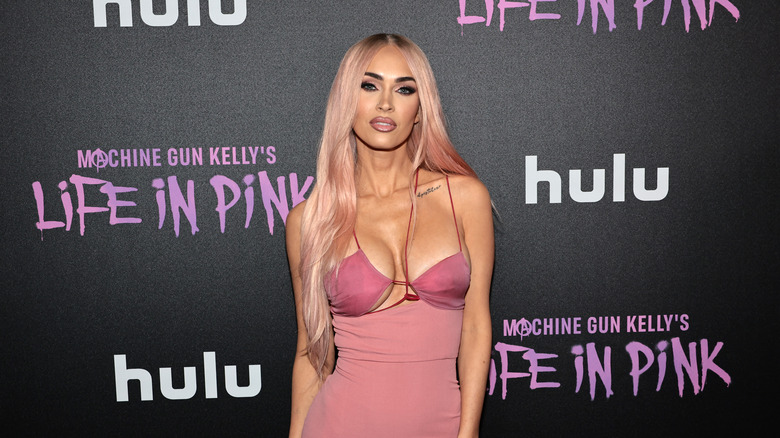 Jamie Mccarthy/Getty Images
When looking for a fun way to get creative with your style, the hair salon could be the solution you've been searching for to take your hair from drab to fab. There are plenty of hairstyles you can rock to switch things up, from halo highlights and butter blonde to the cool black color trend and cherry cola red. 
Recently, pink hair has made a comeback and has been seen sported all over the red carpet by noteworthy celebrities like Dua Lipa, Chrissy Teigen, Kaia Gerber, and Megan Fox who have been proudly showing off their gorgeous pink locks. Once seen as a bold and edgy hair color, pink has become a much more casual and popular hair shade that isn't just reserved for the alternative, grunge look.
If you're eager to make a statement and want to shake things up with a bold hair color, this rosy hue is the color of the moment.
How to achieve pink hair at the salon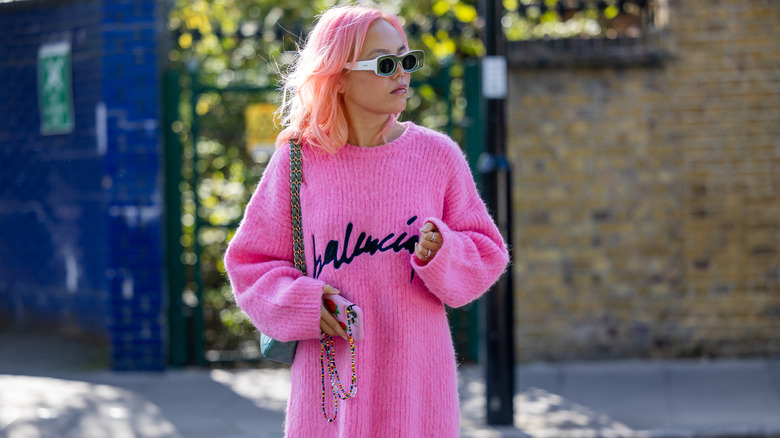 Christian Vierig/Getty Images
For those scared of taking the leap and making the commitment, pink hair can be a temporary look that doesn't have to last long if you don't want it to. Rachael Gibson, the editor of the Hair Historian on Instagram, tells The Guardian, "It's a low-commitment color that fades or washes out when you get bored of it."
How pink you can go depends on your natural hair color. If you're a blonde, you can start with a temporary pastel pink that isn't as long-lasting. That will give you a good look at whether or not pink suits you. If you have darker hair or are brunette, the process gets a bit more complicated since pink hair needs to be applied to lighter hair. Your hair stylist will have to bleach and lift your hair in order to dye it pink, so you'll want to be absolutely sure that you're ready to make the change.
Types of pink hair you can wear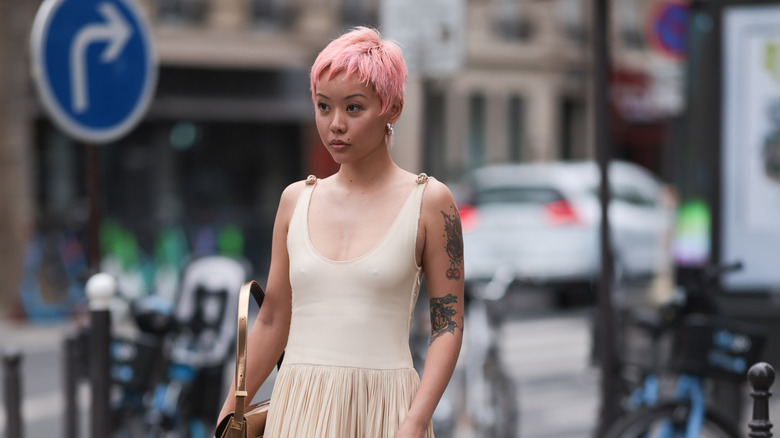 Jeremy Moeller/Getty Images
Brunettes should choose a darker pink as this shade suits darker hair, while blonde hair suits soft, pastel pinks more.
There is a range of stunning shades of pink, from an eye-catching hot pink to a cool, rosy pink -– you have plenty of options to choose from. If you want a softer, lighter style of pink, go for candy floss pink to get that subtle cotton candy shade. Pastel pink is another stunning shade that's the perfect balance between soft and subtle while still embracing the pink look. For a show-stopping pink, opt for an eye-catching, vibrant fuchsia that will really make a statement. If super low-maintenance is your style, ombre pink hair is the perfect choice as you can add pink to your natural hair without having to dye your roots.
Keep in mind that pink hair fades fast which means that if you love your rosy hair, you'll have to make frequent trips to the salon to keep the color fresh. To maintain your pink color, we recommend investing in a color safe shampoo and conditioner, like TRESemme's Keratin Smooth Color Shampoo.