Iridescent 'Alien Nails' Are The Sheer And Chic Look Inspired By French Manicures
Along with the rest of the Y2K staples that have been resurrected from the grave, every celebrity and fashion-forward civilian is wearing a French manicure. Who What Wear reports that the simplistic design was first invented by the CEO of Orly International, Jeff Pink, in 1975. Pink explained how the look was born to Who What Wear, saying, " ... directors would complain about how long it would take to change the nail colors on the actresses to match their wardrobes for different scenes ... They asked me to make a color that would go with everything ... " Looking for something neutral and versatile, Pink said he invented the famous French manicure, a sleek style of white tips and nude colored bases.
Almost 50 years later, the look is still in the fashion spotlight. Although, today, the manicure has evolved into way more variations than the basic blueprint Pink created. There are now "hourglass French manicures," "outline French manicures," and more. Celebrity nail artist Zola Ganzorigt told Glamour, "After this fall's moody dark colors and holiday nails, everyone wants something simple." This is proving to be true with the newest iteration of the French manicure — "alien nails."
Red carpet looks that ignited the alien nails trend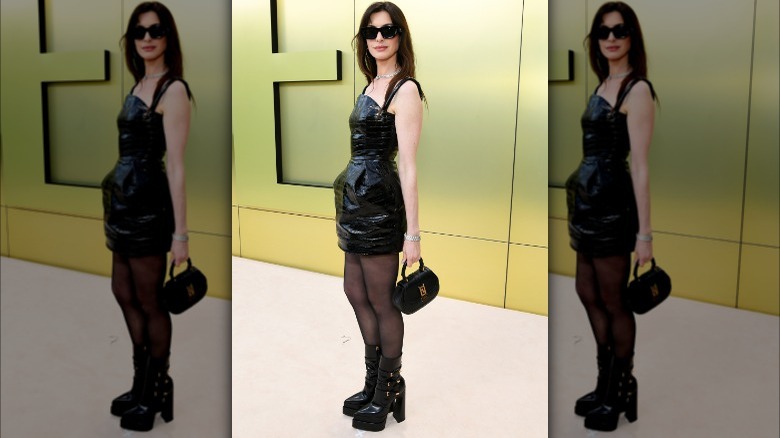 Jon Kopaloff/ Getty Images
On March 9, Anne Hathaway stepped onto the red carpet of the 2023 Versace fashion show. Celebrity photographer Jon Kopaloff posted a photo of Hathaway at the event wearing all black in a crocodile mini dress with tights and high-heeled boots. Her manicure is almost imperceptible from afar. Nonetheless, it caught the crowd's attention, with her "alien nails" making the headlines of major fashion publications in the following days.
Hathaway's manicurist, Tom Bachik, told Allure how he created the look, saying, "It honestly was a moment of discovery ... The idea was to add some length and create a modern French manicure. I test-applied a clear, full-coverage tip over her iridescent nails to see if we could get away with not taking the time to soak them off. Not only did the tips fit well, they looked amazing!" Hailee Steinfeld is another celebrity who Bachik blessed with this sheer, chic French manicure. On his Instagram, @tombachik posted a close-up of Steinfeld's sparkly, transparent set.
How to get alien nails
"Alien nails" are the perfect mixture of eccentric yet understated. They stand out because they are minimalistic. Nail expert Morgan Haile told Byrdie, "The 'invisible' French feels classic yet trendy." Whether you do it yourself or have a professional do it for you, the look is easily attainable and not just for celebs. Haile continued, "When it comes to this nail art it's all about the fine detail. If you like to add some length to your nails like I do, first apply Gelish Soft Gel Tips in Short Round ($9), and then use two thin coats of Morgan Taylor In The Nude Nail Lacquer ($9). Use your choice of glitter, metallic, or color. Use a thin nail art brush to create the desired design."
A key part of this look is getting clear extensions that fit smoothly into your nail shape. If, like Hathaway, your natural nails differ in size from your gel attachments, you can follow Bachik's lead. He told Allure, " ... I used a jelly adhesive to fill in the gaps between the two and give a seamless look ... Voilá — Nailien manicure."