How To Get In On The Outline French Manicure Trend Taking Over Social Media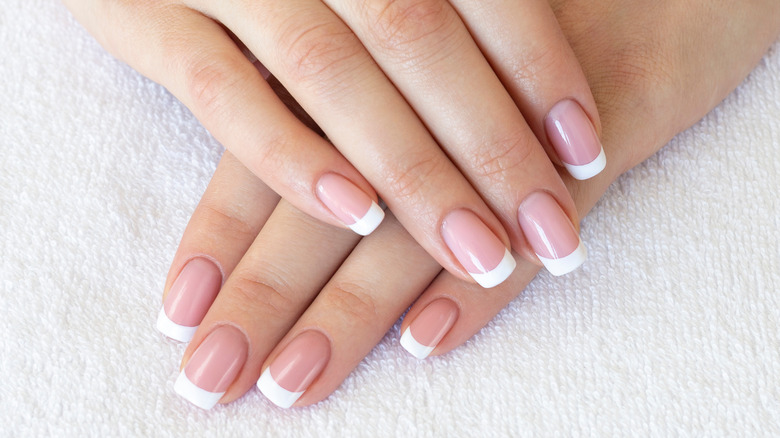 n.k.junky/Shutterstock
We may receive a commission on purchases made from links.
The French manicure is a classic nail design that gives a chic, sophisticated vibe. According to The Zoe Report, this traditional look became trendy again in 2019 and is still a popular choice for nail art enthusiasts. Many celebrities have been rocking this elegant look as well. 
A French manicure is an excellent option for people with busy schedules because it's appropriate to wear to a wide variety of places and activities. For instance, a French tip will look mature and professional for work and alluring for a romantic date while still looking cool enough for a night of dancing with friends.
Another beneficial aspect of this lovely nail design is that there are so many variations. While you can't go wrong with the classic pink and white style, nail art lovers have taken this old-school design to new levels with a plethora of creative spins. 
On Instagram, you'll find countless adaptations of traditional French manicures, such as green French tips, glittery French manicures, and a French tip with a polka dot design. We also love to see people pull off a matte French manicure.
One twist on the beloved French manicure is dominating social media — and we can't get enough of it.
Outline French manicures are super trendy
Are you looking for a new way to elevate the classic French manicure? If so, you should check out the outline French tip trend. According to Refinery29, this variation of the classic design features a graphic outline where the white or colorful line would traditionally be painted, typically using negative space to create a tip.
If you're thinking of trying this cool new spin on the classic French manicure and want some inspiration, searching #frenchtipoutline on Instagram has you covered with plenty of creative examples to explore. For instance, if you're looking for a sophisticated vibe, you can't go wrong with using white nail polish to outline a neutral tip. 
However, anyone looking for something a bit more glamorous will enjoy a sparkly French tip outline. Furthermore, if you want to look super edgy, a black outline is striking, while a rainbow look will never fail to turn heads.
How to rock this look
Anyone who wants to experiment with the outline French manicure trend should check out this YouTube tutorial by Nails M L. According to the video, you should start this look by using a thin nail polish brush to paint a skinny line outlining the bottom edge of the tip area. 
Then, trace the top of the nail to create the outer outline of the tip, and carefully connect these lines at the sides of the nail. Also, thicken the top line if you'd like it to be more noticeable. There aren't too many steps needed to achieve this look, but it seems to require a steady hand, so remember that practice and patience make perfect!
If you want to invest in some thin nail polish brushes for creating this look, you can buy Winstonia's Super Fine Nail Art Brush Set For Thin Lines on Amazon. These slim nail design brushes are available for less than $10 and have a rating of over four out of five stars. Additionally, if you're looking for an even lower price, Shein sells a Five-piece Nail Art Brush Set for only $3.50.
We can't wait to start exploring outline French manicures!