The Stiletto Lashes Mascara Trend Makes Your Eyes Pop
With all the new beauty trends continually on the horizon, one thing remains stable: mascara can make or break an entire look. For many, it's the finishing touch on the eyes. Consequently in years past, finding just the right eyelash curler is of utmost importance because if the lashes don't stay up, it's just not going to work.
Of course, now there are fake eyelashes available in just about every local pharmacy. To make wearing them easier, you don't even necessarily need to use eyelash glue since so many come with pre-glued or with reusable adhesive already on them. Just remove them from the box and apply and you're good to go.
However, not everyone wants to wear false eyelashes. In fact, experimenting with different ways to style your own lashes can be a lot of fun. One of the new, hottest looks is the stiletto lash and it's easier to get than you may think.
Beyond Maybelline Long Extreme Stiletto waterproof mascara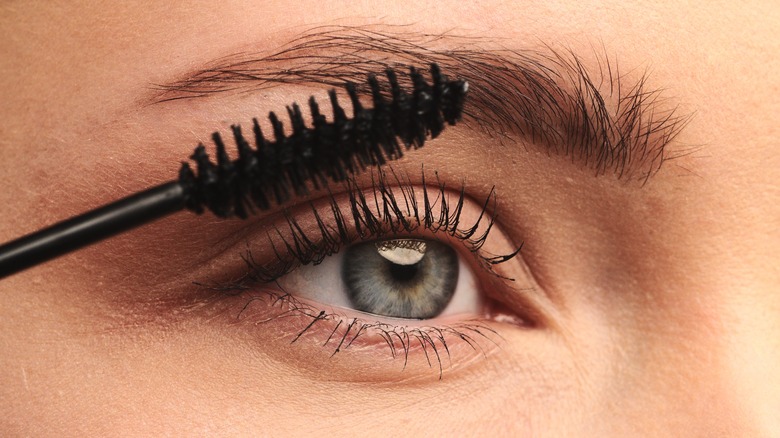 VALUA VITALY/Shutterstock
A specific brand of mascara is making waves in the beauty community. Maybelline's Long Extreme Stiletto Waterproof claims to do for the eyelashes what stilettos do for the legs which is just what everyone who buys mascara wants. It's a waterproof mascara that separates and elongates lashes, another goal of mascara wearers everywhere.
However, the stiletto mascara trend goes beyond just one brand product. The stiletto mascara look can sort of mimic what happens when your lashes clump. While this is typically a source of frustration, this intentional trend results in lashes gathering together to form an intensely unique look but it doesn't appear messy or clumpy the way a mascara mistake does. Instead of each lash having its own slathering of mascara, a couple of lashes share the same allotment.
The result is that lashes look more distinct and noticeable, even when wearing competing eye shadow and lipstick.
The stiletto mascara trend is all about the spikes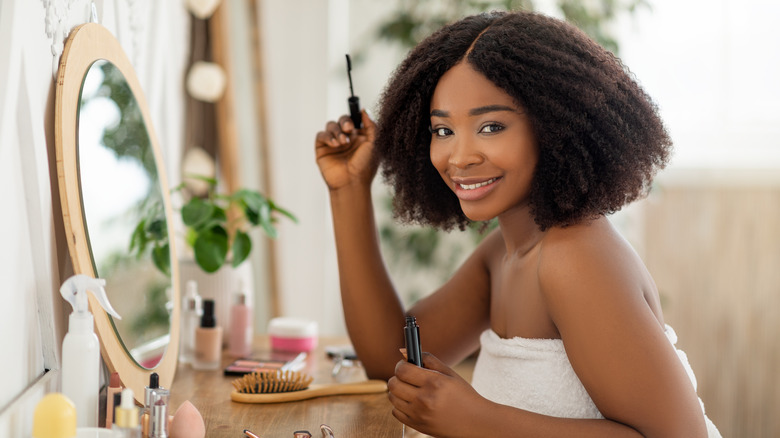 Prostock-studio/Shutterstock
Another feature of this look is that eyelashes point straight up like little spikes. This is what makes eye stand out the most because the lashes appear prominent. It can be done on upper lashes or lower or both.
"Euphoria" star Zendaya donned stiletto lashes at the 2023 Screen Actor's Guild Awards. A fan of mascara, the actor told Glamour, "I love long lashes. I like that they open my eyes and make them pop." Zendaya chose to focus the stiletto look on her button lashes at the SAGs which created an even more dramatic look.
The stiletto mascara trend definitely brings attention to the eyes which is the entire point of wearing mascara. Whether you pair it with eyeliner and lips, or both, or even go bare faced with just lashes, these long and startling lashes will captivate. Like with most other mascara trends, the longer your original lashes are the more you have to work with and showcase, yet even average sized lashes can benefit from this striking look.