Archie And Lilibet's Role In King Charles' Coronation Reportedly Depends On Their Parents
Pool/Getty Images
More and more details for King Charles' coronation are finally being confirmed as we get closer to May 6. It's certain that plenty of royals will be attending the historic coronation, but due to the drama and in-fighting that has been plaguing the royal family, there's some speculation about which important figures may not be in attendance. 
In less than two months, King Charles III and Queen Consort Camilla will officially begin their reign, and it's clear that their family members will all have important roles to play at the historic event. It's been reported that Camilla's grandchildren will take over a role traditionally held by duchesses at the coronation, and it's been confirmed that Prince William's children will also be front and center at the event. As for Charles' other grandchildren, Archie and Lilibet, however, it seems that how they'll be featured in the coronation is all up to the Duke and Duchess of Sussex.
Since the release of "Spare," Prince Harry has been clear about what it will take for him to put his family feud to rest. "It was all so avoidable, but they just couldn't help themselves," Harry explained in an interview, per Marie Claire. "You know what you did, and I now know why you did it. And you've been caught out, so just come clean." Since "coming clean" doesn't seem to be on the royals' pre-coronation agenda, it's easy to wonder whether Harry, Meghan, and their children will have any role at all.
There are two plans for the coronation until Harry and Meghan make a decision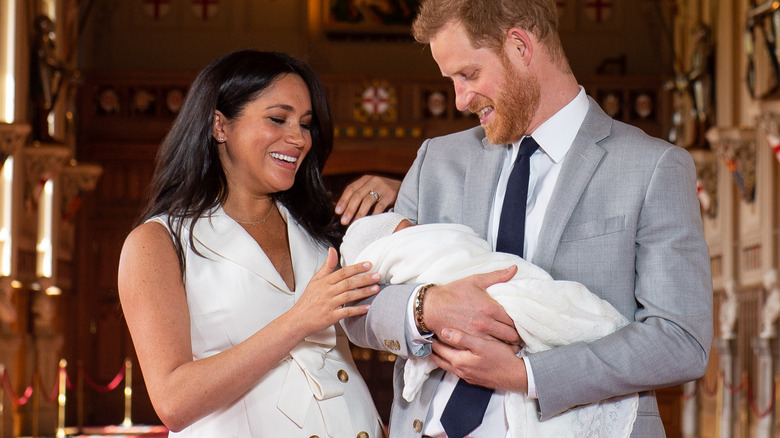 Wpa Pool/Getty Images
According to a spokesperson for the Duke and Duchess of Sussex, "I can confirm The Duke has recently received email correspondence from His Majesty's office regarding the Coronation. An immediate decision on whether The Duke and Duchess will attend will not be disclosed by us at this time" (via Express). Whether or not Prince Harry, Meghan Markle, 3-year-old Archie, and 1-year-old Lilibet will attend depends on how negotiations shake out. A source explained, "The Palace are trying to wrap up negotiations as quickly as possible, because they can't go right up to the wire. It could lead to chaos. It could very well be that it ends in stalemate, and they won't attend. But the Palace is doing everything in its power to not let that happen."
A source revealed to the Daily Mail, "Two versions of the plans [for the day] are being drawn up. One includes Harry and Meghan, and one doesn't. Timings are all approximate at this stage, but they are working towards a timetable now." At first, Archie and Lilibet allegedly weren't invited at all. Now the plans will include them if their parents attend. This could even involve a happy birthday shoutout to Archie who turns 4 on coronation day. Whether or not the family of four will attend is up in the air, but as the clock ticks, a decision will be made one way or another.
What are the Duke and Duchess' demands?
Chris Jackson/Getty Images
King Charles has plenty of reasons to jump at any opportunity to get the Duke and Duchess of Sussex to attend his coronation. So, what exactly are the couple's demands that the palace is so reluctant to meet? It's reported that, for good reason, having Archie and Lilibet in attendance was an important first step. Furthermore, after the coronation at Westminster Abbey, Harry and Meghan want to stand with their children and the rest of the royals on the balcony of Buckingham Palace. While this may seem like a simple request, it's important to note that this would be highly unusual. During past celebrations, like the Platinum Jubilee, this honor would be reserved for working royals, so it's clear why this might be a point of contention.
Per The Sun, according to royal commentator Dominique Samuels, the question of whether Prince Harry and Meghan Markle will attend the coronation "really is a mess, to be honest." She explained, "many people were wondering why the King invited them to the coronation in the first place. Secondly, I'm not surprised they have this list of demands, because it seems the King is really prepared to capitulate to all of them. On the bright side, what can happen is a bit of a compromise." Whether you're on the side of father or son when it comes to this royal rift, we can all agree that some compromise here would be a good thing.