Sweet Gourmand Perfume Scents Are Back In Style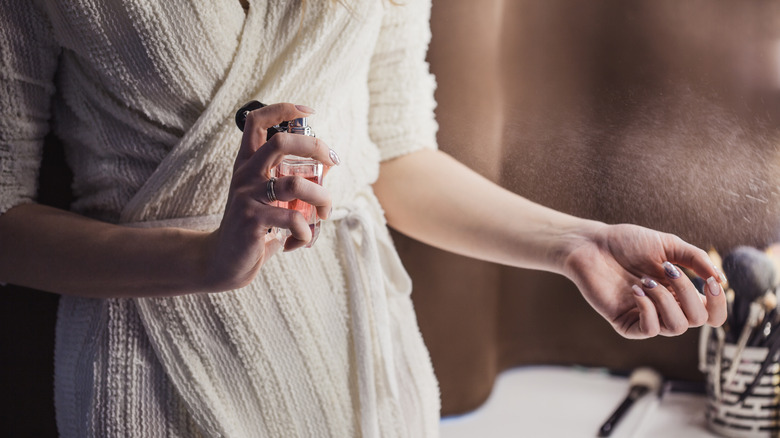 Kriscole/Getty Images
We may receive a commission on purchases made from links.
For the past few years, fresh-smelling and floral-infused fragrances have dominated the perfume market. Luxury scents like Marc Jacobs Daisy Eau So Fresh and Le Labo Santal 33 have been particularly popular for their flowery and earthy aromas. Celebrity releases of the 2020s have followed the trend toward these notes, with Rihanna's Fenty Eau De Parfum being a great example.
While we still love a sweetly floral or subtly clean scent, the gourmand fragrances of the '90s and early 2000s are making a comeback that we just can't ignore. If you're unfamiliar, the word "gourmand" is a noun defined as someone who takes great pleasure in eating, sometimes to the point of excess. In the context of perfume, this descriptor refers to synthetic scents inspired by food items — think vanilla, sugar, caramel, etc.
Gourmand perfumes aren't always as sickly sweet as these examples, with notes like almond, coffee, and cognac falling into this category. However, iconic Y2K fragrances, and the modern perfumes inspired by them, are typically on the sweet-treats side. With the resurgence of modernized Y2K trends, it makes sense that dessert-inspired and candy-sweet scents so reminiscent of the early aughts are making their way back into fashion.
The legacy of gourmand perfumes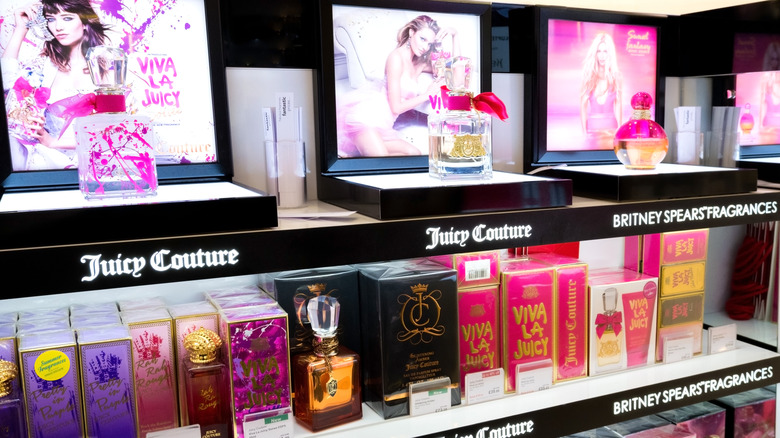 DenisMArt/Shutterstock
If you were around for the '90s and early 2000s, then you're probably pretty familiar with the sugary, good-enough-to-eat fragrances of this era. Think Fantasy by Britney Spears, Angel by Thierry Mugler, and Juicy Couture Viva La Juicy. Each of these fragrances has sweet, edible-inspired notes, ranging from caramel and honey to cupcake accord and wild berry.
As to why these scents originally took off, Arnaud Guggenbuhl, head of global marketing insight and image fine fragrances at Givaudan chemical company, tells The Zoe Report, "When [gourmand] came out, it was new to be able to fragrance yourself with candy-like or cake-like straightforward fragrances and people were thinking it's fun, it's playful, it's energetic."
It's likely this playful and fun energy that has brought gourmand fragrances back to the forefront of pop culture today, with consumers turning to nostalgia for comfort in a time of political and economic uncertainty. While newly popular gourmand fragrances draw on the legacy of Y2K perfumes, they also use modernized formulas and arguably more refined palettes to create freshly signature scents.
Gourmand scents on the market today
While gourmand perfumes are nothing new, creators have found innovative ways to re-capture the sweet and fruity scents of the '90s and 2000s. An example of this is Vanilla Milk from Ellis Brooklyn, a vanilla-inspired perfume with scents of cocoa shell and milk accord. Not only does its uniquely rich smell set it apart from saccharine predecessors, but the company's cruelty-free practices and sustainability commitments appeal to the modern eco-conscious consumer.
Although celebrity perfumes aren't as common as they once were, there are some modern releases that seem to be on the gourmand train. Ariana Grande, for example, has released several sweet fragrances in the last few years, with her MOD Vanilla containing scents of dark plum, vanilla, cocoa, and Orrisand praline. Billie Eilish's debut perfume, Eilish, contains a gourmand vanilla base with additional scents of mandarin, warm berries, and cocoa.
Though vanilla has been particularly popular in this nostalgic resurgence of gourmand fragrances, experts also predict that perfumes centering around chocolate, coffee, and fruit aren't far behind.