Square Cropped Jackets Are The Most Iconic Silhouette For Spring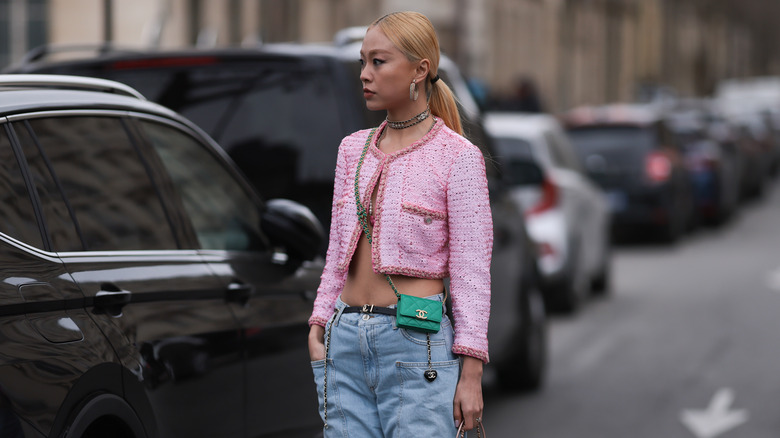 Jeremy Moeller/Getty Images
Warm weather is like a hug from the fashion gods. Flowers bloom, the sun stays out to revel, and nights cease being bitter and cold. As much as we enjoy autumn boots and scarves, spring is the season for fewer layers and more color. You can finally wear skirts without your legs freezing. Hats and gloves that were worn to keep warm become unnecessary accessories added to increase flair. Spring is a wardrobe's fantasy, and the fashionistas have declared square-cropped jackets as the season's hottest silhouette.
Jackets come in all different shapes, sizes, and fabrics. Not only do they keep you toasty and break the wind, but they also instantly upgrade your outfit. This outwear is the chance to incorporate color, patterns, and texture. An all-black ensemble can become high-end fashion by adding a jacket, while sweatpants will look more like event wear than gym clothes with a chic coat. But here's why the short boxy version is all the rave.
Boxy outwear is spring's must-have attire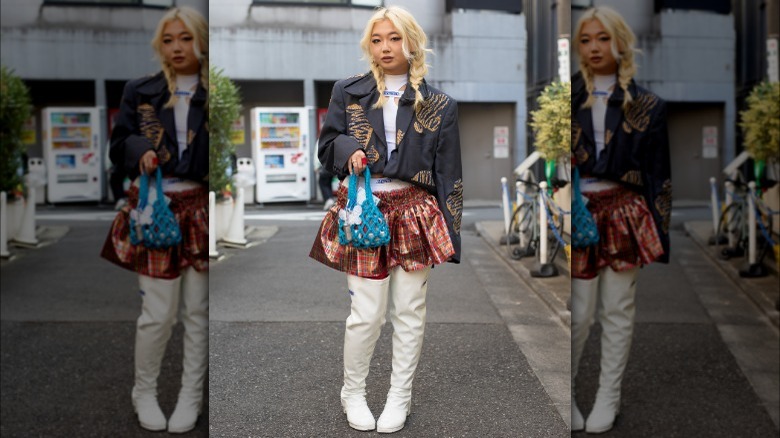 Matthew Sperzel/Getty Images
Boxy cropped blazers walked the runway in Sergio Hudson's Spring 23 collection to prove that they're the star of lightweight outerwear. Cropped jackets work so well for every shape because they play into the rule of thirds. It's a concept known in the world of art and photography, but it also applies to fashion. Instead of dividing your outfit in half, with say, a shirt that stops at the lower waist and bottoms that stop at your ankle, you want to break your outfit into thirds. A top that stops at the hips or high-waisted jeans can be used to divide your body into three and avoid the frumpy half ratio.
A square silhouette can also be harsh. However, embracing spring colors and items of warmer wear allows you to soften the choppy look. Shoulder pads are back in style, so that should tell you everything you need to know about boxy looks. Let's get ready for spring with tips on how to style square-cropped jackets.
How to style your cropped spring jacket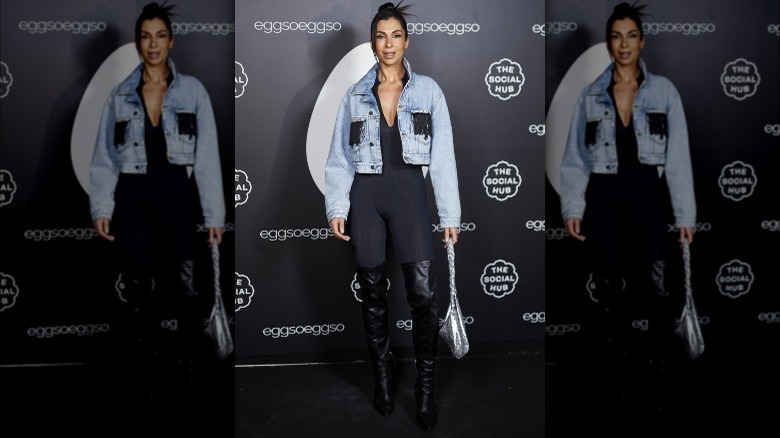 Borja B. Hojas/Getty Images
You can adjust a cropped jacket to fit any aesthetic. For a formal or business casual look, go for a blazer. With a blazer as your base, you can dress it up or down. A white button-down will create a preppy look that — paired with a skirt — is feminine and chic. To keep the ensemble elevated, match the cropped jacket with high-waisted bottoms. Mom jeans or wide-leg pants will do the trick.
For a more casual outfit, switch up the jacket material. A cropped leather piece is edgy, a distressed denim jacket is rugged, and a suede garment is soft and chic. To highlight your coat, keep your accessories centered on your outwear. Fancy clutches will draw attention away from the jacket, but a stylist crossbody draped over your bodice will draw attention to it. Bracelets, watches, necklaces, and broaches are all pieces displayed on or around the jacket and will spotlight the springtime top layer.