The Necklace Layering Hack That Gives You The Perfect Jewelry Stack Every Time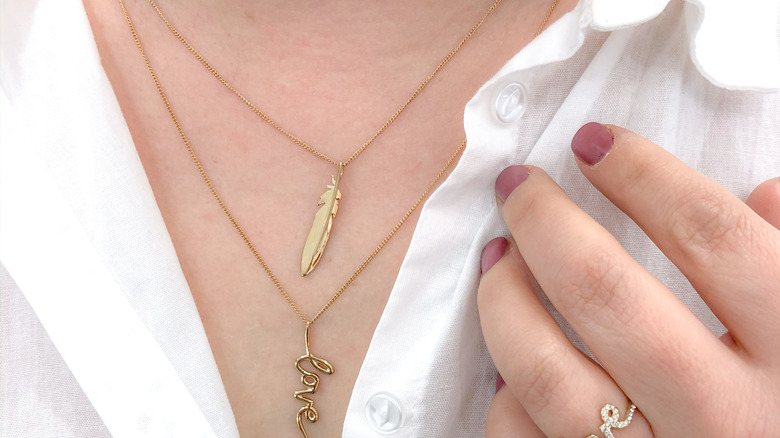 marinissim/Shutterstock
There is something so fun and fashionable about layering your favorite jewelry pieces. From the dainty appeal of stackable rings to the lived-in look of multiple bracelets, there is a lot of variety you can create with every outfit. Of course, necklaces are a major accessory that can't be forgotten about. Unfortunately, it can be hard to achieve that elegant layered look when your necklace chains keep getting tangled up or caught on each other.
The solution to this problem has often been to simply buy necklaces that are different lengths or to purchase extenders to change the length of certain necklaces. By having some that are tighter around your neck, it's easier to pair longer necklaces on your chest without having any issues. However, this doesn't provide a free solution for the necklaces you already own that would look perfect together.
If you are happy with your current jewelry collection and don't want to spend money but seem to have multiple necklaces that are the same length, they are absolutely still pieces you can pair together. The trick lies with a simple jewelry hack that ensures an effortless layered necklace look.
It's all about how you put on the necklaces
When picking out necklaces to wear, you usually find one, lay it around your neck, and hook it in the back. Then you let it fall and adjust as needed. Instead of following this process with multiple necklaces, it's actually better to take a different approach entirely.
It's normal to wonder if you are wearing your necklace at the right length. So, when you find two necklaces around the same length that you want to layer together with an outfit, start by placing them around the back of your neck so that the clasps are dangling in the front of your body on the sides of your chest. Instead of clasping each necklace together like normal, connect the opposite sides of the different chains. Therefore, the necklace clasp on the right connects to a different necklace on the left and vice versa. You're actually creating one long connected chain around your neck that can be pulled to create the look of two different-length pieces.
Once all four loose ends are connected, you can twist the necklaces back around so the clasps are at the back of your neck and the jewelry is visible in the front. Now, you can have fun with how much or how little you choose to layer these pieces. The more you pull the necklace on the bottom, the tighter the top necklace will get around your neck. Similarly, if you make the top necklace looser, it can be layered just above the bottom necklace with less of a gap between them.
Layering provides versatility to your jewelry looks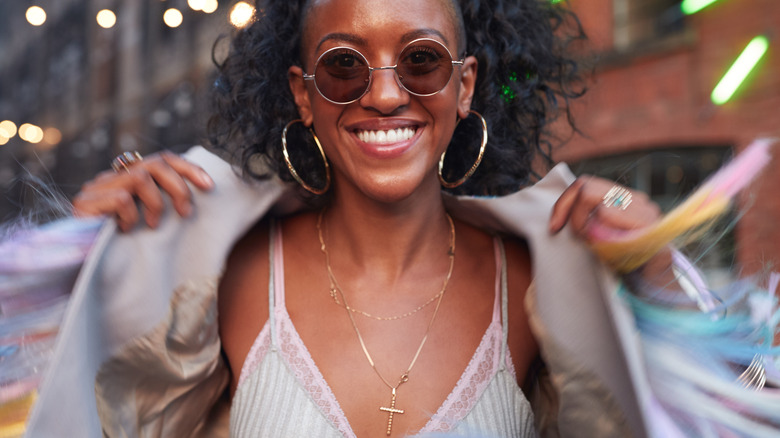 Monkey Business Images/Shutterstock
One of the key tricks in creating the perfect jewelry stack is to include various necklace lengths. This allows each individual piece to shine without being covered up or intertwined with the others. A great approach to take when creating your outfit is to find the necklace you want to feature and build your layered look from that. You may have a dainty necklace you want around your neck which would leave room for a longer chain or pendant covering your chest.
While choker necklaces may be dangerous, they have a unique appeal, especially for those who love that early 90s nostalgia. However, a great way to build upon this older trend is to reach for gold-plated jewelry. Mixing rose gold and yellow gold necklaces gives a subtle elegance that elevates the jewelry. Plus, if you reach for styles with various colors, it adds some contrast beyond the widths and textures of each piece.
Ultimately, there are so many ways to pair your necklaces but the goal is to let your own creativity shine through. You never know what combination could create the next jewelry trend, but taking advantage of hacks that improve the wearability of your necklaces is a must.