Are You Wearing Your Necklace At The Right Length?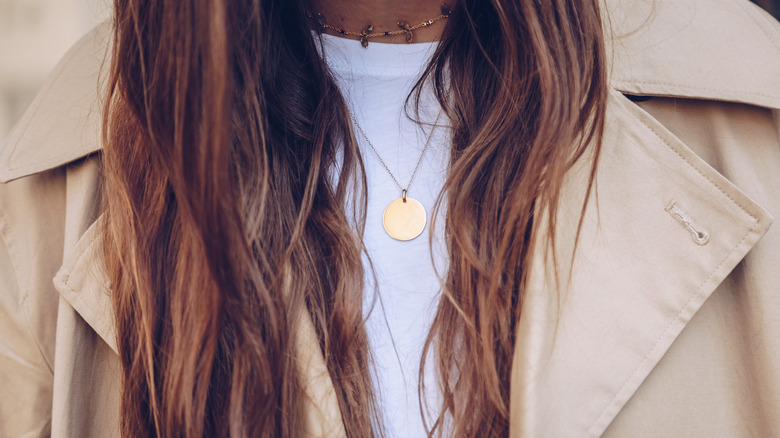 MS_studio/Shutterstock
Anyone that loves fashion knows that the right accessories — and choosing them — can make or break an outfit. The difference between someone who casually tries to look their best and someone who is dripping in style is indeed knowledge. When it comes to necklaces, there's a lot to know. They might just seem like a throw-on-and-go accessory, but there's a whole lot more to it than that. Choosing the right necklace length is a make-or-break moment, especially if you're investing a pretty penny into the item. 
Finding the right necklace length for you is a personal thing. Yes, there are some technical concepts like names and lengths. Ultimately, it comes down to what feels good to you and what works with your outfits. But if you're looking for a little more guidance than just choosing one that seems right to you, here's everything you need to know about sizes. Because the sizes — chocker, standard, matinee, opera, and rope (via Simone Walsh) — don't mean anything unless you can visualize them.
Know your necklace length and you'll nail your look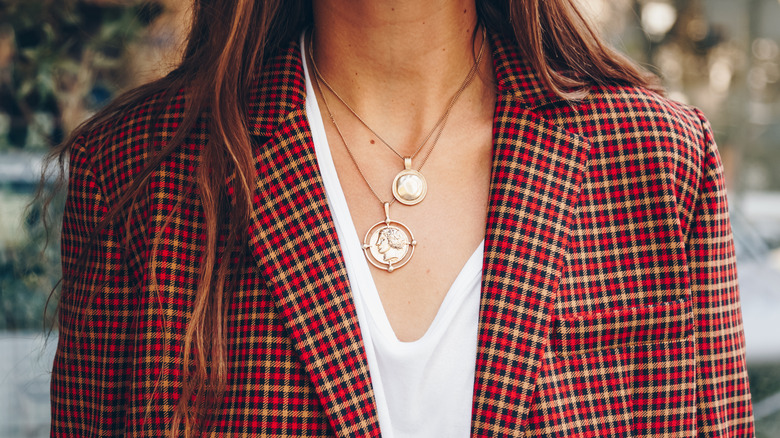 MS_studio/Shutterstock
While it might seem like necklaces are just made at random, each actually has a very specific size. There are four universal sizes when it comes to necklace lengths — 16", 18", 22", 30", and then anything longer than 30". According to Simone Walsh, each necklace is measure by chain lengths, which means the length of the entire chain if it was laid in a line. Each one also has a specific name. The shortest is Choker, followed by Standard, Matinee, Opera, and Rope.
What makes the perfect length, you ask? Well, that's up to you. As The Pearl Choice states, finding the right necklace length depends on what you're wearing. For example, you wouldn't wear a Choker necklace with a turtleneck. Simone Walsh suggests taking a piece of yarn, measuring it and then tying it onto your neck in front of a mirror to see which length works best for you. You can try on a few different outfits while you're at it. That way, you know what's best for you and your style.
The right length also comes into play when you want to start layering necklaces. The easiest way to do that is to know exactly what length you're buying, so you know that they will hang in different lengths. Honestly, knowing more about length will help you flawlessly nail the layering look. 
When in doubt, stick to the most popular size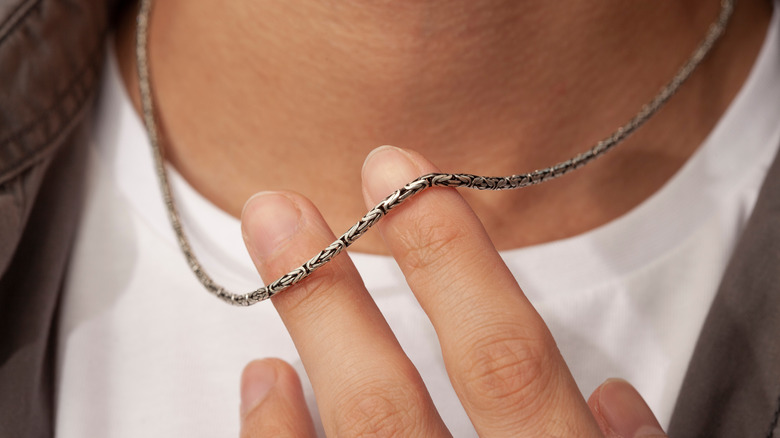 1jewelry/Shutterstock
If you're looking to do some shopping for someone else, you might not know their necklace size. Or, you know, maybe you're just not looking to play around with yarn to find out the right size. In that case, stick with the most popular necklace size. According to Borsheims, Standard is the most common necklace size, also known as Princess or the 18". This will sit right around most peoples' collar bones, which makes for the perfect length to wear with tank tops or t-shirts. 
All in all, finding the right necklace is all about your personal style. There's no wrong or right way to do it. But when it comes down to buying the actual necklaces, knowing the lengths sure does make it a heck of a lot easier. Whether you're looking to layer up different necklaces or just nail down your own personal style, keep the names Choker, Standard, Matinee, Opera, and Rope in mind — or bust out the measuring tape!