The Throwback Fashion Silhouette That Will Be Trending For Spring And Summer 2023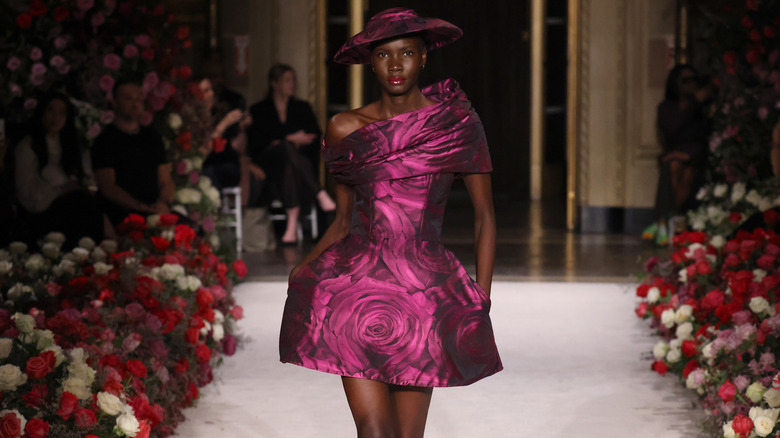 Jp Yim/ Getty Images
Fashion trends have been throwing it back for quite some time now. Wardrobes are stocked with Y2K staple pieces and people are rocking revived '70s disco curls. Today's fashion scene is a hodgepodge of the past 50 years. However, this spring, we saw something resembling less of a throwback and more of a full forced, hurl back into time. Not one of these light tosses to the past few decades, we're talking about time traveling to the 1500s.
We're not entirely surprised given that Bridgerton-inspired clothing items have slowly been added to everyone's cart since the debut of the hit show. Pinterest's insights manager Swasti Sarna reported to Glamour that "since the launch of Bridgerton, searches on Pinterest for 'Bridgerton aesthetic' have skyrocketed 45x." In addition, searches for standard victorian era items for afternoon tea went up by 43% to 70%.
But what appeared on the runway during 2023's spring and summer fashion week is a blast from the past we never expected. As though they were walking down palace stairs for a ball, models walked in hip-extenuating farthingales. More recently, you might have heard these antique garments referred to as hoop skirts.
The history of the hoop skirt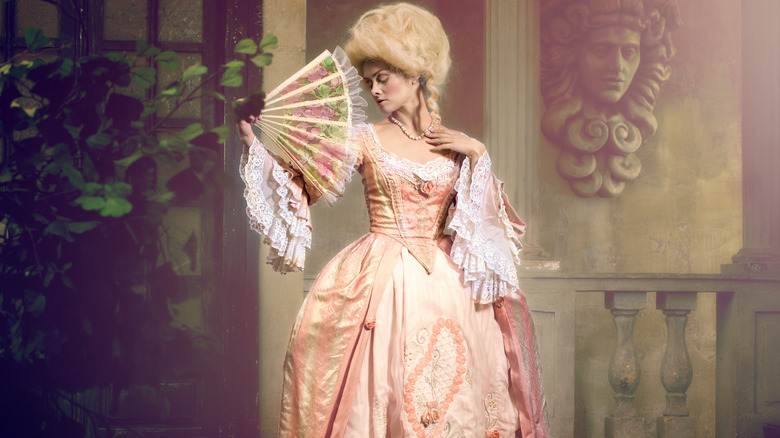 Sundraw Photography/ Shutterstock
The hoop skirt is what creates that Cinderella-like silhouette. According to Britannica, the farthingale is considered one of the first iterations of this fashion trend. Originating in Spain, it spread across the west in the 1500s. From that point forward, women began wearing bell-shaped structures made from whalebone or wood beneath their skirts. With wider hips than men, the farthingale imitates and extenuates a woman's anatomy.
Dior's 2023 spring and summer fashion show took place at the Tuileries Garden, which the fashion house's official website notes, "was commissioned by Catherine de Medici. An Italian who arrived at the French court in 1533." The webpage states that Catherine de Medici "fascinat[ed] Maria Grazia Chiuri because of her political intelligence, but also the innovations she launched, such as heels, the corset, and Burano lace."
The Design Museum Foundation explained that Catherine de Medici used fashion strategically to exacerbate her proportions as a sign of power. This is exactly what drew Chiuri to the tight corsets and dramatic hoop skirts. The Dior website continues, "the guêpière, sometimes hidden, sometimes visible, outlines a silhouette reminiscent of the wide skirts worn at the court of Catherine de Medici." The brand describes this renaissance-inspired line as "an ode to the potency of fashion as an expression of feminine power."
The once oppressive garment is being repurposed and reclaimed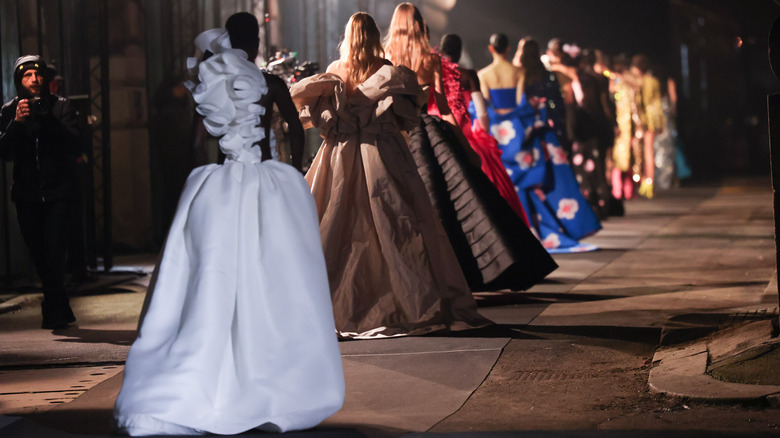 Jacopo Raule/ Getty Images
By the 1800s, Britannica notes that this rotund skirt was out of style. You might recall from high school history that this was the century in which women took strides toward equality. Smithsonian Magazine draws the connection between this fashion shift and cultural movement, describing how suffragist Amelia Bloomer popularized more practical fashion for women. 
"Practical" didn't exactly include enormous whale bones attached to the hips. Bloomer wrote an article for The Chicago Tribune which was later published in the book "The Life and Writings of Amelia Bloomer" by Dexter Bloomer. In it, she described the public's reaction when she threw out her wide skirt for pants. "[L]etters came pouring in upon me by hundreds from women all over the country making inquiries about the dress and asking for patterns—showing how ready and anxious women were to throw off the burden of long, heavy skirts," she wrote. The 1800s hoop skirt was quite literally dragging women down at a time when all they wanted was to get ahead in the workforce.
However, brands like Dior and Loewe attempted to rewrite the narrative of this extreme silhouette. Loewe's website writes that their spring line (which is clad with hoop skirts), aims to express "bodily gestures that maximize the idea of body language." Dior's Chiuri mentioned to Vogue, "The idea was to play with this reference [to Catherine de Medici] and how much fashion and power are in dialogue."