Kate Middleton's Blazer Is Getting Attention For All The Wrong Reasons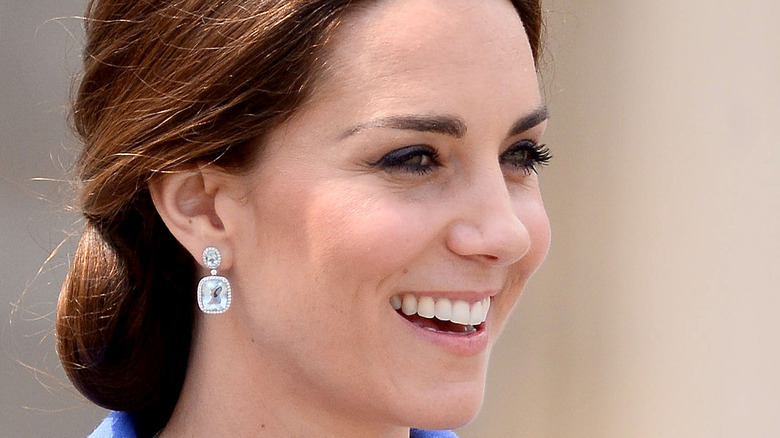 Isaaack/Shutterstock
If there's one thing we can count on Catherine, Princess of Wales to deliver — whether at a state event or on the red carpet — it's understated, elegant fashion looks that signify her confidence. Over the years, Kate's style has evolved, both as she's gotten older and become more comfortable with royal life. It helps, of course, that Kate has formed close relationships with some of England's most prominent designers. Per Vogue, Kate frequently works with the designer of her famed wedding dress, Sarah Burton at Alexander McQueen, as well as Jenny Packham. Kate has even tapped Said Cyrus with Catherine Walker, an old favorite of Princess Diana's (whose style Kate has channeled before). She's also worked with fresher-faced designers, collaborating with the likes of Emilia Wickstead, Erdem Moralioğlu's, and Roksanda Ilinčić.
Now that Kate is officially the Princess of Wales, her style has changed even further, as she cements herself as a more senior member of the royal family. "Kate's look has definitely taken a more serious, business-like mood since she became the Princess of Wales, which reflects the gravitas of her new position within the Royal family as she gets nearer to the throne," Miranda Holder, a celebrity stylist and royal fashion expert, told Newsweek. And although Kate has established herself as a fashion icon, that doesn't mean she won't have an occasional slip-up or two.
How many Alexander McQueen blazers is too many Alexander McQueen blazers?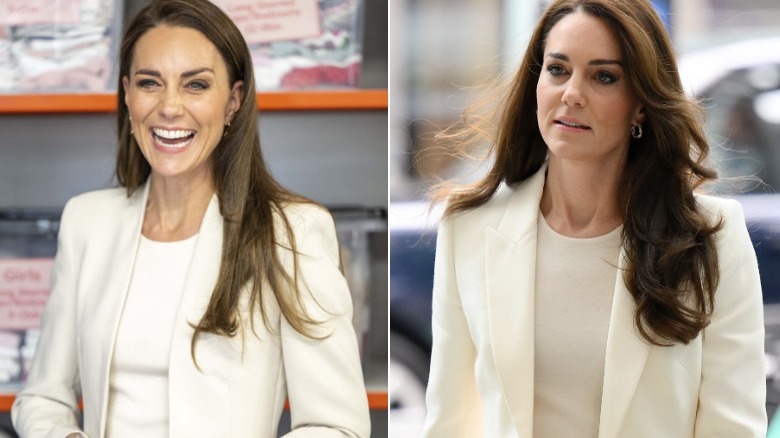 Wpa Pool & Wpa Pool/Getty
As Miranda Holder confirmed, Kate recently has leaned towards a more serious look, and this includes donning a number of blazers created by top designer Alexander McQueen (who The List readers have named as their favorite of Kate's designers). According to Express, Kate was seen wearing what many believe is a brand new McQueen's "women's peak shoulder leaf crepe jacket in light ivory" while attending a meeting for her Early Childhood initiative. The blazer costs £1,490 — a pretty high price tag considering Kate has previously been seen wearing the very same blazer in both pink and off-white.
Some took to social media to express their confusion with Middleton purchasing so many versions of the expensive clothing item. "Lovely but she must love those blazers. Having almost seven blazers of similar style in different colours is the next level of loving something," @natalie.nmn wrote on Instagram. Another user agreed, adding, "It's so bizarre to buy two almost identical blazers. I hate when she does this." However, it's unclear if this is an entirely new blazer, or if Kate is, in fact, re-wearing an old favorite, as she is wont to do; Middleton has previously earned headlines for re-wearing a number of her sartorial statements. Hopefully, she'll clear things up, or at the very least, re-earn her fans' trust by publicly donating a few of these fancy blazers.