The Viral 'Dream Girl' Highlighting Trend Will Help Lift The Face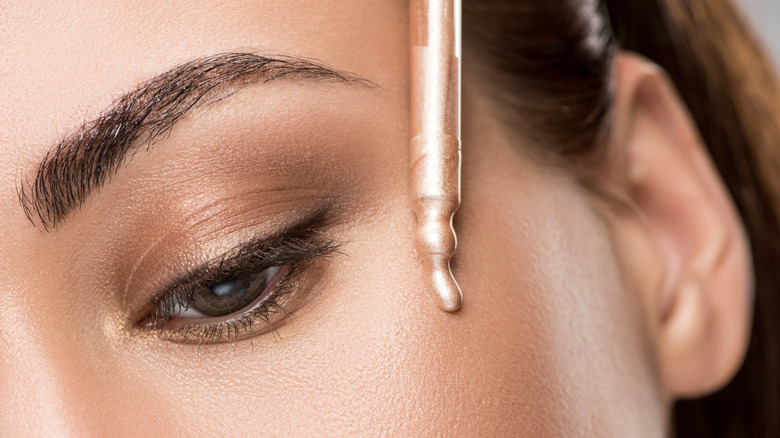 Lightfieldstudios/Getty Images
There's a new viral makeup hack that everyone is using right now to get that snatched look you see on celebrities like Bella Hadid and Kim Kardashian. Micro-highlighting has been a popular makeup hack for a while, and this newest version of it is no different.
Micro-highlighting is a technique where you add highlighter to your makeup to brighten up and lift your face. Just like foundation can contour your face, this makeup staple can enhance your natural features, as well. Also referred to as the "Dream Girl" micro-highlighting technique, the viral makeup hack has been circling TikTok, with the hashtag #microhighlighting garnering over 1 million views on the platform. The "Dream Girl" trend is all about elevating your look with simple tricks that anyone can do. Once you've applied your foundation and contour, it's time to try out this technique and achieve the dream girl look for yourself.
How to achieve the popular dream girl micro-highlighting look
This technique begins with drawing parallel, asymmetrical lines on each side of the face in an upward motion and then blending them into your makeup (via Glamour UK). To try the micro-highlighting hack, draw a line of highlighter from underneath your lower lip to your cheek and another parallel line from the bottom edge of your nose up to the middle of your cheek. Then, draw another parallel line from halfway under your eye towards the upper edge of your face, and a final line from underneath the start of your eyebrow to the end of it.
Once you've drawn your lines, you can then blend in the highlighter with your hands, a brush, or a sponge to complete the dreamy, glowy look. The best part about micro-highlighting is that it's a versatile technique, so you can use it to highlight any areas of your face that you think need a boost. The viral highlighter lip lifting hack or Kendall Jenner's highlighter trick are just a couple examples. Of course, you can also take some time choosing which highlighter brand and color to try.
The best highlighter picks for your skin
The most popular tool to use for this technique is a white highlighting pen, but you can also opt for a cream or liquid-based highlighter instead, if you prefer. Professional makeup artist from New York City, Shaina Ehrlich, tells Byrdie, "I love to micro-highlight the middle of my eyelid with a little cream highlighter or powder. This brightens my eyes in a more subtle way, especially if I am not wearing a lot of makeup that day."
Which shade of pen you use will depend on your skin tone and what type of highlighter best suits you. If you're looking for a liquid highlighter that will blend easily and naturally, we recommend Rare Beauty's Positive Light Liquid Luminizer Highlighter for that classic, dewy glow. The product is complete with its "botanical blend of lotus, gardenia, and white waterlily." The Chanel Baume Essentiel Multi-Use Glow Stick is another worthy option. This silky highlighter stick gives your skin a soft, natural glow that doesn't set into fine lines and wrinkles on the skin. 
If you prefer a powder highlighter, try Rihanna's Fenty Beauty Killawatt Freestyle Highlighter, which is technically a cream-powder hybrid. With numerous shades that provide a stunning glow, you won't be disappointed with the results. The product promises an easy, shimmery blend.