The Highlighter Trick That Kendall Jenner's Makeup Artist Swears By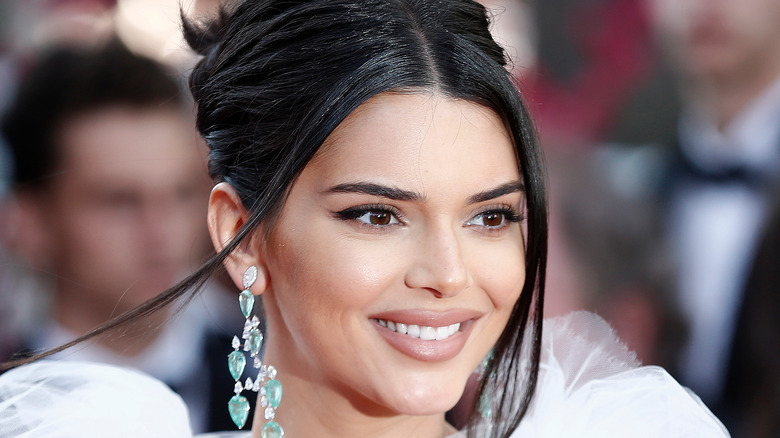 Shutterstock
The Kardashians are the queens of highlighter. It's hard to imagine a time before they were dusting the tops of their cheekbones with iridescent powder — they started a makeup revolution, and Kendall Jenner's makeup artist has shared the highlighter trick that she swears by. Vogue noted that the international supermodel has created a signature look out of a dewy natural base, super long lashes, and a bold lip. And it's easier to get her glow than you might have thought.
New York City-based makeup artist Aidan Keogh has worked with Jenner in the past. He told Byrdie, "In a day where sculpted and chiseled features have become a movement, Kendall prefers a more subtle and naturally defined face." One way she does this is by creating the perfect reflective illusion with her highlighter.
Keogh said rather than opting for glittery powders, Jenner uses products much easier to blend. He said the RMS Beauty Living Luminizer is one of her favorites. "It's creamy and photographs so beautifully," he said. "We tap it on the high planes of the face and add a little touch above the Cupid's bow to enhance the pout and create the illusion of a fuller lip."
How to get Kendall Jenner's less is more glow with skincare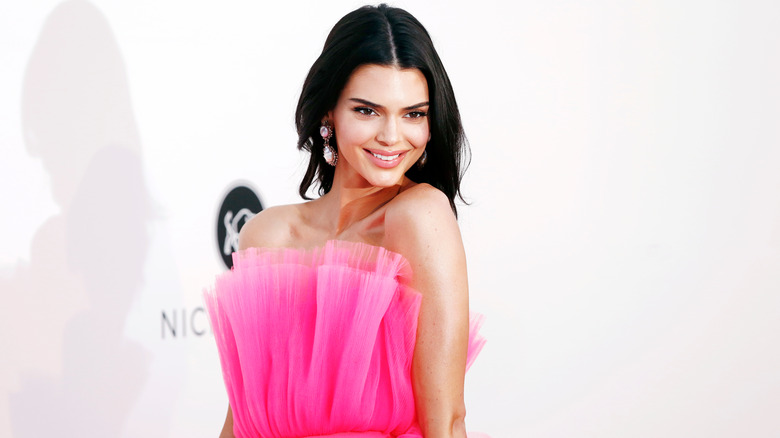 Shutterstock
This isn't the first time that makeup artists have spilled the secrets on how Kendall Jenner gets her signature, natural glow. In 2017, she recorded her beauty secrets for Vogue. She admitted, "I literally can do my makeup in 15 minutes or less ... 20 tops."
Makeup artist Mary Phillips has worked with Bella Hadid, Chrissy Teigen, and Jenner. She told Refinery29 that the model uses all sorts of products to achieve her barely there makeup look. "The whole point of highlighter is getting that pop of shine, not a stripe," Phillips said. "You don't really want to see the highlighter, more a glow from within." Rather than using a highlighter, she said she runs a drop of moisturizer on all of the high points of Jenner's face. It re-hydrates the makeup and gives a dewy effect without taking any makeup off.
TheThings reported that when talking about Phillips, Jenner said, "I die for Mary. She is a genius at contouring and making your face look alive and fresh and glowy." She explained that they combine cream highlighter with powder in order to create the perfect formula and finish.