The Contour Brush Shape That Will Give You The Best Application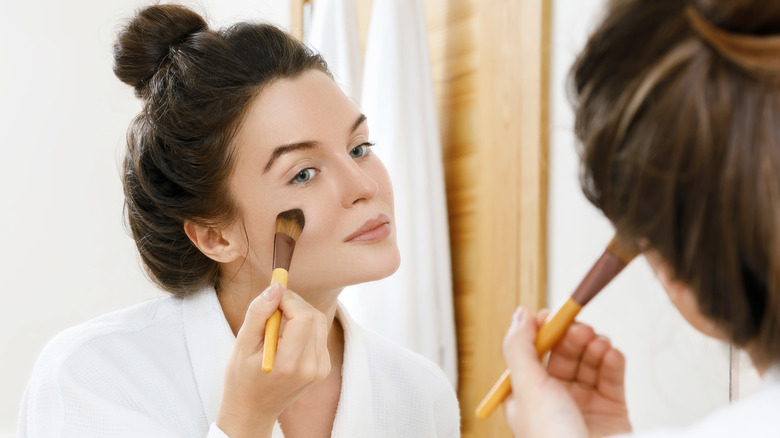 Privetik/Getty Images
The sheer number of makeup brush options can be overwhelming since there are so many types for different types of products and different steps in your routine. Sometimes, one step of your routine will use multiple brushes, which is sometimes the case when it comes to contouring. For instance, you could use a smaller brush to contour your nose versus a larger one for your jawline and cheeks.
Contouring is all about creating shapes on your face, which requires a different technique than other parts of your makeup routine. Celebrity makeup artist Nick Lujan tells InStyle, "Sculpting is all about creating the illusion of shadow and reflection of light on the features to help them stand out. In essence, you are casting shadows on your features." Luckily, if you're just starting out, you don't need an extensive collection of makeup brushes. Instead, reach for a versatile brush that'll get you through contouring.
S-shaped or curved contour brushes are the most versatile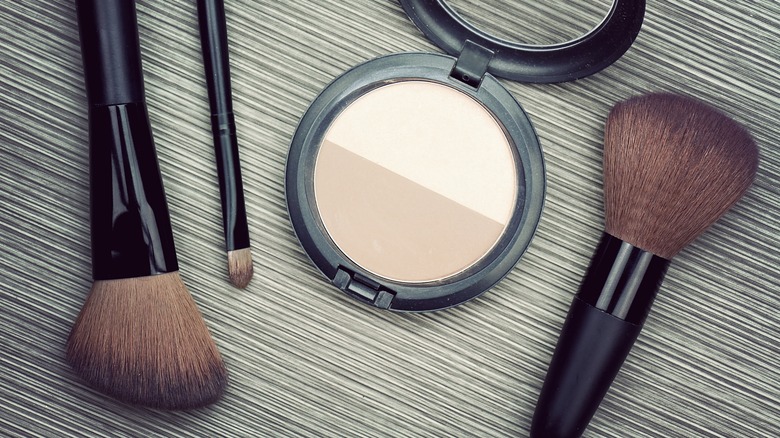 ARTFULLY PHOTOGRAPHER/Shutterstock
If you're only going to use one contour brush, one option will work better than others, celebrity makeup and brow artist Dani Kimiko Vincent tells Cosmopolitan. There are brushes that are different sizes and shapes, but she recommends the s-shaped contour because it has different lengths of bristles, meaning you can use different parts of it to shape your cheekbones easily and others when shaping your jawline, nose, forehead, and cheekbones. This also applies to curved contour brushes.
If you're using an s-shaped or curved brush, first make sure you're choosing the correct contour shade. Dip the brush in your contour, then start by contouring your cheekbones with gentle strokes. Then, with more powder on the brush, you can run it along your jawline and hairline. The s-shaped brush offers a point that will allow you to use a smaller amount of powder where necessary, but if you press harder, more product can be applied to certain parts of your face.
Some contour brushes are made for specific formulas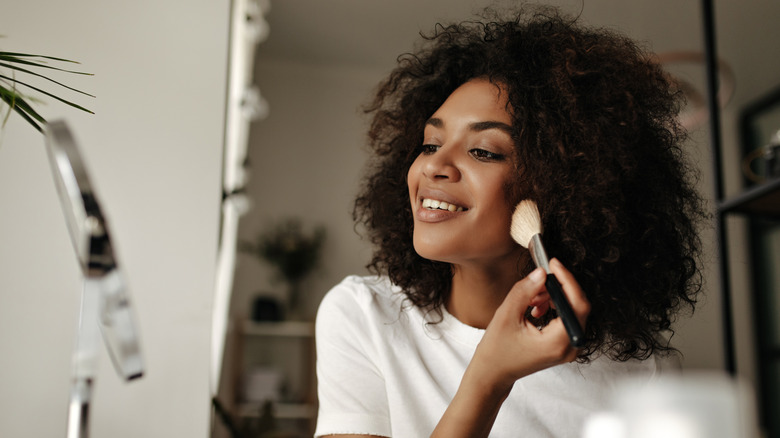 Look Studio/Shutterstock
While an s-shaped contour brush may be the most versatile, it's not necessarily going to be the best choice for every single type of contour. StyleSeat makeup artist Manuel Espinoza tells Byrdie, "There's a huge selection when it comes to contour brushes — different shapes, various angles and curves, and ones made for specific formulas, including cream, liquid, or powder."
The s-shaped brush certainly can work with all types of products, but there may be better choices if you want a specific brush for a specific contour product. Consider choosing a brush with tapered bristles and a curved head for powdered contour. This will allow you to get a soft blended look throughout your face. If you don't have a powdered formula, consider using a brush that comes in an oval shape. Byrdie suggests making sure your contour brushes are easy to clean and have a handle that you find comfortable to hold.