Is The Billie Razor Kit Worth The Money?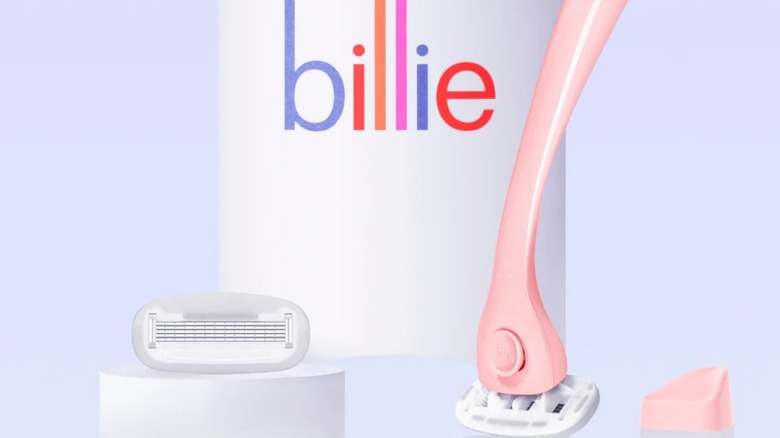 Billie
We may receive a commission on purchases made from links.
The Billie razor is making waves as one of the best shaving kits for women. It was awarded the Newcomer of the Year Award by Women's Wear Daily Beauty Inc in 2018 and has won even more awards ever since. One major thing to love about this shaving kit is that it's pink-tax-free. Razors are one of the things women always pay more for, but Billie's starter kit costs just $10.
The starter kit contains a razor handle, four-blade cartridges, and a handle holder, though you'll need to spend a little more for the best results. Billie isn't packaged like your average shaving kit, and a closer look at the blades will reveal that it definitely isn't. 
For starters, each blade cartridge has five sharp blades wrapped in a shaving soap. The entire product is also cruelty-free and vegan. Its handle is made from matte rubber, giving you a firm and ergonomic grip. Billie's shaving kit is dermatologist-approved for sensitive skin and can be used daily without irritation.
The Billie Razor and Whipped Shave Cream work beautifully together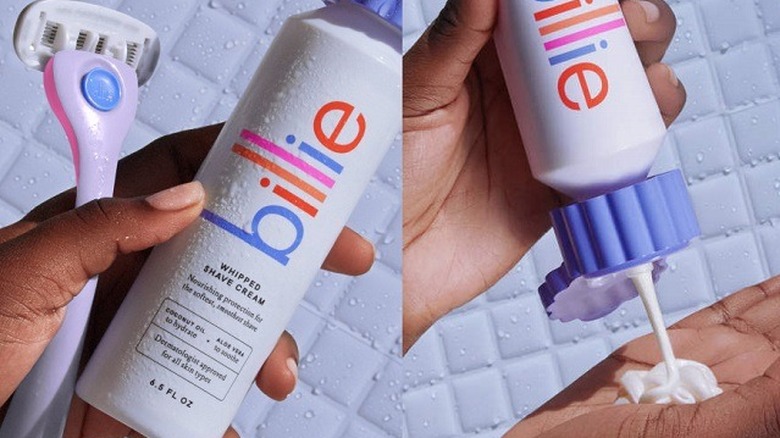 Billie
To get the best shaving results, consider adding Billie's Whipped Shave Cream to your cart. This gentle and hydrating formula doesn't foam or lather. Instead, it has the consistency of melted marshmallows and coats the skin, allowing the blades to glide over it with tear-jerking smoothness. Unlike many other shaving creams, this one isn't washed off by tiny bits of water. You can trust that it'll stay on your skin until you intentionally wash it off. In addition, it contains shea butter which is actually good for your hair, aloe for soothing, and sage for treating breakouts.
Billie's Whipped Shave Cream also contains coconut oil which has moisturizing and antibacterial qualities. Many waxing pros swear by coconut oil for post-waxing treatments, so it's evident that the Billie team did their research. However, if you don't want to buy the shaving cream, the kit alone can do a good job with its soap-coated blade cartridges. The shave soap contains aloe vera and charcoal, which moisturize and exfoliate as you use it.
Another impressive thing about the Billie razor is that its handle and cartridge are designed for easy maneuvering around the bikini area, underarms, and behind the knees. The Billie team states that its blades are designed for nick-free and clean shaves — we couldn't agree more. The razor shaves coarse hair without pain, and if you remember to have a warm soak beforehand, the process is even easier.
The Billie Razor Kit is incredibly intuitive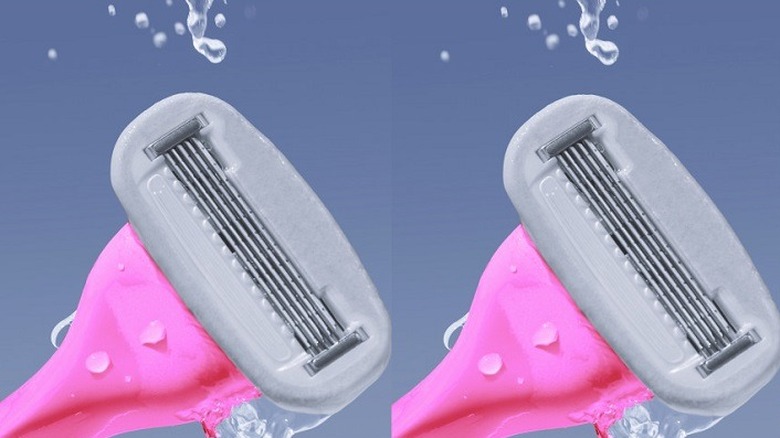 Billie
Unlike other razors, the Billie razor is built intuitively with small but effective additions like the razor holder. Razors are easily lost, and it can be hard to find a place for it in your bathroom where it'll be safe from water. The shaving stick holder adheres to the wall of your shower or bathroom tiles, and has a magnetic holder that sticks to the handle of the shaving stick.
You may also like that the Billie Razor comes in various pastel colors. This brand goes beyond and offers monthly cartridge refills too: If you purchase from Billie's official site, you can subscribe for refills based on how often you shave. For daily shavers, you'll be shipped four replacement cartridges every month for $10 per month. However, a single cartridge is enough to last for three weeks of thrice-weekly shaving.
One major pro that's often overlooked is how easy a company makes it to change or cancel your subscription. With Billie, you don't need to send any emails, and can cancel your subscription in less than a minute by clicking "edit your subscription settings" from your account. So, what's the total cost? Well, to purchase the kit and shaving cream costs $17. If you'd rather buy from Amazon, note that it's pricier at almost $28. Considering Billie Razor Kit's price, benefits, and the battle on pink tax, it's a steal — and is definitely worth the money.