Days Of Our Lives Star Miranda Wilson Addresses Fan Backlash Over Wacky Storyline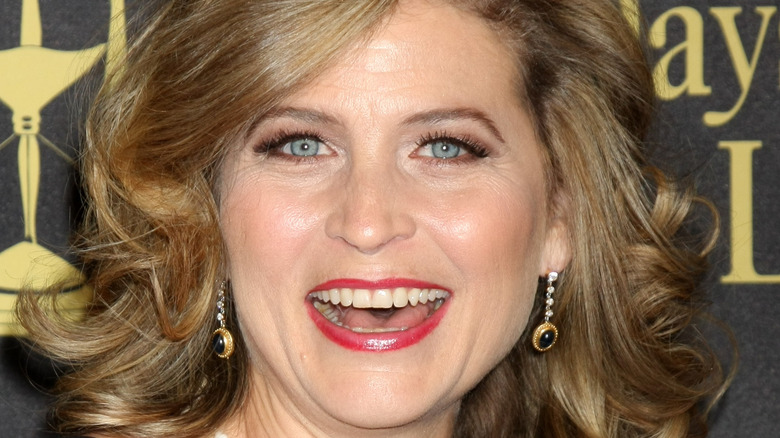 Kathy Hutchins/Shutterstock
"Days of Our Lives" fans have been watching villainess Megan Hathaway, played by actor Miranda Wilson, cause major chaos for many of the soap's biggest and most popular characters. As of late, Megan has pulled off some devious plans such as bringing Bo Brady (Peter Reckell) back from the dead after keeping his body in a cryogenic chamber for nearly a decade. She has also obtained the three prisms, which she is using in her devious plans.
Meanwhile, Megan — who is the daughter of Salem's biggest villain Stefano DiMera (Joseph Mascolo) — has also caused havoc in many other lives. Megan plotted to steal the rare orchid that could have saved Marlena Evans (Deidre Hall), Kayla Brady (Mary Beth Evans), and Kate Roberts (Lauren Koslow). Instead, the women all died and Megan placed their bodies in cryogenic chambers as well, only to bring them back to life in her laboratory.
Of course, Megan's biggest goal seems to be getting Bo to fall head over heels in love with her. After all, he is the reason that she's gone to great lengths and brought the dead back to life. However, some fans have been a bit confused by the storyline. Now, Wilson is clearing things up.
Miranda Wilson sets the record straight about Megan's plans
Since Megan Hathaway and Bo Brady's returns to "Days of Our Lives," fans have been seeing exactly what transpired between them following the events of the soap opera's spin-off "Beyond Salem." During that time, it was revealed that Bo was brought back to life, but that the spark he once felt for Megan as a very young man simply wasn't there. Megan then stole the orchid in hopes of using its healing properties to create a serum that would help Bo remember the love that they once shared decades ago. However, some fans got a bit turned around about the storyline, thinking that Megan wanted to use the orchid to turn back time and somehow make herself and Bo younger again.
After hearing about the confusion, Miranda Wilson took to social media to set the record straight. "Sorry it didn't come across, but the idea: they would be 'young and in love' like in high school. Not physically back in high school. Nor would they revert to that age. But be youthful, young at heart, her assuming then he'd love her again," Wilson tweeted.
So far, Megan's plan doesn't seem to be working out very well, and Bo has no romantic feelings for her at all. However, anything is possible in Salem, and things tend to change at the drop of a hat.