Layering Makeup Primers Could Unlock A Subtle, Skin-Like Finish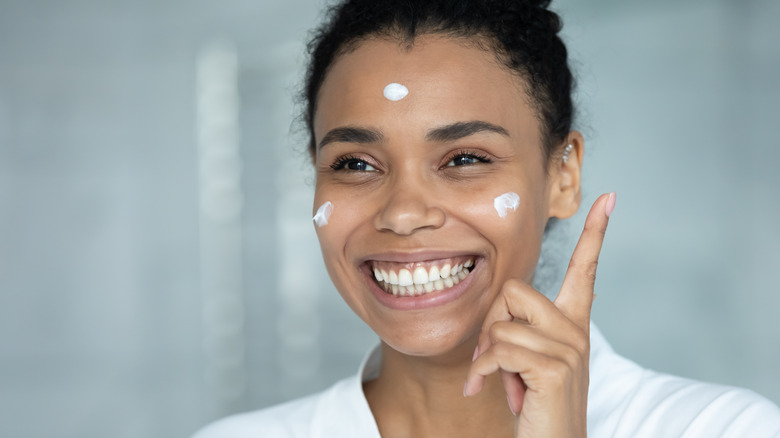 fizkes/Shutterstock
Applying primer is an important first step in any good makeup routine, but it's surprisingly one that some people forget or even classify as unnecessary. Applying primer before your other makeup products will always give you a better end result. Your primer should generally be applied after your moisturizer but before you put on your foundation. Make sure you don't miss important places to apply primer, since it's all about prepping the skin.
Primer essentially prepares your skin for everything you're going to layer on top of it. As celebrity makeup artist Mai Quynh explained to NewBeauty, "Remember, the end makeup result will only be as good as the skin underneath. If the skin is not properly prepped, the makeup won't look as flawless as it should." Even when you're going for a "no-makeup" makeup look, you may actually want to apply multiple layers of primer rather than just one.
Use multiple layers of primer for a more natural look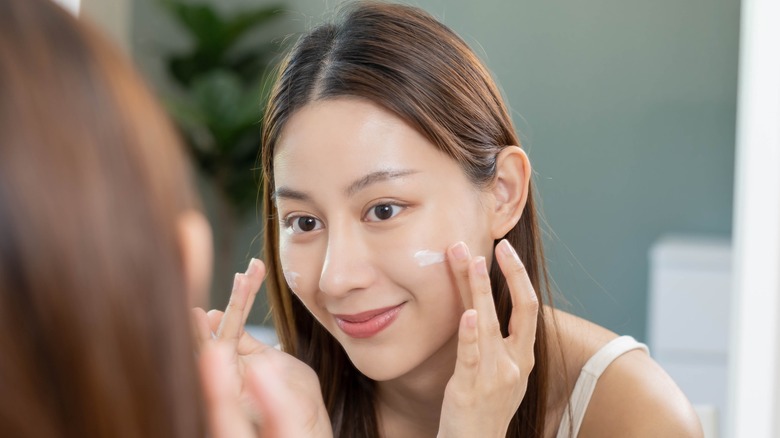 Kmpzzz/Shutterstock
It may seem counterintuitive, but if you're attempting to achieve a no-makeup look, then a primer isn't just an extra layer to add on. It actually could be the key to achieving fresh, dewy skin that looks more natural. Smashbox Cosmetics artist Lori Taylor Davis confirmed to Fashion magazine that layering primer is an important part of achieving a no-makeup look, noting, "Primer in and of itself gets a [bad] rap where it's seen as heavier, or an extra layer, but primer is made to be combined to create a perfect finish."
Taylor typically uses three different types of primer, clarifying that it's essential to make sure your primer is dry before continuing with your routine. "Don't throw things on and try to get your skin to absorb them all at one time. Apply a sheer layer, give it a second, and apply another," she explained. Taylor added, "We tend to want to cover our skin up so much [with foundation] when it's not at its best, when really it just needs more love." After your primers dry, feel free to continue with your makeup routine as normal.  
Use a hydrating primer for some added moisture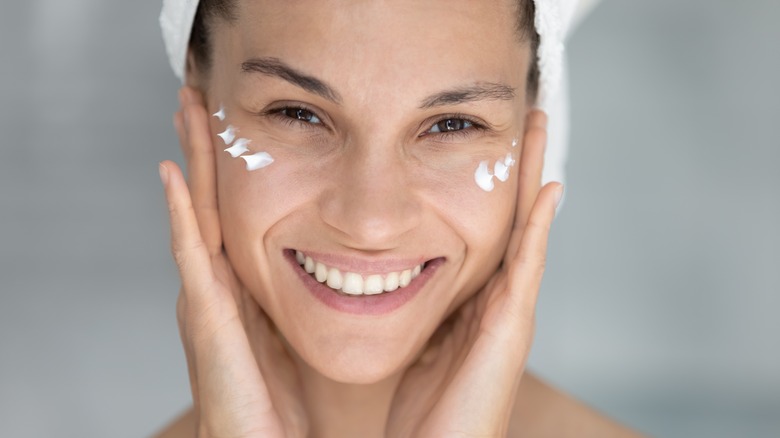 fizkes/Shutterstock
If the only product you're wearing is primer, then consider reaching for a moisturizing primer too. As celebrity makeup artist Katelin Gan told Byrdie, "After applying all of your skincare and finishing with your hydrating primer all over, apply another primer that smoothes fine lines and pores while combating shine to areas where you need it most." She suggested using your fingertips to blend your primer into your face, focusing on "areas like the forehead, chin, and nose."
Because you're not planning on layering anything over it, you can feel free to grab whichever primer you like best. If you are applying makeup over your primer, ensure that your primer is a match for the type of foundation that you're using. If they don't mesh well, you could end up with undesirable results like patchy or cakey spots on your face. Test your products together in advance to make sure they blend well before you go all-in on a new primer and foundation combo.