The Best Inspo Outfits To Help You Nail The Leather-On-Leather Look This Spring
Leather had a long history before it became the staple material for bikers and 1970s punk rockers. In fact, people have been perfecting the art of leather-making for thousands of years. According to Western Australian Museum, the ancient Egyptians and Mesopotamians used tree bark tannins in the curing process. Given the material's durability, the ancient Romans incorporated leather into their military uniforms, using it for sandals and shield covers, per World History Encyclopedia. Millennia later, it's become a streetwear staple, sported by it-girls like Bella Hadid and Hailey Bieber.
Today, vegan leather has become a more affordable and cruelty-free alternative to animal products. Although it's usually made from polyurethane (hence "pleather"), more and more manufacturers are looking to incorporate fruit skins and recycled materials into their fabrics. As sustainable designer Jourdan Norcose explains to Harper's Bazaar, faux leather isn't always more sustainable. "Vegan leather can be made from plastics which take years to biodegrade, so it's actually worse for the planet than regular," he says, adding, "People think it's better because it says vegan on it, but that's because people aren't taking the time to really learn about what they're buying." 
This spring, as you put together a leather-on-leather look, consider sustainability as well as style. Look to these celebrity-worthy outfits for inspiration.
You can't go wrong with a classic moto jacket
Even if you don't own a motorcycle, you can still pay homage to that '50s bad-boy aesthetic. Look to John Travolta's Danny Zuko for inspiration or, for a more modern twist, scroll through Hailey Bieber's Instagram. Emulate the style icon's look and pair your oversized leather moto jacket with a crewneck sweater, leather mini, and '90s rectangular shades for an enviable androgynous street style. "Leather jackets are unique in their ability to challenge gender norms," celebrity stylist Shea Daspin told Marie Claire, adding, "They exude a toughness, while they can still embrace femininity." 
Don't shy away from color
Who says leather has to be dark and edgy? Faux leather offers a range of colorful opportunities, from bright red pleather trench coats to pastel matching sets. Like @kam.bielecka, pair your midi skirt with a coordinating cropped jacket for a monochromatic fit. Underneath, layer a neutral turtleneck and matching knee-high boots. Not only do matching sets allow for effortless style, but each piece can also be styled individually so you're increasing the wear you'll get for the items. 
Let your legs breathe in a pair of leather shorts
Leather is extremely versatile no matter the season or occasion, adaptable for the office, brunch, and beyond. For starters, add this pair of Abercrombie "dad shorts" to your cart, styling them with a simple white tee, white sneakers, and a leather blazer. Alternatively, hop on the underwear as outerwear train and style a figure-hugging pair of faux leather bike shorts from Spanx. Inspired by Princess Diana's streetwear throughout the '80s and early '90s, bike shorts are in the midst of a renaissance.
Wear a leather corset top on a night out
Sure, baggy fashion is having a moment. But that doesn't mean form-fitting designs have gone totally by the wayside. On a night out with friends, pair a leather bustier or corset top with leather pants and platform boots. Whereas the corsets of yesteryear were meant to shrink waists (and limit airflow in the process), modern corset tops do a lot less constricting. Instead, they're meant to flatter our natural features. Although "Bridgerton" inspired a slew of clothing items including elegant floral corset tops, there's no reason why you shouldn't stand out in an edgier, leather design.
Try out a two-toned look
Considering that modern leather — or should we say pleather — comes in all different colors, there's no reason to stick to one shade. This season, take inspiration from @thestylingworks and wear a bright pink leather vest with green leather pants. Underneath, she layers a patterned pink top for warmth. Pink and green, reminiscent of the season's blooming flora, make for the perfect spring color combination, but be bold in your color selection — the options are endless.
Oversized fashion is trending
Not only were the oversized silhouettes of the 1920s more comfortable than the corseted designs of the previous decades, but they were also a form of feminist rebellion. Now — exactly a century later in the roaring 2020s — oversized fashion is trending, this time in the form of baggy jeans, bomber jackets, and oversized tees. Create a larger-than-life leather-on-leather look by pairing a sized-up leather jacket with matching wide-legged pants. Stay warm on those chillier spring days with a turtleneck layered underneath your jacket.
Channel your inner cowgirl with a mini skirt and statement jacket
Cowboys, both in the modern and mythological sense of the profession, are known for their leather chaps and boots. Pay homage to classic Americana, and pair a leather mini-skirt with a statement jacket like this patterned design from Free People. Of course, you'll need a coordinating cowboy hat and knee-highs. With this, you'll be ready for everything from square dancing to line dancing, though actual cattle wrangling might prove a bit difficult. 
Give off an air of mystery with a bold leather trench
From BBC's "Sherlock" to Carmen Sandiego, some of fiction's most mysterious characters are known for their trench coats. Invest in your own "Matrix"-inspired long leather jacket this spring, pairing it with straight-legged leather trousers and your favorite pair of shades. Although black trench coats will always be in style, brightly colored jackets are a modern streetwear must. On cold days out, style your brightly-colored trench as a dress, cinching it around the waist with a belt and pairing it with heeled boots.
It's all about the mini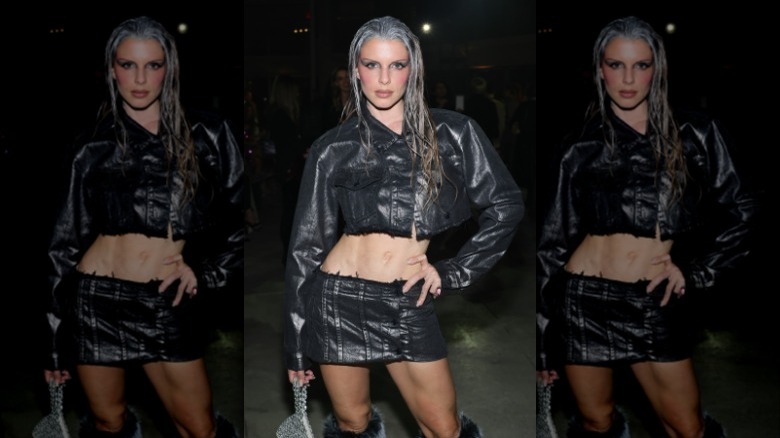 Theo Wargo/Getty Images
Nicole Kidman's 2022 Vanity Fair cover ushered in the era of the Miu Miu micro mini and the return of controversial low-rise fashion. Since the photoshoot, celebrities like Julia Fox have taken the midriff-bearing style up a notch — the "Uncut Gems" actress is somewhat notorious for using scissors to crop her own clothes. Like Fox, pair a leather mini with a choppy leather jacket and knee-high boots. This look is about embracing your powerful, confident side — consider slicking back your hair for good measure.
Brown leather gives off academic vibes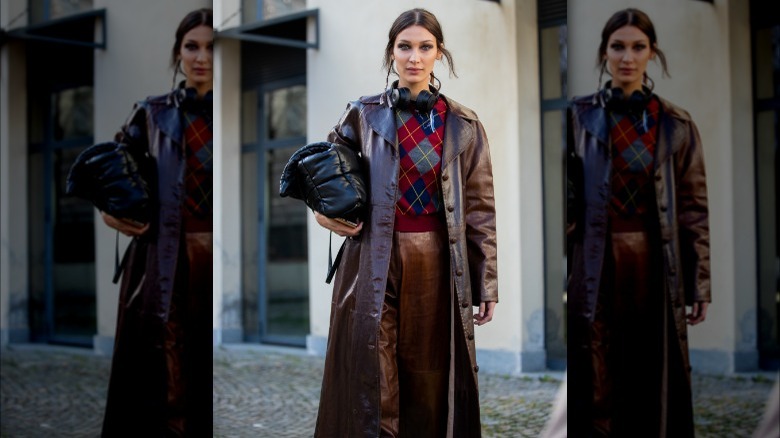 Christian Vierig/Getty Images
Black leather is edgy, colorful pleather is playful, and brown leather is perfect if you're looking to maintain a dark academia-inspired aesthetic. Style a distressed brown leather jacket with an argyle sweater vest and washed-out leather pants. According to Vogue, vintage leather — especially if it looks pre-worn — is trending. To go the extra mile, find a distressed leather messenger bag in which to carry (or at least pretend to carry) your collection of dusty books.
Style a matching leather set for the office
Headed to the office? Elevate your workweek attire with a matching leather set. @shan_mcconnell stands out in a white leather blazer with white leather pants, contrasting them both with a black tee shirt, black sneakers, and an elevated fanny pack. Keep in mind that leather won't fly in all office environments, so if you are a new employee, talk to your colleagues to find out the official (or unspoken) dress code to make sure you're following guidelines.
Wear a midi skirt for more coverage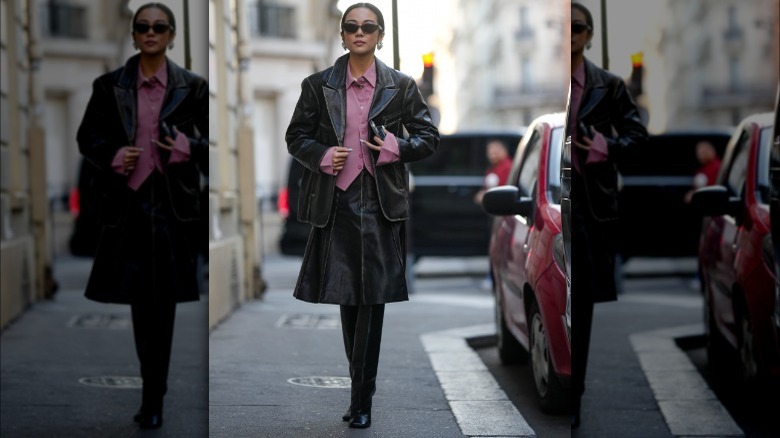 Edward Berthelot/Getty Images
If you're not a fan of the micro mini trend — or if spring doesn't necessarily mean warmer days in your part of the country — opt for a leather midi skirt instead. Keep on theme by matching it with a leather jacket and leather knee-high boots. If you're looking to soften up this edgy fit, wear a pastel button-down underneath. Finally, think about shopping sustainably at your local thrift store. Because authentic leather only softens as it gets older, buying second-hand will actually be more comfortable than ordering a brand-new coat for hundreds of dollars.