King Charles Urged To Cancel Upcoming Royal Visit To Paris After Serious Safety Concerns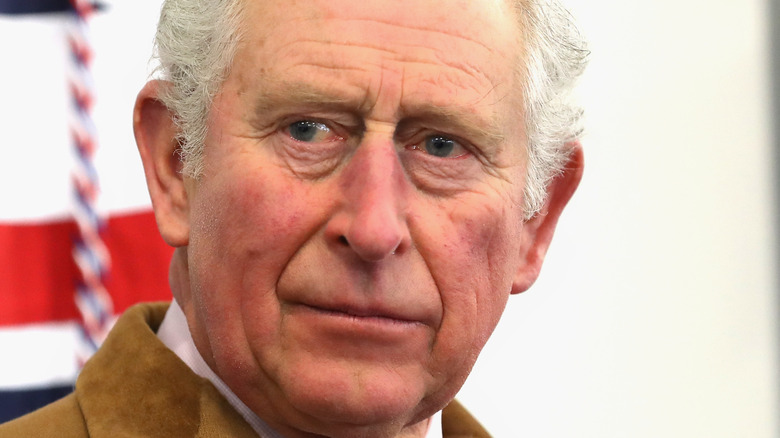 Chris Jackson/Getty Images
In 2022, King Charles III had nearly 200 official engagements; however, his sister Princess Anne once again came out on top for busiest royal for the year with 214.'We'll see if he can take the top spot in his first full year as king, and he definitely has been busy in preparation for his coronation on May 6. Recently, King Charles and Queen Camilla made a covert visit to check on coronation preparation progress, specifically the embroidery for the coronation robes. 
Charles also has the first state visits as king coming up, with plans to go to France and Germany. The Royal Family's website described the visit as one that "will celebrate Britain's relationship with France and Germany, marking [their] shared histories, culture and values." The itinerary currently involves a visit to France for a few days, starting March 26, followed by a few days in Germany, starting March 29.
Their plans in France were originally to include a wreath laying at the Arc de Triomphe with President Emmanuel Macron and his wife, a State Banquet at Versailles, and a visit to an organic vineyard. But for all the planning that went into the trip, as it comes closer, some think the visit should be called off. It's down to some potentially serious security concerns.
Protests and riots have been escalating in France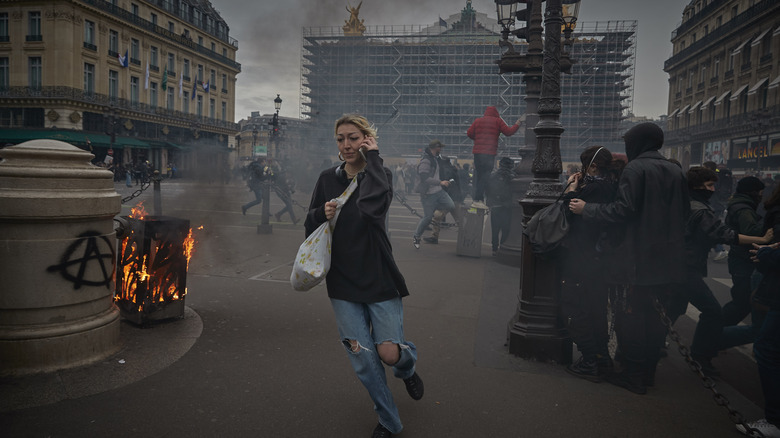 Kiran Ridley/Getty Images
French president, Emmanuel Macron, acted to raise the retirement age from 62 to 64 without a National Assembly vote on March 16, as reported by The New York Times. People have taken to the streets for days across France in protest over the increase. Many protestors have been arrested, and garbage workers have gone on strike for weeks over the issue, resulting in trash piling up, according to CNN.
The protests have at times been violent, and they don't seem to be slowing down. Therefore, there are definitely heightened security risks for the king's visit, which might mean it makes more sense to do it another time.
A million people gathered to protest around France in recent days, via PBS NewsHour. While many are protesting peacefully, there have been clashes between protestors and police. The U.S. Embassy in Paris has issued multiple demonstration alerts over the past few days, and the most recent has noted "large-scale demonstrations [...] throughout France with reports of hundreds of black-clad violent protestors infiltrating the demonstrations, seeking clashes with police, damaging property, shooting fireworks, and setting fires." Police have used tear gas to disperse the crowds in parts of the country.
No current end in sight to the French protests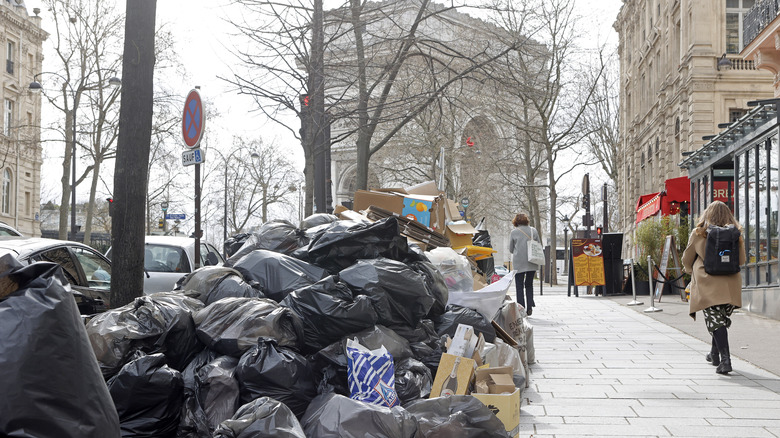 Chesnot/Getty Images
As of March 23, the Arc de Triomphe, where King Charles and President Emmanuel Macron and their wives are scheduled to have a moment of remembrance, is closed "due to a social movement." What it will be like during the king's visit remains to be seen. Some feel that the king should cancel his visit considering the ongoing French protests. "It's very bad timing," Stephen Clarke, author of "Elizabeth II, Queen of Laughs," explained. "Normally the French would welcome a British king. But in this moment, people protesting are on high alert for any sign of privilege and wealth," per The Guardian.
On the flip side, the French interior minister has said "King Charles will be welcomed and welcomed well, of course, by France," as reported by AP News. However, the state banquet that was to be held at Versailles is apparently being moved to another location, according to the Mirror. Bordeaux, where King Charles' schedule includes opening Bordeaux's British Consulate, had its town hall set on fire in the protests on Thursday evening (via BBC). There's not yet been any word from the palace as to any changes in plans for the king's visit due to the pension protests.